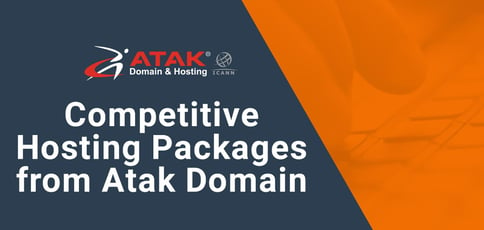 TL; DR: Atak Domain provides resellers and developers with comprehensive hosting packages to build their online businesses. The domain and hosting provider has seen tremendous growth in the international market because of its accessible customer service and flexible prices that meet client needs. Atak Domain's reseller program supplies clients with domain names to sell directly to their customers while also allowing them to negotiate sales prices with other sellers through its domain brokerage services.
You may have heard of house flipping, where a realtor or contractor invests in a piece of property, renovates it into a stunning piece of work, and eventually sells it for a profit. If endless hours of HGTV have taught me anything, it is that flipping stands as a viable business. But a different form of flipping exists on the internet, called domain flipping.
Yes, domain flipping is an actual occupation or maybe more of a side hustle, depending on your experience and margin of profit. Domain flipping reflects a lot of the principles of its traditional counterpart. They both take a lot of time and effort to learn their ways, break into the market, and even share having brokerages in common.
"Domain businesses are a viable and profitable business for anybody interested. And of course, this is a growing business and industry, and I want everybody to know this is a possible business for even a small amount of capital," said Navab Jorf, Marketing Business Development Manager at Atak Domain.

Atak Domain is a hosting and domain provider that supplies resellers with all they need to set up a business. Resellers can purchase domain names from Atak Domain for a low price and sell domains directly to their customers by integrating API into their website.
"Atak Domain started its domain reseller program called Domain Name API. And through Domain Name API, Atak Domain managed to reach many international customers. We have more than 15,000 resellers all over the world, with around 30% of them being active customers," said Navab.
But reseller packages aren't its only offerings. Atak Domain offers its customers a full suite of server solutions, ranging from managed and WordPress hosting to a website builder and SSL certificates.
"The market itself, generally, has shifted from hosting to the cloud. So one of the main marketing challenges that we have is to convince the customers that hosting is still a viable product. We have also increased our portfolio. So we have about 800-plus TLDs in our portfolio," said Navab.
Supplying Win-Win Experiences with Competitive Prices
When ATAK Domain opened its doors, it didn't look like it does now. Navab told us that the company first started as a translation company in 2002 and then, around 2007, ventured into the hosting and domain space. Although these services remain a part of the entity, its reseller program made it what it is today.
Atak Domain can credit its success to various factors, but its primary accelerant has probably been its dedication to delivering the products and services that fit its customer needs.
"The business model that Atak Domain pursues is a win-win deal for its customers. So that's why we provide very competitive prices. We don't care about the margin that much. We mainly care about growing the business," said Navab.

By providing competitive pricing, Atak Domain helps its customers lower their expenses and save to help their businesses flourish, which also allows the company to retain its customers and competitive advantage. Navab said Atak Domain is the third-largest domain registrar in Turkey, and the company looks to continue its growth this year.
"What we expect for us in the coming year is that we will have a minimum 100% to 150% growth in terms of the volume of domains, and the prerequisite for that is to gain more resellers," said Navab.
Atak Domain currently has more than 800 top-level domains, and customers can register their domains starting from $0.15. Customers can use its sales platform to buy and sell domains with seller-buyer protection, free service for transfer, and low commission rates.
Accessible Customer Service for an International Audience
Navab told us that Atak Domain's customer base has expanded internationally since its inception. One of the main reasons the company has seen this growth is its accessibility.
"We have resellers in 152 countries. You can be somebody from the rural area of Pakistan, or you can come from LA or anywhere else on this planet. And we will provide you with the same opportunity. So you can have an equal opportunity to open and expand your business," said Navab.
Atak Domain's target audience is hosting providers, but it also helps developers find domains for their projects. And quality customer service has been key to maintaining customer satisfaction.
"When your customer base increases, you are putting a load on your current system. So one of the main challenges that we had was implementing good customer service to address any type of issue that may or may not arise," said Navab.
Since its reseller customers are entities themselves, Navab told us that they often run into their own business issues. So Atak Domain's role is to ease any of the operational burdens on their side.
Atak Domain provides training for its staff by informing them on market insights and preparing them for technical and software issues or threats. This way, the team will be ready to assist customers and address various requests. The company also has a domain brokerage to help customers negotiate sales and lower purchase prices for $69.90 and a 10% commission fee.
Diversifying to Meet Customer Needs
To accommodate its growing customer base, Atak Domain has had to adapt to ensure its offerings meet customer needs. And the domain provider is no stranger to evolution.
"Diversifying, obviously, is the way to go, and it has to be in line with the customer needs. So, for example, we do market research. And based on the data that we extract from that research, we try to either improve our current products or introduce a new one," said Navab.
Navab also told us most of Atak Domain's improvements usually consist of UX or file upgrades in the products, and the domain provider builds the products to answer all needs.
Atak Domain's diverse product and service line showcases its dedication to delivering various customer needs. It has added several packages, including WordPress hosting, managed hosting, and email hosting, to help clients with server solutions in addition to domain registration.
Atak Domain also offers a website builder with hundreds of themes and a drag-and-drop editor to customize branding and other design details. As for security, customers can access a range of SSL certificates with free technical support and 100% browser capability.
"The current products that we have are a good and complete combination of the things that one would need if they want to establish their business and open the website," said Navab.