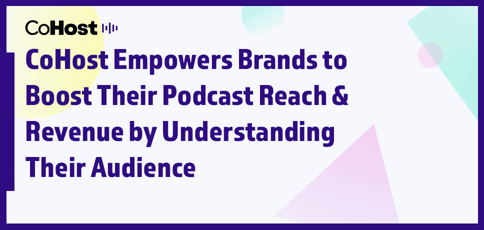 TL; DR: CoHost Podcasting helps agencies develop branded podcasts using an intuitive dashboard and data-driven insights. The platform allows businesses to evolve their podcasts from side projects into fully-fledged, revenue-generating channels through its experience in corporate audio. Customers can use its intuitive dashboard to see viewership metrics and track performance across multiple platforms to improve their podcast strategy. Alison Osborne, Director of Marketing at parent company Quill, gave us the inside scope on CoHost's solutions for branded podcasts and provides a sneak peek at what's in store for the future.
Like many other millennials and Gen Zers, I was drawn to podcasts for their captivating true-crime stories and funny celebrity interviews. But as I delved deeper into the world of podcasting, I discovered that they offer much more than just entertainment: They've become a powerful tool brands can use to market themselves.
In fact, branded podcasts can increase brand awareness by nearly 90%, which explains why hundreds of organizations have launched their own shows, including:
McDonald's "The Sauce," an investigative podcast that aimed to spin the PR problem that emerged from the limited distribution of the ever-so-popular Szechuan sauce.
Gatorade's "The Secret to Victory," where you can listen to interviews with some of the most famous sports personalities from Serena Williams to Peyton Manning.
And, if you haven't yet heard of it, GE's "The Message" is a science-fiction podcast that works to decode extraterrestrial messages using GE technology.
The rise of branded podcasts is just one part of a larger trend of using digital tools to better understand and engage with consumers. In today's digital age, it's easy for businesses to track their website visitors and monitor their behavior with tools like journey mapping and user analytics. Those tools allow brands to better understand consumer goals, pain points, and preferences.
And yet, the same metrics aren't available for audio content. For years, audio hosts have been working at a massive disadvantage compared with their web host counterparts who command a variety of analytic data for their clients (think traffic, referrals, bounce rates, conversion rates, and user demographics).

Alison Osborne, the Director of Marketing at Quill, the industry-leading podcast agency and creator of CoHost, and her team saw the same issue.
Ali said that there's a big gap in the industry when it comes to audio analytics. That gap required brand marketers to negotiate a clear disparity between knowing who the listener was, why they were there, and what appealed to them most.
"The tools we had weren't hitting the mark for us," she said. "They weren't giving us the data we needed, so, we thought, let's fix it ourselves."
That's when CoHost was born. CoHost is a podcasting platform designed specifically for brands and agencies. It provides audience-focused metrics, KPIs, insights, and data to help B2Bs better understand and target their listeners. That, in turn, increases brand awareness, establishes authority in the industry, and fosters a community of like-minded individuals.
How CoHost Provides Data-Driven Insights for Branded Podcasts
Before CoHost came to be, there was Quill, the award-winning podcast agency that aims to help podcasters grow their brand using strategy, storytelling, and data analytics to obtain a positive ROI.
Despite Quill's success in helping podcasts build their brands, something was missing: One of the biggest challenges was the lack of measurable metrics and KPIs available to actually track that success.
Unfortunately, many podcast platforms and hosting services just don't provide much-needed analytics, including listener behavior, engagement, or conversion rates. The lack of data makes it challenging for brands to measure what's working for their listeners (which may be why the podfading rate is at a whopping 50%).
"And because of that, it is hard to then justify the expense to your team and say, 'Hey, let's spend $X on this podcast,' when really the only ROI we can look at is awareness," Ali explained.

CoHost takes this a step further than other podcast platforms because it centralizes its purpose on audience insight. CoHost members can easily measure data through their Analytics Dashboard and Audience Profile, which answer questions like "Which guest did my listeners like more?" and "What time of day should I release new episodes for maximum impact?"
"CoHost is a podcast analytics and audience insights tool that covers all hosting capabilities that you would need," said Ali. "But it also gives you deeper and better metrics on who your audience is, how your show's performing, and understanding that impact."
CoHost also has a plethora of other valuable tools, including B2B Analytics, audio insertion, automatic transcriptions, downloads and unique listeners, podcast hosting, podcast websites, and tracking links.
CoHost Releases B2B Analytics: Companies & Industries
CoHost's goal is to let brands get more specific listener demographics, like age, gender, device, and city-level data. While most podcast hosts do provide basic analytic insights like these, perhaps one of the most unique benefits of CoHost is its focus on the B2B space.
CoHost's latest release, B2B Analytics: Companies & Industries, lets brands identify other companies that are listening to their podcast, which is essential when looking to develop partnerships, sponsorships, and potential guests.
Ali explained that CoHost's B2B Analytics enables brands to easily see the location and size of the company, the average revenue prediction, and the industry the company is in. It's easy to measure this on a per-show level and a per-episode level — allowing podcasters to determine by episode the content that resonates the most with specific companies.
"You can ask, 'Is this one company listening to our episodes?'" said Ali. "If they are, then you know they're enjoying your content, and then you can ask: 'Is there a way we can reach out and get them on the podcast or involved in some capacity?' and build relationships from there."
Even with these B2B-specific features, CoHost can also be incredibly beneficial for B2C brands. One main avenue is link tracking.

Brands are able to input tracking links, which allows them to better understand their most popular listening platforms and the topics listeners like the most.
Here's how tracking links work: You can create a tracking link (either episode-specific or for your entire show) and share it across your social media channels, in an email newsletter, or give it to your guests to share on their channels.
"Maybe one guest brought in 1,000 downloads from sharing your tracking link, while another guest only brought in 10," said Ali. "This helps you understand more about your audience's preferences — and also the type of guest you should have on your show."
Brands can also determine on which social platforms their listeners are most proactive and engaged. "For example, you'll be able to see 'Twitter brought in 50 downloads,' and 'LinkedIn brought in 200,' informing you that your audience is more engaged on LinkedIn," Ali said.
What's Next For CoHost?
CoHost's revolutionary B2B Analytics is about to get more inclusive.
Anyone currently using CoHost features is required to host their podcast with them, too. The reason is that CoHost can better gather data and populate relevant KPIs for users when they're hosting.
But if podcasts already have a host, a significant number of brands are automatically excluded from using CoHost's features.
Ali said she sees this as a learning opportunity. "One of the fun parts of being a younger product is we can get to see these uses and then explore how we can make them better."
So, what's the solution? "We understand it can be a big jump to migrate your show. That's why we're looking to allow anyone to take advantage of our features without also having to use the hosting platform," she said.
Ali estimates that users can expect this update in Q2 or Q3.
With that in mind, we asked Ali if she had any words of wisdom for new podcasters before we ended our talk.
"Source partners where you can. Be patient because growth takes time and consistency. Have clear goals in mind and determine what success means to you," said Ali. "And lastly, discover areas of automation that can help save you time."

If you want to try CoHost for yourself, start a free trial today and see how those automated analytics can save time while also providing a clear picture of what truly goes into your ROI.