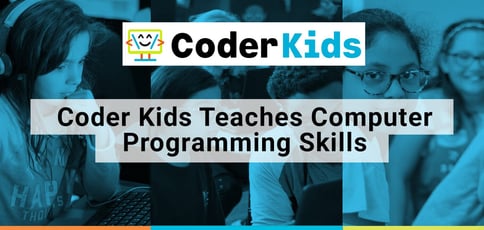 TL; DR: Teaching children to code provides many benefits and helps them develop creativity, logic, and problem-solving skills. And children can start learning to code as early as the first grade. Coder Kids brings coding programs to young students in Houston, Texas, and throughout the country. The program operates both in-person and online, offering semester-long courses, private tutoring, and summer camps for children passionate about technology.
Children learn English, math, science, and history in school. But coding, which includes aspects from each discipline, is often missing from the standard curriculum.
As coding becomes a fundamental skill for jobs, children can benefit from receiving early education to develop their abilities.
"Some educators and experts are calling it the 'new literacy' — a subject so important that every child needs to know the basics to excel in our rapidly changing world," said Erik Missio of CBC.
Children as young as 4 years old can learn computer commands, while older children can learn coding skills.
Those skills will prepare children for the jobs of the future, but coding offers many more benefits. The discipline can help children understand the world of computing they will grow up in. It also helps them develop problem-solving skills and resilience, as they may have to stick with codes that don't work until they get them right.
And coding isn't just a right-brain discipline. Children interested in creative activities enjoy it, too. Those interested in art and video games often uncover a passion for coding once they understand its wide range of applications.


Parents interested in coding classes, camps, and private tutoring often look to Coder Kids to educate their children. The coding school is based in Houston, Texas, and offers virtual classes worldwide.
Coder Kids began as an afterschool program in Houston. Students were so excited that parents started asking for the organization to host classes at other schools. The demand grew so large that the Coder Kids team started driving to Dallas — four hours away.
Today, Coder Kids offers in-person and virtual classes to reach as many children as possible. And parents continue to rave about the program's benefits.
"Parents feel like it's important for their kids to learn coding. And Coder Kids is kind of like Hogwarts. They say, 'I have no idea what's going on, and it kind of feels like magic,'" said James Thornock, Coder Kids Operations Manager.
For children who develop a passion for coding, perhaps it is.
Coding Courses and Virtual Classes
As Coder Kids' program grew, it reached out to James, a former junior high teacher, to serve as Operations Manager. Four years later, he is still with the company. Coder Kids provides James with the freedom to write his own curriculum, which he said he loves, rather than using the lesson plans the school district assigned him.
"I will probably die in the education field. I don't know if I'll ever retire. There's so much to be done in the field of education whether through Coder Kids or some other avenue," he told us.
As interest has grown, Coder Kids has continued its expansion by partnering with local district educators to offer after-school instruction.
Then, the COVID-19 pandemic started. Coder Kids put all of its in-person classes on hold, but it quickly pivoted thanks to its tech-focused team. In fact, its programs saw a surge in demand, especially its online courses, once parents began to figure out Zoom and Discord.
This shift to virtual classes turned out to be a boon for the company. Children around the US and the globe are signing up for classes, and demand has become so great, the company now offers flexible live courses for specific time zones and schedules.
Students can attend both virtual and in-person classes as early as kindergarten. College students majoring in education or computer science teach most Coder Kids courses. Children from families of all income levels are also welcome to attend, and the company aims to make its classes accessible through affordable pricing and scholarships.
Private Tutoring and Summer Camps Build Community
Coding encourages children to focus on competencies that sound complicated but most people use every day. For example, Coder Kids students explore conditional logic, otherwise known as branch logic, coordinates, lists, variables, and animation. They also study sequential and fundamental coding logic that applies to almost all coding languages and platforms.
Students start with classes designed for first through third grade before learning coding languages. Students in fifth grade and beyond explore Python, Java, and C++ as they can understand more abstract concepts.
Students can also connect through special interest classes, including one for budding YouTubers.
"They can share their stuff in a space where they won't get immediately attacked," James said.


This collaborative community extends beyond the physical and virtual classrooms. Coder Kids is more than a website to visit and learn. Children can participate in monthly activities, including game jams and Minecraft events.
Some students love coding so much that they build their skills by working one-on-one with private tutors. Though Coder Kids introduced private tutoring in 2016, the company saw an increase in its popularity during the COVID-19 pandemic. About one-fifth of its privately tutored students live abroad.
James said Coder Kids also plans to offer virtual and in-person summer camps in 2022.
The company has been operating camps for the past two years. Past themes for campers in kindergarten through eighth grade included game building, Scratch music, and Minecraft modding. Each half-day session offers a specific coding challenge that students work on during the morning. The students share what they have created and interact with each other's projects at the end of each day.
Coder Kids: Educational Resources for Every Child
Children can progress through the Coder Kids curricula as they grow. Children ages 4 to 7 work with "games, robots, apps, and simple coding challenges using ScratchJr," according to the website.
Those aged 7 to 12 move on to using Scratch, a platform that helps users learn programming concepts including conditionals, variables, loops, and functions. Teenagers from 13 to 18 learn web development, app development, game making, VR, and Python.
Some Coder Kids students develop simple games like Pong while others build entire applications.
And parents aren't left out of their children's coding education — even if they have no experience. Each course and camp is project-based, which encourages parents to get involved. And no one receives a grade for their performance, which reduces the pressure. Students finish the course with a portfolio, and at the end of each online or in-person semester, they showcase their work.
"We are accountable to parents and their experiences. Parents can see the projects their kids created," he said.
Parents clearly understand the value their children receive by learning to code, as is demonstrated by the increasing number of students signing up for Coder Kids courses. But many parents just feel pride and pleasant surprise at what their children accomplish through the programs.