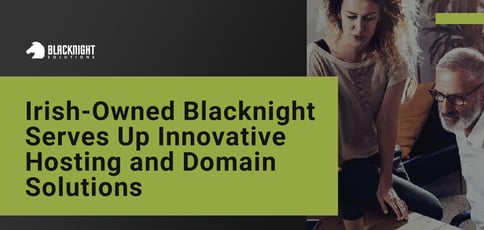 TL; DR: Blacknight has built a reputation for providing Irish and international businesses with domain name registration and web hosting expertise backed by knowledgeable customer service. Broadband, site-building, and security solutions round out the award-winning company's product portfolio. As for what's next, Blacknight is working on new features and interfaces designed for a smooth user experience in an ever-evolving online landscape.
The Library of Trinity College Dublin, established in 1592, is the oldest and most cherished in Ireland. As a copyright depository, the institution houses copies of all published pieces in the country, equating to roughly 7 million volumes of work.
The Library of Trinity College Dublin exclusively serves Trinity College and the University of Dublin — offering a significant perk for enrolled students.
When Ireland-based Michele Neylon started his university studies in the early '90s, he thirsted for a rich source of knowledge akin to that of the Library of Trinity College Dublin. But since he didn't attend Trinity College or the University of Dublin, he turned to the internet's emerging knowledge base, which stood in stark contrast to the historical 18th-century library.


"The internet was not something that people — or even students attending the university — had ready access to," Michele told us. "But for a number of different reasons, I ended up being given internet access right from my first year in college. I used it to read journals and works from universities elsewhere."
Years later, the university organized a conference it sought to advertise online. Staff then turned to Michele, who had earned a reputation for his internet-related knowledge, to build a site. He obliged and soon began to network with other academics in need of websites. The work served as a supplement to his day job teaching English as a foreign language, but later led to the formation of Blacknight, Ireland's most prominent hosting company.
"I was using a Canadian hosting company that was fantastic until it wasn't," Michele said. "I never fully understood what happened. They were super responsive and then vanished. The websites were offline. It was just a bloody nightmare."
A Leading Force in Ireland and Europe
That's when Michele purchased his first server, which was housed in a Dublin datacenter. He also met his business partner, Paul Kelly, online. With that, Blacknight was born.
"We didn't meet in person for the first couple of years," Michele said. "I was living in Italy, he in Ireland. Our goal was to provide stable internet service for the clients I had accumulated. This included my mother, who has always been one of my more demanding clients."
Quoting American comedian Eddie Cantor, Michele said it takes 20 years to make an overnight success. Blacknight similarly built its current achievements on years of advanced (and ever-evolving) technology, international partnerships, and strong customer relationships.
Today, Blacknight operates out of datacenters in both Carlow and Dublin and boasts ISO certification for information security management systems. Michele himself was named among Ireland's 30 Technology Disruptors at The Spiders Awards in 2019.


"To get to the position where we are now has taken us the better part of 20 years, but we are the dominant player in the Irish market," Michele said.
Blacknight has a significant footprint within BT Ireland (a Dublin-based datacenter), where the company keeps several suites of equipment.
"We are leveraging the technical infrastructure within the building to get the connectivity — but that connectivity is 100% ours," Michele said. "Most hosting providers our size or smaller, don't do that; they rely on somebody else to manage the network aspect of things. We're able to control all aspects of the network connectivity segment."
Michele said Blacknight's datacenter in Carlow, Ireland, is on the smaller side but serves as a useful disaster recovery site. There are approximately 40 miles between the two datacenters.
Serving Individuals, Government, and Fortune 500 Companies
Blacknight's datacenters access Internet Exchange Points (IXPs) across Europe, giving the company a presence in Dublin, London, Frankfurt, Paris, and Amsterdam. But Blacknight also serves clients across 130 countries worldwide.
The company's broad selection of products — from domain registry and broadband to cloud and dedicated server solutions — allows the company to serve an equally wide range of customers.
"Our client base includes everything from private individuals through to government agencies and Fortune 500 companies," Michele told us. "Over the last couple of years, we've tried to focus quite a bit of our energy around the customer experience piece."
A few days after signing up with Blacknight, customers receive an email from Michele.
"I try to reach out to these customers and say, 'You've been with us for about a week or two — how's everything going? Have you got any problems? How can we help you?'" he said. "And then we also proactively seek reviews from people via Trustpilot."
By empowering customers to post unmoderated reviews of their business experiences, Trustpilot not only serves as an unbiased source of information but also provides companies with insight into how they can improve their offerings. Blacknight has earned an enviable "Excellent" rating on the site.
"Extremely pleased!" said reviewer Paul M. on August 1, 2021. "Blacknight has been friendly, helpful, and professional at every step as I've switched over to them as my web hosting service. Their website is very informative, their pricing is straightforward and clear, and all requests for advice, quotes, or services have been answered extremely quickly. Highly recommended!"
New Interfaces and Features Designed for a Post-Crisis Landscape
Two decades of industry experience have equipped Michele and his team with the ability to perceive change from a bird's-eye view. Such insight helps the company stay even-keeled amid quickly changing trends.
"As far as the future is concerned, it's hard to say," Michele said. "I've been told multiple times that one trend will be the death of another — that certain platforms will be the death of email or of this or that. But email is still the killer app. I could turn off web servers for a lot of our clients for hours at a time. And yeah, they wouldn't be happy. But if you disable their email for more than two minutes, our phone system would light up like a Christmas tree."
Michele said the events of 2020 have impacted the industry — despite the confetti-like explosion of buzzwords they brought forth. At the end of the day, there's no arguing that the internet has become exceedingly valuable during the pandemic, facilitating social distancing through remote connections.
"The last year or so has obviously been very different for everybody," he said. "It's had an impact on the way we operate as a company because we went from one or two employees working remotely to basically 100% of our staff working remotely in a distributed fashion. And our clients have been in a similar situation."
Over the past year or so Blacknight has been exploring ways to repackage and cater existing products to pandemic-era audiences.
"The problem with this super technical type of business is that the average punter doesn't always know what might be relevant or useful to them," Michele said. "Over the next year or so we're going to be offering similar services to what we currently offer, but we're going to be offering them through new interfaces, new platforms, and new solutions."