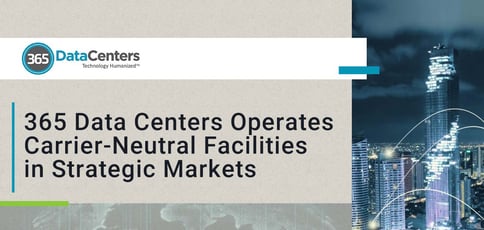 TL; DR: 365 Data Centers, headquartered in Norwalk, Connecticut, provides customers with secure and reliable server infrastructure solutions via a national network of datacenters throughout the U.S. The company — one of the largest privately held Infrastructure-as-a-Service (IaaS) providers in the Eastern U.S., differentiates itself through high-touch services and points of presence in strategic edge markets. With a considered approach to mergers and acquisitions, 365 Data Centers continuously finds new ways to enable economic growth for the businesses, technology leaders, and communities it serves.
IT departments have long served as the architects of hardware, software, and networking systems within businesses.
Over the last decade, however, their roles shifted away from on-premises server management to aligning tech assets — wherever they may be located — with desired business outcomes. These goals range from enabling business agility to positioning specific workloads and services based on regulatory impact or proximity to the end user.
Colocation, hosting, and cloud providers, not IT departments, will oversee physical datacenter management in this new environment, according to Gartner. The research and advisory firm estimates that, by 2025, 85% of organizational infrastructure strategies will incorporate a range of on-premises servers, colocation, cloud, and edge delivery options, compared with just 20% in 2020.
With IT infrastructure tied closely to economic growth, it's more important than ever for organizations to select secure, reliable, and flexible datacenter partners with diversified offerings. And since 2012, 365 Data Centers has been on a mission to serve in that capacity for SMBs, telecom carriers, and cloud service providers.
"It's really all about the customer," said Bob DeSantis, CEO at 365 Data Centers. "If they can focus on growing revenue — and they don't have to worry about infrastructure — they're going to be successful."
Through 13 datacenters across the U.S. and a national network of carriers and content providers, 365's colocation services offer an easy, scalable way for businesses to connect to the cloud. The results include reduced costs, improved customer experiences, and increased innovation.
One of the Largest IaaS Providers in the Eastern U.S.
365 Data Centers has become the powerhouse it is today through a series of strategic mergers and acquisitions.
Bob previously served as Co-Founder and Managing Partner of the infrastructure provider Xand and also founded the investment firm Longboat LLC. In 2017, Longboat partnered with Lumerity Capital and an investment group led by Chirisa Investments to acquire 365 Main, which held a vast portfolio of datacenters.
"We acquired eight data centers — located in Buffalo, Chicago, Detroit, Indianapolis, Nashville, Philadelphia, New York, and Tampa — from 365 Main," Bob said. "It's hard to believe it's been four years since then."
Back in 2017, businesses were increasingly beginning to adopt hybrid infrastructure-as-a-service (IaaS) offerings.
"To grow internally, businesses needed colocation, networking, and virtual services to penetrate the enterprise market," Bob said. "So we were very fortunate to have acquired well-maintained colocation facilities mostly in secondary edge markets — as well as two in larger network centers in the U.S. that served as regional hubs for carriers and content providers."
Today, 365 Data Centers is one of the largest privately held IaaS providers in the Eastern U.S. The company now boasts a portfolio of 13 datacenters across the U.S. and a national network of carriers and content providers.
365 Data Centers focuses primarily on colocation, followed by network services, including internet access, transport, and network access. On the cloud side, products include secure cloud server infrastructure, cloud migrations, managed backups, object storage, business continuity, and disaster recovery.
"We have built a very scalable business that offers customers what they asked for in the enterprise space," Bob said.
High-Touch Hybrid Infrastructure Solutions
In October 2020, the company announced that Stonecourt Capital LP had acquired a majority stake in 365. Two of the original investors, Lumerity Capital and Longboat Advisors, reinvested in the new partnership. The transaction provided the hybrid datacenter provider with additional resources to fund internal and external growth.
"We restructured the equity component of the company, with Chirisa Investments and Turning Rock Partners stepping out and Stonecourt joining us," Bob said. "We're excited to partner with Stonecourt because of their great team and proven reputation for supporting growth."
365 acquired Atlantic Metro Communications (AMC) in November 2020, boosting its capacity in providing customized colocation, network, and cloud services to large and mid-sized enterprises.
"By offering more infrastructure services and products, we can differentiate ourselves from colocation-only providers," Bob said. "Right now, we're providing about 65% colocation and 35% managed services."
As with many IaaS providers, 365 has welcomed new clients looking for solutions suitable for a remote COVID-era workforce. The company is focused on providing top-notch customer support as it onboards these customers.
"We are still at a size where the CEO can speak directly to anyone on the staff," Bob said. "It may sound like a cliché, but in this business, success starts at the top. That means everybody at the senior team level is involved when there's an opportunity to wow a customer. That trickles down to not only our customer service group but our technicians."
The team works to take as many infrastructure burdens as possible off the backs of SMBs, telecom carriers, and cloud service providers so they can focus on running their business.
Reduce CapEx Expenses and Boost Operational Agility
With data centers in emerging and established markets across the U.S., 365 helps customers build the distributed colocation infrastructures they need to help businesses do everything from providing low-latency service to employing disaster backup plans.
These benefits are just part of the company's multifaceted value proposition. Financially, for example, 365 helps SMEs save on capital expense (CapEx) costs by moving to operating expense (OpEx) models.
"There's a good ROI that comes from working with us," Bob said. "We can spend the money on the major infrastructure, and you can pay us a recurring fee. But more importantly, we enable customers to focus on growing their revenue because they don't have to spend a lot of time and effort around what we do."
365's distributed datacenter locations, colocation services, and cloud solutions may attract clientele to the company, but it's the company's approach to working with people that makes customers stick around.
"Everybody on our team is focused on retaining that customer no matter what it takes," Bob told us. "They have a lot of authority to make decisions on the spot because it's all about the customer. During COVID, we even gave people free access to remote datacenter hands for about six months."
While the need for remote access has accelerated the company's growth during the pandemic, Bob said the trend will undoubtedly continue.
"The demand for network-centric data centers has reached a new level," he said. "At this point, there are more investors desiring these types of assets than there are available and mature businesses."
A Disciplined Merger and Acquisition Strategy
The team at 365 is currently working to properly integrate Atlantic Metro Communications (AMC) with its business so customers see nothing but improvement.
"We're spending money to bring some of the network and data center elements within the AMC business up to 365's standards in terms of both quality and efficiency," Bob said. "That is our main focus."
The aim is to focus on organic growth while maintaining a structured merger and acquisition strategy.
"We're only going to acquire businesses that provide the services that fit right in — we don't want to create apples and oranges," Bob told us. "We are value-oriented investors, so we will be working hard to improve and integrate assets into our scalable platform."