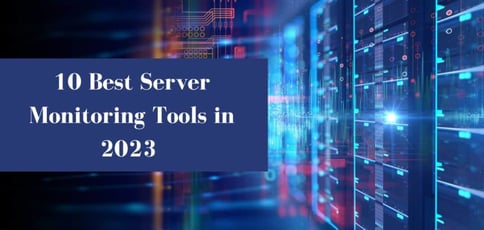 An established digital presence has become a solid marker of success for modern organizations. This presence usually includes a myriad of digital channels, from websites to a host of social media platforms that seem to be multiplying by the day. With these wide-ranging platforms comes a lot of time and effort to manage and maintain user-friendly and engaging customer experiences.
Behind the scenes and the work done by the cast and crew is the machine that powers a company's applications, websites, and other services — the infrastructure and servers. Maintaining this foundation is crucial to the health of a business and multichannel experiences. One proactive way to manage maintenance is with server monitoring tools.
Informed users make better decisions. And server monitoring tools give users visibility and insights into the networks powering their digital platforms. Observability can change everything and make companies aware of things that make or break their processes. Below, we discuss the top server monitoring tools to add to your list to help you keep a watchful eye on your infrastructure.
Like a keen canine on the lookout for security issues, Datadog is a monitoring and security platform to help companies protect their cloud applications. Its platform gives businesses full visibility of their applications, infrastructure, and third-party services. Users can also access and produce logs, metrics, and other data visuals to inform decision-making.

More about Datadog:
Allows for the visualization of basic details as well as more complex data details
Automatically creates logs from all your services, applications, and platforms
Includes AI-integrated tests that will save time and resources
Creates a customizable dashboard that reflects your most important business data
With Datadog, users can see into any technology stack and application no matter where they are. It allows them to pinpoint vulnerabilities and assess their infrastructure health for the utmost security. Loved by thousands of customers, Datadog has a lengthy client list that includes Samsung, Whole Foods, and Peloton.
Chronosphere is a cost-effective server monitoring platform that provides tools based on customer needs. With its cloud-native observability platform, Chronosphere ensures that the data the developer receives during troubleshooting is applicable and concise. Fewer tools, lower cost, and no unnecessary data!

More about Chronosphere:
Only stores valuable data based on need, context, and utility, thus making this platform cost-effective
Remediates issues faster and keeps data growth organized and concise
Allows companies that are smaller to scale since the services adapt to the company's data needs and budget
Every organization seeks to eliminate problems before they affect end users, and with Chronosphere, they can do that and so much more. Chronosphere gives users instantaneous alerts with all the relevant information to tackle an issue head on with speed. Teams can also save time and focus on value-add tasks instead of doing guesswork with its data intelligence tools for accurate decision-making and problem-solving.
Pandora FMS offers a complete, out-of-the-box monitoring solution for quick resolution and infrastructure maintenance — it's like opening Pandora's box but without the fallout. Users can access Pandora FMS across environments and use it to manage the entire IT stack.

More about Pandora FMS:
Reduces response time to issues with real-time monitoring and alerts
Provides more than 500 plugins to enable users to manage their various applications
Offers professional services to help companies seamlessly implement its solution
Pandora FMS is a flexible SaaS platform that fits into any industry or business, so there is no need to worry about integrating it into your workflows. Its solution allows users to quickly spot issues within their networks with auto-discovery, receive alerts for IP inventory, detect configuration changes, and gain insights on usage and bottlenecks.
New Relic is a platform that allows engineers to monitor, debug, and improve their stack through data visualization. Industry giants, including Nike, Toyota, and Verizon, leverage New Relic's platform to create connected and collaborative development environments for their teams.

More about New Relic:
Offers integration compatibility with more than 600 applications
Allows for browser, mobile, and infrastructure monitoring
Has a new feature called New Relic Grok that uses AI to generate instant data insights and provide coding solutions in real time
New Relic surely doesn't operate like an ancient instrument. Users can perform full-stack monitoring and gain all-in-one observability across their environments. New Relic also allows teams to track and analyze their telemetry all in one place, making it simple to draw conclusions and streamline business decisions.
A trusted service provider for the likes of Marriott and Fujitec, Atera equips users with the tools to run efficient IT management for their end users. It offers an RMM (Remote Monitoring Management) platform that allows complete control and visibility of customer networks from any device. Through Atera, users can find everything they need to streamline their workflows and run their monitoring processes for any device.

More about Atera:
Allows for visibility of your client's network through instant network scans
Delivers a simple and easy-to-use interface
Saves time by automating patches and eliminating vulnerabilities
Atera's RMM platform boosts productivity and efficiency, turning your security approach from reactive to proactive. The company leverages automation to deliver real-time monitoring and alerts and automates menial, repetitive tasks, so users can focus on what matters most.
As its name suggests, ManageEngine provides users with multiple solutions to piece together a comprehensive powerhouse for all things infrastructure and application management. Its platform allows users to monitor, manage, and secure their IT infrastructure, networks, and applications with a series of tools.

More about ManageEngine:
Designed specifically for DevOps and IT teams, providing visibility on how applications behave within the cloud
Offers assistance to webmasters and network engineers to create great end-user experiences
Provides global website monitoring to gain further insights, including response time and uptime
Site 24×7, one of ManageEngine's monitoring solutions, gives teams a complete view of their website, server, application, and network performance. Teams can track end-user experience, weigh cloud costs, and troubleshoot issues across cloud resources.
Calling all BizTalk users! This all-in-one platform allows users to manage their administration, monitoring, and analytics processing easily. Microsoft, the BizTalk server creator, swears by the platform to streamline workflows within its BizTalk environment. BizTalk360 helps more than 650 enterprises, including Microsoft and BBC, to monitor and track multiple facets of their BizTalk server in one place.

More about BizTalk360:
Allows the tracking of messaging performance and query building
Offers web-based portal for easy and safe access
Creates an informative and customizable dashboard to understand business health easily
BizTalk360 provides safe and audited access for every kind of user, from technical IT employees to business decision-makers. Users can leverage a collection of features to boost their monitoring and problem-solving efficiency, from real-time dashboards to server health updates.
FusionReactor APM allows users to identify problem points, such as broken apps or poor performance, five times faster for swift corrective action. Users can leverage FusionReactor to manage several parts of their environment, from databases to applications.

More about FusionReactor:
Instantly identifies performance and stability issues
Provides real-time application monitoring for quick solution turnarounds
Reduces downtime and increases productivity with coding tools, including Live Production Debugging and OpsPilot AI
FusionReactor is an ideal piece for a developer toolkit. It allows developers to dive deep into their code to optimize debugging and streamline continuous monitoring. Teams can also easily analyze logs for troubleshooting and accomplish other manual tasks quicker to focus on what they want to do — creating innovative solutions.
Although it doesn't harness the power of earthly elements, SolarWinds is just as innovative as the next power generator. Users across various industries leverage its award-winning, comprehensive platform to solve their most complex problems. SolarWinds offers full-stack hybrid multicloud observability, IT service management, and database performance management all in one place.

More about SolarWinds:
Provides comprehensive visibility with the merge of application and infrastructure data
Uses AI and ML (Machine Learning) to assist with simplifying management tasks
Accelerates issue resolution through the use of built-in intelligence driven by data across the environment
With SolarWinds, users can consolidate tools and efficiently manage their operational infrastructure through its secure software. Forrester recently recognized its work in AIOps, naming it a notable vendor in the report. SolarWinds' AIOps solution is also well-rounded like the rest of the platform, performing data-driven automation and remediation, predictive analytics, and root cause detection.
Managing countless amounts of data can often feel like walking deeper and deeper into an endless cave. Before you know it, you have lost your way. Getting its name from the spelunkers who love to study caves, Splunk finds it no trouble to help users traverse the vast depths of their data accumulation. Its unified security and observability platform is designed to keep digital systems secure and running.

More about Splunk:
Provides real-time monitoring to ensure exceptional customer experiences
Helps reduce major IT incidents with predictive analytics and proactive monitoring services
Offers hybrid and multicloud services that allow organizations to stay agile and flexible with their performance
Over the last 20 years, Splunk has gained a trusted reputation, and its loyal customer base relies on its platform to maintain mission-critical systems. Its infrastructure monitoring tools give users instant visibility and accurate alerts to improve performance. Whether you have on-prem, hybrid, or multicloud infrastructure, Splunk allows you to easily monitor and quickly troubleshoot issues with automatic detection and visualization.
Security is the Way of the Future
Security tools have become a must-have in today's economy. Companies can no longer coast without a robust security infrastructure in place. And server monitoring tools play a significant role in securing the technology and systems businesses run. If you're searching for a visibility platform, we hope one of these comprehensive solutions in our top 10 list can help you manage everything in one place and save major bucks down the line.