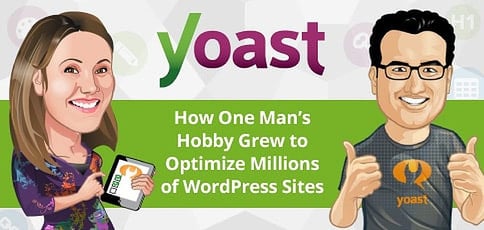 TL; DR: King of WordPress SEO Joost de Valk and his queen, Marieke van de Rakt, PhD, discuss their road to royalty, chronicling the creation of today's prominent WordPress SEO company: Yoast. We introduce the Mister and Misses, hear the hiccups of the early years, gawk at the growth, and pick their brains on new releases. Read on to learn the challenges of supporting millions of users and maintaining plugins for millions of WordPress sites — beginning with the story of one man's side project turning into a multi-million-dollar company.
Let's say you're an artist, maybe by trade or perhaps just for the fun of it. You enjoy painting — you like to create, you like the colors, and you like that you can make your mom's day by sharing your art — and maybe you're actually pretty skilled at your craft.
Now what if your talent could be used to help millions of people grow their business? Imagine if, by sharing your artwork and teaching folks to color mix, color match, coat, and create like you would, you could help millions of individuals build a more enjoyable and therefore lucrative business, communicate with one another, and experience a more pleasant world in general.
That's essentially what Joost de Valk did when he single-handedly started building tools for WordPress site owners to use to optimize their web properties to be discovered by search engines. His handiwork makes websites more intuitive for the site navigator, more reliable, faster, and easier for search engines like Google, Bing, and Yahoo! to find.
Today, his is one of the foremost names in SEO. Joost and his wife, Marieke van de Rakt, PhD, told us the backstory of building their Yoast Kingdom, including the hiccups of the early years, the scaling struggles, and the triumphs of their creative, close-knit team today.
Do you like to know what's coming next? Ahead we'll cover the testing and integration challenges, the Yoast team culture, and new releases for 2016.
The Yoast Story: Turning a Hobby into a Multi-Million-Dollar Company
If you're in the WordPress web development space, you've probably come across the name "Yoast." What's crazy is how humble this couple is about their tremendous success and the role they've played in the industry as this company has exploded in recent years. "We've taken what was absolutely a hobby and turned it into what is now a multi-million-dollar company, which is — well even saying it sounds ridiculous," Joost said.
Meet Mr. Yoast: A Hobbyist Develops SEO Plugins, Supporting 1M
+

Users Himself

Before Mr. Joost de Valk (AKA, Mr. Yoast) embarked upon the journey to build what would become Yoast, he was working for a digital marketing company. It was about six years ago that he made the plunge to break out on his own. He started consulting for eBay, The Guardian, and other major companies, while working on a side project: developing the plugin that would become the flagship in a long line of industry-leading SEO tools.

"I was developing WordPress SEO, but that was more of a hobby," Joost said, recalling the time leading up to the aha! moment. "After a while, I became so busy with my "hobby" that my wife said, "Well, this doesn't really work anymore — you need to start making money!"" Boom. He released Video SEO, then WordPress SEO Premium, which later morphed into Yoast SEO Premium, "and that was so crazy successful that we had to build a company around it," Joost said.

For years, he was a one-man show. He handled support, development, testing, et cetera. Admittedly, Joost told us those early stages were a lot to handle, and he was very grateful to have his wife come aboard the team. Today, it's Joost, Marieke, and their first employee, Michiel Heijmans handling most of the management. "We've each got a different skill set and work really well together," Joost commented.
Meet Mrs. Yoast: A Sociologist Migrates from Academia to Forge Yoast Academy
Joost's wife, Marieke, mirrors her husband's high-functioning and busy lifestyle with a twist: a sociology background, a PhD in Criminology, four beautiful children, and a mission to keep her husband and team on track. After working as a researcher and instructor at Avans University of Applied Sciences in Den Bosch, Marieke made the move to get more involved in Yoast.
"I really like to write, and so I started doing eBooks… and making sure everybody finishes their plans," she teased. "Everything you see on our site that's under the Yoast Academy tab is basically Marieke's work," Joost added. "She's been a tremendous force in growing the company."
Three Challenges To Be Faced Once You Hit the Millions-Of-Users Mark:
Over 74 million websites are running on the beloved WordPress platform, and Yoast plugins are running on millions of them. As far as backwards compatibility goes, we figured testing potential new releases would be ultra-nerve-wracking and de-bugging the integration with other plugins and tools would just be a plain pain. We were right. Once you hit the millions-of-downloads threshold, supporting the software and the users becomes an involved ordeal.
1. New Release Testing — An Afterthought vs. A Full-Time Project
Testing is often undervalued in the WordPress development community, and Joost told us that just about every member of his team has experienced that OH SH** moment: "where you make a mistake and now that mistake is on five million websites." Therefore, they understand the grave importance of testing, troubleshooting, and patching like it's nobody's business (because you're actually affecting lots of bodies' businesses).
Joost told us that testing for major releases is extremely rigorous, and it's advanced quite a bit in the last few years. "We've got a rapidly growing set of automated tests, and more and more often we're doing rather deep user testing before releases," he said. "The testing process has changed from being an afterthought to being a 2-week full-time engagement for the entire time, which is a lot of trouble a lot of times." For example, Yoast SEO 3.0 was a bear of a release to push out (i.e., moving 35-40% of their code-base from PHP to JavaScript), but Joost told us he had anticipated that update being slightly "painful," but he also knew it would be well worth the work.
2. Integration De-Bugging — Plugin Issues vs. Web Host Issues
For a while, the team kept a running list of other plugins running next to Yoast plugins for integration testing purposes — and they very quickly had a laundry list of over 80,000 scripts on their hands. "You cannot test everything," Marieke said. "It's just impossible."
What's worse is that for every piece of software coexisting with Yoast plugins, there are often at least a handful of versions of that software that the Yoast team has to juggle. "One of the hardest challenges is PHP 7 or PHP 5.2 and running MySQLs in various versions — and even worse than that is running patched PHP versions with older Curl versions," Joost said. "One of the most annoying challenges we have to deal with in support everyday is a particular bug with a few hosts that run a Curl version that's literally nine years old." Joost told us he has a "love/hate" relationship with a few of the most popular web hosts for this reason.
So the gist: Yoast has to consider every version of every Internet technology running alongside their plugins and then start debugging from there. Yikes — so lots of test-driven development (TDD) testing and lots of manual click-through integration testing are required.
"The amount of variables is just insurmountable," Joost said, so they mostly focus on testing with around 40 of the most popular plugins, keeping in contact with those development teams; however, Yoast now has one of the larger dev teams in the WordPress world. "We're starting to figure out that there are a good amount of popular plugins out there that have maybe one or two developers and that's it," Joost said. "We end up doing a lot of pull requests in a lot of other plugins to fix their bugs, because they're actually hurting us."
3. Customer Support — Satisfying Freemium Users vs. Premium Users
It really should come as no surprise, but "doing support for one million active websites on your own is basically not doable," Joost said, recalling the early days of handling everything as a one-man show. He let us know that as the Yoast team has grown, so have their support means and efforts. "I feel that we have a team in place now that's large enough to handle this stuff," he said, "but that team is about 10 developers and 10 people in support." It's amazing what a small group with big-deal capabilities can pull off.
Unsurprisingly enough — folks looking for a free plugin (or free anything) can be demanding and darn-right "nasty," according to Joost; however, he was pleasantly surprised to find that "people paying for a service are probably the most polite people" that come looking for support. In general, Joost and Marieke agreed that it's impossible to please everyone all the time. "We make some tough choices every now and then, because we think we know what is right, and that's our choice," Joost said.
A Day in the Life of Yoast: The Team Today & What They're Working On
About six years ago, the idea of Yoast began with Joost's plan to break away from his digital marketing job to start consulting on his own, along with a promise to remain a solo operation. "I had an agreement with my wife that I would never get any employees and that sort of failed," Joost told us, laughing. It has been a slow-growing team, however; Joost didn't bring aboard any additional developers or team members until about three years ago. Today, they're in "full-on hiring mode," with a team that's growing more than ever before: 32 folks in the Netherlands, almost 50 worldwide, and nine new hires brought aboard just since the start of 2016.
Rethinking the Start-Up Experience: More Game Nights & Less 60-Hour Weeks
In our experience, web-oriented workplaces tend to be awesome at building creative company cultures and spinning up incentives for tech-savvy teams — e.g., catered lunches, in-office challenges, and other internal perks. "I think we can check all the boxes," Joost said chuckling when we asked the couple to weigh in on this. "We try to be like a family," Marieke chimed in, "and that's hard, because we are growing so quickly now."
One of the countless ways Mrs. Yoast has recently reeled in that family vibe is by distributing a "Know Your Colleague" Quiz: 26 questions (e.g., Whose favorite color is black? or Who likes the Black Eyed Peas?) challenging the team to determine which teammates are the "answers." The Yoasts initiate several similar bonding activities, including hosting game nights at their home regularly. Joost told us that they're based in a small town with the majority of their employees only facing about a 5-minute commute to work, which has a positive influence on the overall dynamic.
"We also try to get people to stay within a 40-hour work week," Joost said. "Unlike most startups, we don't try to get people to work 60 hours a week, because we don't actually believe that that works." His wife interjected with the teasing reminder that he is still prone to staying long after the 40-hour mark, but what committed and passionate CEO doesn't? "Our idea is that if an employer is nice to his employees, they will return the favor for the employer — and it works very well," Marieke elaborated. Joost agreed, saying that they've been able to attract some of the world's "top talent," despite not being located in the most "sexy city" in the Netherlands.
Reiterating on the Old & Innovating the New: Plugin Releases & Training in 2016
On the horizon for Yoast users, there are several plugin and social-related releases and tutorial resources in the works or recently launched. Joost told us that anything and everything that the team can work on to improve — within a reasonable time frame — they will.
Yoast SEO 3.1 (released March 1, 2016): This latest release has Joost and Marieke very excited. It involves a new feature that allows you to set primary categories for posts.
Social-Themed Releases (in the works for 3.2+): Joost told us the team has a couple of cool projects in the works for 3.2 as they try to "theme" their releases for the year. "The next release will be about social — improving stuff like Open Graph meta data and Pinterest integration," he said.
New Training Course (Yoast SEO Plugin): Marieke is leading this project, which builds upon their Basic SEO Training course, including thorough tutorials on plugin settings and best practices for using them. "We've actually hired an educational scientist to create all the questions," Joost said, and there will be formal certifications administered for those who complete the course to show potential clients and/or employers.
"We've got two other major features that I'm very happy we're building, but I can't say too much about that just yet," Joost hinted. We're anxiously hanging on that cliff. We did ask if he foresaw removing the meta keywords option from the plugin anytime soon and he said that was doubtful; however, that option's checkbox is not ticked by default and a rather obnoxious message is left discouraging users from checking the box to turn it on. Take the hint — wink, wink, nudge.
Final Words from the Godfather of WordPress SEO: Quality Content!
If you take away no other golden nugget of advice from the WordPress SEO King, remember this: Write quality content on the Web, because Google is getting better and better at recognizing good content and rewarding that quality in rankings. "Every single change that we're doing at the moment is focusing on reducing the amount of work that you need to do on the technical side of SEO and improving how we give you feedback on the quality of your content," Joost said.
Yoast aspires to serve the web community through educational resources and technical tools to help web users experience a better web and create better web properties. "We're very open-source-minded," Joost said. "We like teaching people, we like sharing, and we like to bring the whole community to a higher level."
Advertiser Disclosure
HostingAdvice.com is a free online resource that offers valuable content and comparison services to users. To keep this resource 100% free, we receive compensation from many of the offers listed on the site. Along with key review factors, this compensation may impact how and where products appear across the site (including, for example, the order in which they appear). HostingAdvice.com does not include the entire universe of available offers. Editorial opinions expressed on the site are strictly our own and are not provided, endorsed, or approved by advertisers.
Our Editorial Review Policy
Our site is committed to publishing independent, accurate content guided by strict editorial guidelines. Before articles and reviews are published on our site, they undergo a thorough review process performed by a team of independent editors and subject-matter experts to ensure the content's accuracy, timeliness, and impartiality. Our editorial team is separate and independent of our site's advertisers, and the opinions they express on our site are their own. To read more about our team members and their editorial backgrounds, please visit our site's About page.