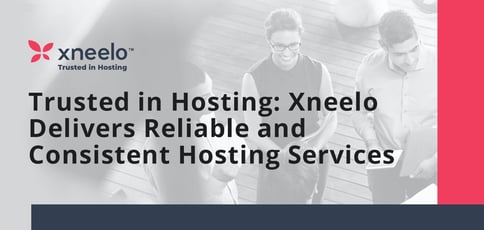 TL; DR: Founded in 1999, xneelo has earned a reputation for its top-notch 24/7 customer service, which empowers users to establish and grow their businesses on the web. The company delivers reliable web hosting services backed by robust infrastructure and careful attention to customer need. As xneelo expands from South Africa across the rest of the globe, it aims to offer users far and wide the same high-quality services that its long-term customers have grown to love over the past two decades.
The global web hosting market continues to expand, with forecasters estimating a valuation of $76 billion by 2023. Considering the market's size, it's easy to see why so many would-be site owners find choosing a hosting provider so difficult.
Beyond performance, pricing, and infrastructure options, the decision really comes down to support. While many providers offer the same technology, a truly caring, knowledgeable customer service team is a rare find.
Athena Turner, Brand Manager at the hosting company xneelo, said she agrees wholeheartedly.
"Our advice to potential customers is to test levels of support by either calling or sending an email to a list of recommended hosting providers," Athena said. "Get a sense of their response times and their consultation advice. Get a better understanding of their maintenance routine and their communication style with customers. When you choose a web hosting company, you are choosing a partner that will need to scale and adapt to your business."
The team at xneelo spends each day maintaining the trust of its customers — which the company has worked hard to earn. xneelo's tagline, Trusted in Hosting, reflects its promise to deliver reliable, high-quality products and services.
"At xneelo, we've always thought of ourselves as enablers, offering a hosting service that empowers our customers to grow their businesses online, which we believe creates a multiplier effect for society to thrive," Athena said.
According to the company's manifesto, xneelo exists to foster an online environment where dreams and aspirations come to life.
A Passion for Serving the South African Business Community
xneelo's roots go back to 1999 when the company was founded as Hetzner SA with the goal of offering dependable hosting to small and medium-sized businesses across South Africa.
"We're passionate about web hosting — it's our core business and what we do best," Athena said. "When we started in 1999, our vision was to offer a reliable web hosting service to the SME mass market in South Africa, differentiating ourselves through our consistent customer support. That vision and focus still drive us today."
In 2019, after opening an office in Canada and planning for launches into new markets, Hetzer SA changed its name to xneelo (pronounced ex–nee–lo). The rebranding effort was designed to help alleviate confusion with Hetzner Online, another international brand.
The name xneelo was inspired by a Latin phrase meaning the ability to create something out of nothing. "We believe that xneelo speaks to the resourcefulness, ingenuity, and industrious spirit of our customers — and of our own team," the company stated in a press release at the time.
Though the company's name may have changed over the years, its values, general product offerings, leadership team, and operational strategy did not. Neither did the company's firm commitment to earning customer trust.
"Our reputation has been built one customer at a time over the last 21 years. In South Africa, we're known for delivering a consistent, helpful service to over 500,000 website owners," Athena said. "Our relentless focus on customer service has given us a 9.6 out of 10 rating from HelloPeter, the South African customer service rating platform. Our net promoter score is 95."
Keeping Customers at the Center of the Business
As industry veterans of more the 20 years, the xneelo team has successfully navigated several challenges to remain competitive.
"Over the years, we've had to contend with the high cost of bandwidth, a limited supplier base, and high electricity costs," Athena said. "Keeping our customers at the heart of our business and our persistent pursuit of a narrow business focus has helped us to navigate through these challenging operational constraints."
Athena told us that, along the way, the team has always worked to pass cost savings (whether acquired through the efficient management of supplier relationships or infrastructure) on to customers.
"As a case in point, while electricity costs have increased, we've been able to build and maintain an energy-efficient, carrier-neutral datacenter that uses as little electricity as possible through our free cooling method," Athena said. "For the past three years, our Samrand Data Centre's Power Usage Effectiveness (PUE) scores have been significantly below industry standards (coming in at 1.21 instead of the 1.40 standard). This energy efficiency translates directly into cost savings for our customers. It's good for them, and it's good for the environment."
When it comes to innovation, Athena said customers are a driving force in the industry, and the xneelo team is continually working to keep up with their evolving needs.
For example, while the web hosting industry previously focused on the infrastructure required to host content, today's industry must also make that content accessible to the nontechnical user. Web hosting is also becoming increasingly transactional with automated deployment and security services.
"In the past, customers received an empty FTP shell to host their content," she said. "Now, they want point-and-click usability and integration. They also want reduced complexity in setting up a website that enables their business to interact and transact online."
The company's Managed Servers allow customers to focus on their websites rather than on the infrastructure supporting them. With all Managed Servers, the customer manages the site, while xneelo takes care of the web infrastructure.
Lasting Customer Relationships via Word-of-Mouth Marketing
Customers turn to xneelo's comprehensive product catalog for everything from domain registry and web hosting to self-managed servers and colocation. But Athena said it's the high levels of customer support that makes them want to stay.
"The common thread that exists regardless of the product a customer selects is our 24/7 customer service," she said. "Over the past two decades, xneelo has built a strong, customer-centric culture. Because our employees stay with us for years, we are able to build momentum with relevant expertise and knowledge, creating a better service experience for our customers."
xneelo is so confident in its customer service that the company doesn't have a sales team. Athena told us that, in a sense, customers serve as the company's sales force.
"If we're doing our job well and delivering good value, then our customers will tell their friends and clients about us," she said. "That's how we've grown over the years, and that's how we'll continue to grow — by offering a relevant and valuable service to the South African business community. Everything we do should be to the benefit of our customers. Otherwise, it's not worth doing."
In addition to 24/7 support, the xneelo team is known for its network stability and high price-to-performance ratio.
"We may not be the cheapest hosting provider in South Africa, but we do offer the best value," Athena said. "Before any changes are made in our business — particularly where it impacts our customers — we consider carefully the relationship between cost and value."
New Releases: Control Panel and Managed WordPress Products
xneelo has two exciting product launches planned for 2021 — a new control panel and a Managed WordPress product.
"Because 45% of our websites make use of WordPress, we are launching a Managed WordPress product this year," Athena said. "We have also invested heavily into the user experience of our proprietary, next-generation xneelo Control Panel."
The xneelo team designed the Control Panel to give the customer a unique, flexible, and intuitive self-help experience.
"We've spent a significant amount of time focusing on collaboration benefits, reseller prospecting, and volume scalability," Athena said.