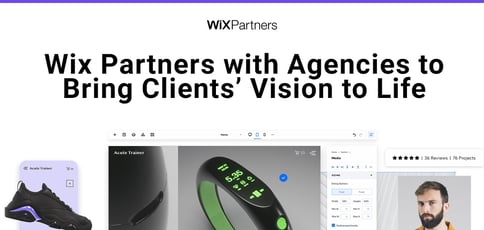 TL; DR: As the world continues its move toward digital adoption, more companies will need to transfer their businesses online to accelerate their operations and better meet customer needs. Wix Partners supplies agencies and small businesses with the tools to build professional, high-performing websites without the development burdens. The Wix team drives value by helping partners reach qualified leads, design functional and custom sites, and secure client operations, all with easy-to-manage capabilities. Agencies can work with peace of mind and the goal of scalable growth with Wix.
Establishing a well-rounded online presence has become crucial to successful business models as more companies undergo digital transformation worldwide. But applying all the bells and whistles to a professional website without coding expertise can be a daunting undertaking.
"The majority of sites in the world are being built by professionals. The types of websites these professionals are building are much more mature and advanced," said Michal Bignitz, General Manager and Head of Wix Partners.
Although many users turn to low-code website builders, those tools can only get them so far when creating a high-performance site with layered offerings. With so many new capabilities — from modern design patterns to various social media widgets — users must juggle multiple features to promote their businesses through different verticals.


Wix Partners shoulders the burden for agencies and companies looking to build attractive websites for themselves or their clients. Agencies often have enough on their plate with other tasks such as building content strategies, marketing campaigns, or other eCommerce action plans.
Wix Partners enables companies to set up a seamless digital ecosystem with the support of their distinctive capabilities and new ones, including delivery interfaces and inventory management. Michal told us that Wix has seen tremendous growth in businesses that switched from physical to digital in the last two years. The company prides itself on helping its partners reach qualified leads and build valuable digital assets through its Partner Program.
"Partners and agencies can build hundreds of sites with us. They can really grow with us and we work to bring them every tool to propel both their business and their clients' businesses forward," said Michal.
Wix Works as an Extension to Agency Platforms and Their Teams
Wix partners with various agency types — from web creation to digital marketing — to create cohesive online verticals. What distinguishes Wix from other website-building competitors isn't only its capabilities. The Wix Partners team focuses on getting to know its partners to ensure quality assessment and production.
"We have a huge success manager team. Their goal is to help our partners, utilizing whatever tool they need, reach their own goals. Because each agency and business like this has their own goals," said Michal.
Wix's success manager teams dedicate their time to understanding each agency individually by listening to their needs and scoping out their digital vision. Michal said this dedication is why Wix fits into various client business models.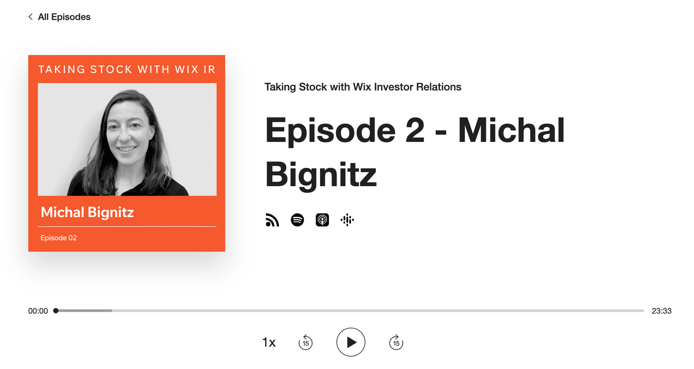 "According to their needs, we help them find the right solution within days to build their offerings in the best way. They are a business offering a package to their clients at the end of the day. And we are here to help them with that," said Michal.
Michal also told us that Wix is a product-centric company, and it has a strong focus on user needs. Customer feedback drives its road maps and feature releases, which demonstrates the company's commitment to meet its user expectations and improve satisfaction.
"The fact that users like our product so much is because we listen to them and understand their business and needs. We advanced over the years by listening to them and according to that have worked to develop the best product to solve their needs and help them grow," said Michal.
New Features Tailored to All Agency Stakeholders
Wix Partners tailors its features to fit the needs of agencies and ease the collective workloads of their stakeholders. Wix not only helps its users build professional-level websites but also enables them to grow and manage their business online efficiently.
Users can leverage Wix and Editor X to apply custom design and simplify website creation. Editor X gives users more design control with advanced styling and formatting tools, while Wix accelerates web development and accommodates scalability. And that's not all.
"We have a robust product offering, including advanced customization capabilities, enterprise-grade performance, security, and reliable infrastructure, as well as commerce and business solutions, advanced SEO, and marketing tools. We also have Velo, which provides the ability to code your site," said Michal.


Wix provides specific features required to boost client operations in its different packages depending on use cases. Its collection of integrated solutions allows agencies to create a cohesive web experience for every stakeholder. These solutions include built-in SEO tools, eCommerce and sales, GDPR compliance, and collaboration dashboards, among others.
Using Wix also makes digital operations manageable for agency clients.
"If you're an eCommerce agency, for example, the intuitive platform enables your client to manage their store on their own. They can easily do fulfillment, inventory management, and other tasks with Wix because we provide the ecosystem," said Michal.
Michal also told us that Wix has invested heavily in optimizing performance over the past two years and that it ranks higher than its competitors. With the Wix Partners program, agencies can scale and find the tools to maximize their clients' web potential and brand awareness with the backing of a successful website-building company.
Partner with Wix to Offload Website Administration and Security Burdens
Wix Partners' solutions allow businesses to build and grow their clients' platforms without the hassle of web development complications. Development teams with low staff numbers are often swamped with overloaded to-do lists. Wix gives agencies a way out of the endless funnel of duties, and one way it does so is through security.
"You can be assured by the Wix security team. We have highly talented developers who are doing this daily, securing Wix for all of our websites and the platform itself," said Michal.
Michal told us that handling too many menial tasks, such as countless plugin and widget upgrades, can become unsustainable and makes it difficult to focus on driving operations forward. Wix takes on the responsibility of security measures to keep updates and other maintenance tasks from overwhelming teams.
"We make sure their site is secure so, as a professional agency, security is a service you can offer without investing tons of time, money, or a team," said Michal.
Reliability is a significant pillar of the Wix framework. The team works hard to deliver that to add value to its company and its clients' businesses.
"The main essence of our product is helping businesses grow, build their online presence, and manage their business operations," said Michal. "At the end of the day, we see both self-creators and agencies growing on the platform, using more and more of our product offerings to scale and grow their businesses online."