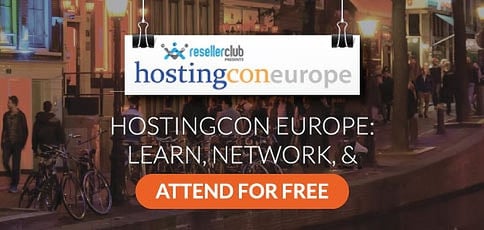 TL; DR: Growing by leaps and bounds, this year's HostingCon Europe is expected to attract more than 1,000 web, hosting, and cloud industry leaders to Amsterdam. Just like other HostingCons around the world, attendees can expect compelling educational sessions, a fascinating Exhibit Hall, and some of the best networking money can buy. Even better: All this can be yours for the price of FREE if you're a web host, cloud or managed service provider, reseller, datacenter, or telecommunications company.
Just a few months removed from my first HostingCon experience in New Orleans, I've finally gotten over the shell shock of seeing the new technologies on display and having unfettered access to major players in the hosting and cloud industries.
Now, as ResellerClub and Penton are gearing up for the European edition of HostingCon, I'm excited to hear what new stories emerge from Passenger Terminal Amsterdam.
Hosting companies, cloud and managed service providers, hardware and software vendors, as well as value-added resellers and domainers will all descend on Amsterdam on October 11 and 12 to learn during 20 expert speaker sessions and participate in some of the best networking opportunities around. Hardware vendors can connect with hosting companies, hosts can find partners to add value to their services… the list goes on and on.
We checked in with Penton's User Marketing Manager and our guide to all things HostingCon, Andy Grider, to get the scoop on what exciting changes attendees can expect this year.
Chief among them: Most attendees can register for free. Hosts and service providers, resellers, datacenters and telecommunications companies can all receive free, all-access passes by using the code EUROPE6 when they register online.
"This is the third year we've held the event in Amsterdam, which is a city we love traveling to," Andy said. "It's such a beautiful city to visit, and the people are very friendly and accommodating."
Who, What, Where, When, and Why: All the Details You Need to Attend
Attendees at last year's event represented more than 40 countries and 400 companies, and Andy expects those numbers to grow significantly.
Here's what you need to know for HostingCon Europe 2016:
Who: Web, hosting, and cloud industry decision makers
What: Conference and trade show focused on doing business in Europe
Where: Conference events are at the Passenger Terminal Amsterdam, while the recommended hotel is the Mövenpick Hotel Amsterdam City Centre
When: October 11-12, 2016
Why: HostingCons of all shapes and sizes are known for top-notch educational sessions, networking opportunities, and an impressive Exhibit Hall
If you've downloaded a HostingCon app in the past, it should already display info for HostingCon Europe, Andy said. You can use the app immediately to start contacting other attendees.
"It's a great way to set up meetings while you're at the event and make sure you connect with the people you want to meet," he said.
Hear from Europe's #1 Ethical Hacker at Keynote Address
Andy said he is most excited to hear from this year's keynote address, from Jamie Woodruff, nicknamed Europe's #1 Ethical Hacker.
"It'll be interesting to hear stories from him about how he hacked into some well-known companies — with permission — and helped them fix their security flaws," Andy said.
Jamie, who will be speaking during HostingCon Europe's first day, hacked Facebook as part of a student competition and has since uncovered a number of security holes in high-profile websites such as YouTube, Twitter, Apple, and Google. His keynote presentation will focus on how business decision makers in the hosting industry can protect customers and their own brands.
Familiar Networking Events Look to Bring New People Together
If nothing else, HostingCon Global proved to me that you don't need some fancy shindig to do some remarkable networking.
One day in New Orleans, Team HostingAdvice sat down at some random open table for lunch. An hour later, we were laughing and conversing with a Director of Product from Rackspace, a Product Operations Manager at Etsy, and a Co-Founder of InMotion Hosting. The people who attend HostingCon are the ones looking to make deals happen — and have the authority to do so.
Beyond the lunches, meeting in the Exhibit Hall, or just waiting around in the hallways outside educational sessions, HostingCon Europe will feature the same networking-specific events as last year. If it ain't broke, don't fix it.
The first evening boasts a can't-miss party: The Opening Network Reception opens up the Exhibit Hall at the Passenger Terminal Amsterdam with a flourish and free drinks.
HostingCon Europe concludes with the WHIR Networking Event, which will again be held at Delirium Cafe. Andy said more events hosted by partners will be announced very soon.