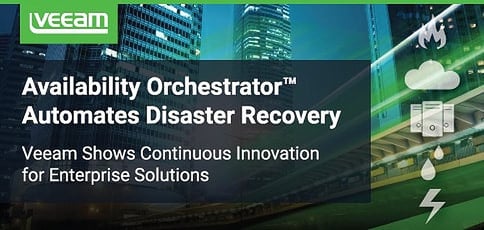 TL; DR: In a digital world, customers expect around-the-clock availability. Veeam helps companies deliver that with a comprehensive suite of backup, disaster recovery, and virtualization management products. We're focusing on one of the company's newest tools, Veeam Availability Orchestrator, which automates and tests disaster recovery plans. Aiming to give enterprises Always-On Availability™, Veeam is an easy pick for our Developers' Choice™ award for continuous innovation in disaster recovery solutions.
You probably don't notice the signs that tell you to take the stairs instead of the elevator in the event of a fire anymore. Fire drills are just a time to shuffle outside and socialize with coworkers in the parking lot.
When smoke fills the hallways, however, you'll be glad for the preparation. That's the same concept behind Availability Orchestrator, the newest product from IT backup and disaster recovery leader Veeam.
Nearing a beta release, Veeam Availability Orchestrator eases the cumbersome process of testing, executing, and documenting disaster recovery plans. Without a solid procedure to follow, according to Vice President of Product Strategy Doug Hazelman, enterprise companies stand to lose millions in downtime, damaged reputation, and lost productivity.
"I've been in more fire drills than I've been in fires," he said. "In the event that something happens, you need to know how to act. Without having that disaster recovery plan understood and documented, it's very difficult to know what to do next. That's where Orchestrator helps out."
Veeam Availability Orchestrator Adds Automation to Disaster Recovery
As with all of the company's products, Veeam Availability Orchestrator helps customers achieve what the company calls Always-On Availability™.
"We might have a fit when Netflix or Facebook goes down, but enterprises have no tolerance for downtime," Doug said. "People can't do their work, and it's very costly."
Auto-Updating Policies Orchestrate Backups and Replicas
Setting up a disaster recovery plan in Veeam Availability Orchestrator essentially entails setting up policies to identify problems and streamline the failover process.
"As your environment changes, those policies will then automatically get updated for that changing environment," Doug said. "You don't have to go in and update it every day. It's auto-updating itself in the background."
Automated — and Non-Disruptive — Testing to Maintain Reliability
Veeam pioneered automatic testing capabilities for their backup and replication software several years ago and built upon the codebase to automate disaster recovery testing.
"You want to make sure you've tested it before you need it," Doug said. "You can tell Orchestrator to run a weekly test, run through the checklists, make sure everything is good, and tell you if something bad happens."
Built-In Updates to Documentation Fosters Compliance
With so many of the company's customers facing rigorous compliance and regulation requirements, Doug said a major perk to Veeam Availability Orchestrator is the ability to document and update the disaster recovery plan.
"If you need to be able to quickly produce your plan, you don't want to have to print it out and have all these binders sitting around," he said. "They get out of date very quickly. With Orchestrator, you can click a button, and it'll document your plan and send it off to your compliance department or whoever needs it at that particular point in time."
Orchestrator enables users to set thresholds to automatically update the disaster recovery documentation if, for example, the environment changes by more than 10%.
Annual Availability Report Illustrates Gap for Delivering Reliability
Each year, Veeam gathers feedback from more than 1,000 senior IT decision makers across the world about their challenges in providing highly available, always-connected environments.
The 2016 report showed that more than 80% of respondents have what Doug called an availability gap. "We're talking to real-world customers and finding that a lot of the IT folks and CTOs we talk to are not able to deliver on that expectation of zero tolerance for downtime," he said.
Alarmingly, the research showed that despite investing in datacenter improvements, the average number, length, and cost of unplanned outages has increased — the organizations experienced around 15 downtimes each year lasting roughly two hours for mission-critical applications and almost six hours for other services. The annual cost of outages goes up to $16 million, which is $6 million more than Veeam researchers discovered in 2014.
"Whether it's a datacenter that's down, an application, or just maybe even a single virtual machine, you want to be able to make that available as fast as possible to avoid any disruption," Doug said.
Respondents valued high-speed recovery and data loss avoidance systems, with more than half of those interviewed saying those were desired capabilities missing from their datacenters.
Veeam Teams Up With Customers to Drive Direction and Innovation
Moving forward, Doug said Veeam will be looking beyond on-premise availability and exploring solutions for managed clouds, public clouds, and Software-as-as-Service products.
Company leaders and partners will discuss the expansions, new products, and more at VeeamON, the company's annual conference about all things availability. With the 2017 edition happening in May in New Orleans, Doug said the company expects around 3,000 attendees.
"It's a good cross section, from IT professionals to CTOs," he said. "It's a great learning opportunity around availability in general, but, of course, we'll be diving deep into how to configure and set up our products and announcing several new innovations."
Beyond listening to industry analysts and watching IT trends, Doug credits customers and their experiences for inspiring Veeam's product development.
"Understanding their needs and challenges are the types of things that help us continue to move forward," he said, adding the company aims to deliver features and functionalities that users need while still creating new solutions in the industry.
"We have a history of innovation in being able to listen to the customers, understand what they tell us they want to or need to do," he said. "Then, we go back and deliver it in such a way that they hadn't actually thought would work or be applicable. No one was asking for them because they didn't know they could be delivered."