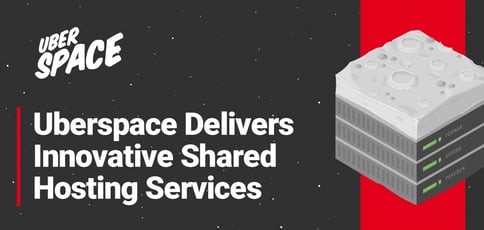 TL; DR: Uberspace offers entrepreneurs shared hosting services with advanced security and a dozen programming languages installed by default. The company excels at customer support, with support engineers offering guidance for troubleshooting any application installations. Uberspace differentiates itself through that service, an innovative pricing model, and fully owned hardware housed in Germany that is compliant with EU privacy regulations. With its recent migration to English-focused applications, the company has seen an uptick in clients from the U.S. and other English-speaking regions.
The shared and private hosting industries have largely solidified in recent years. Technologies, costs, and service portfolios have converged among providers, both large and small, leaving individual companies to differentiate on price, service, or niche feature sets.
At the lower end of the spectrum, where value is king, the market for light-duty shared-hosting services boasts a large number of mostly cookie-cutter vendors. Those providers are often resellers themselves, and they may cut corners to win low-bid contracts.
Their customers buy into a well-defined box of features at a given pricing tier. They may find limitations imposed by the business model, including bandwidth caps, drive-space caps, and reduced feature sets. German hosting company Uberspace aims to disrupt that model by removing those limitations for entrepreneurs while providing the same value.
"We started as a host for any web technology," said Michael "Luto" Lutonsky, a Developer at Uberspace, which launched in 2011. "We have web solutions and many other tools. Now we're trying to focus a bit on the application side of things."
Uberspace differentiates itself in two significant areas. First, its pay-what-you-want pricing model offers growth opportunities for businesses of all sizes. The company also lifts many artificial application caps that prevent account holders from customizing the technology to meet their needs.
Those philosophies combine to allow entrepreneurs to launch and scale quickly while experiencing fewer barriers to success.
Shared Hosting with SSH Access and a Dozen Programming Languages
Most shared-hosting solutions impose hard limits on subscribers. A typical provider grants access to a control panel from which the account holder can install a specific set of web apps, manage email, and handle essential DNS updates.
Many mainstream providers, by default, don't offer shell access (SSH) — or remote, command-line access to a server. Instead, users have to ask for it, and even then, they may not receive root access. That means users can't modify the packages installed on the server because they are one of many users on the same operating system. It may restrict users to some small fraction of the overall hardware's resources to limit the disruption to other accounts.
Entrepreneurs who need greater control over their servers, or fewer limits, often move from shared hosting to a virtual private server, increasing both cost and complexity. Uberspace follows a different logic model.
"It's shared hosting," Luto said. "But you can SSH into your space, and you can do a lot of stuff that you can normally only do on a virtual server."
By default, Uberspace provisions new accounts with a secured Apache server, MySQL databases, and development frameworks — including PHP, Python, Ruby, .NET Core, and NodeJS.
"There's a greater focus on providing up-to-date software right now than there was five or six years ago," Luto said. "Then, nobody cared about the exact PHP version you offered. But now, if you're still on PHP 5.6, nobody's going to look at your offering. We stay on top of that, offering the most recent versions."
Uberspace also owns its infrastructure, based in Germany, and is fully compliant with German and European Union privacy laws. The company is also GDPR compliant and doesn't act as a hosting reseller.
Customer Support Helps Small Businesses with Rare Application Needs
Shared hosting typically costs less than a virtual private server. Many VPS offerings start at seemingly reasonable rates but increase as customers add resources to the server. Some modern shared-hosting plans — ideal for low-traffic blogs with an email address — can cost less than $3 per month. Entrepreneurs get what they pay for: less configurability, fewer server resources, and a lack of dedicated support.
Uberspace uses a pay-what-you-can model, offers a 30-day free trial, and doesn't have subscriptions or contract periods.
"You contribute a monthly amount of your choice from which we pay our hardware, infrastructure, and staff. If you can pay a little more, you will help us all to become better. If you can't afford much, others will support you. We don't want to count beans; we want to join forces."
It offers three suggested tiers, although customers may set the level to anything they want — even monthly. That pricing model has attracted both large and small-scale entrepreneurs.
"For the longest time, we worked with mainly technical people," Luto said. "But over the years, we noticed that many agencies use the product. And lots and lots of small shops, including barbershops and people doing cool craftwork."
Those barbers and crafters don't need to be tech-savvy to benefit from Uberspace offerings, either.
"We've got a great customer support team," Luto said. "You can ask them anything. If you ask about specific software we've never seen before and it's not working, we'll take a look at it and see if we can do something about it."
Uberspace: Supportive Service and Shared Hosting Without Limits
As the shared hosting industry began to separate into premium and cheap factions, Uberspace grew into a niche that didn't conform to either. Luto views customer support and the lack of artificial restrictions as foundations of the Uberspace value proposition.
Offering many programming languages isn't hard, according to Luto. It's a minor lift for the company to keep the various languages it supports up to date.
"If something's technically possible, you can do it; we won't stop you. Many hosts limit what you can add to the space. There may be a technical reason for it, but Uberspace doesn't impose those limits."
The customer support team doesn't police usage. Instead, it works with customers to help them get the best possible use from the applications they install, regardless of whether the app is officially supported.
That level of support in a low-cost, shared-hosting server means that an entrepreneur who needs one or two specialty apps on an otherwise standard build will find a welcome home. And for the tech enthusiast, Uberspace's UberLab offers detailed instructions for installing dozens of different web apps.
After seeing success in Europe, the company plans to push into the English market next.
"The most exciting thing right now is the English language," Luto said. "It has a lot more people we can reach."
The core software and the documentation have been migrated to English to open up a new entrepreneur and developer market. Uberspace also retains its German pedigree with on-premise, fully owned hardware, and a commitment to privacy protections enshrined in European law.
"We are starting to gain some traction in the United States and other English-speaking markets as well," Luto noted. "That's awesome."