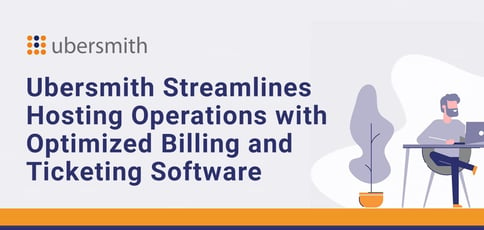 TL; DR: Ubersmith provides companies with integrated billing and ticketing software in a comprehensive subscription management platform to streamline their customer service and hosting operations. The company allows users to customize their billing models to their needs and business strategy with the help of its support team. Its comprehensive platform simplifies business management and delivers essential solutions — from orders and sales to domain management — in one place. Although Ubersmith serves multiple industries, it has optimized its solutions for the cloud and hosting sector, and partners with several companies to offer new integrations for its customers, keeping the Ubersmith platform evolving with demand.
In the 1990s, as the hosting industry emerged and fueled the decade's internet boom, many hosting companies were only beginning to find their footing. Web hosts had a fresh, new market to break into and were figuring out how to capture their target audience.
Every successful company needs a competitive pricing strategy and billing system to back up its operations. But at that time, hosting companies struggled to create a billing model that worked efficiently. A hosting company named Voxel formed a software team, now known as Ubersmith, to respond to this need and build the very thing that has made Ubersmith so successful today — a robust monthly recurring billing system.
"We were successful internally but also almost immediately sold it to other hosting companies around the world," said Kurt Daniel, Ubersmith CEO. "Soon after, we coupled billing with a ticketing product, which were two of the biggest pain points that we saw within Voxel. And then other hosting companies validated that a broader solution was more of a market opportunity and not something that was unique to us."

Although Ubersmith was created through its connection with the hosting industry, it now also successfully serves datacenters, MSPs, telcos, ISPs, SaaS companies, and others. The company has added many automated features that simplify day-to-day tasks to help unify internal departmental operations and allow companies to scale more quickly.
Kurt told us that, after the team created the initial billing and ticketing system, it added more solutions, including order management and customer portals, to make the software more robust.
"We have some customers who work with our support manager and create many different departments. So you can have operations infrastructure, technical support, billing, and sales in there together, but separated nicely," said Kurt.
Ubersmith provides hosting providers with integrated management software to tackle their business needs. Its solutions help improve and establish operations systems with built-in automation for multiple tasks, including billing, support ticketing, quoting, and device monitoring. The platform allows companies to optimize how they communicate with customers and manage their devices all in one place.
"Ubersmith is a wonderful platform and ideal for growth. The scalability of the software, architecture, security, and reliability are why our customers often move from another hosting billing platform or another hosting automation platform to Ubersmith," said Kurt.
"By consolidating all our previous systems into Ubersmith, customer information related to billing, products, and service is centralized in one place, making it readily accessible," said Marty Puranik, CEO and Founder of Atlantic.Net, an Ubersmith customer. "Plus, we've eliminated the need for training our staff on different systems, which saves countless hours and streamlines resources."
Meeting Comprehensive Business Needs with a Single Platform
Ubersmith has more than 100 integrations that users can deploy for almost any department system, whether accounting, fraud detection, or domain registration. It partners with industry-leading companies to design and deliver these solutions to automate payment, cloud, hardware, and service processes.
Ubersmith also helps companies arrange and organize their relevant, historical data so they don't have to worry about losing important information.
"They might be a small company but have 10 years of data, 10 years of tickets, 10 years of invoices, and they want to preserve as much of that as possible. We can help them move that with software and professional services," said Kurt.
Customers can also rely on Ubersmith in the long run because it focuses on answering needs as they come. It remains competitive by creating partnerships and providing new integrations as the market changes, so companies don't have to think about switching providers for better options. Over the years, many Ubersmith customers have grown without hitting a limit because of the company's ability to deliver with agility.
"Ubersmith is at the core of our business," said James Cornman, Chief Technology Officer and Co-Founder of Atlantic Metro Communications, another Ubersmith customer. "Every person in our company uses the product – from customer support to sales to operations. The system has allowed us to expand and scale our business. In particular, the automation of usage-based billing has allowed us to grow while being able to keep internal costs down."
Partnering with Customers to Build Customizable Billing Models
Customers can work with Ubersmith to configure a management model that fits their operational strategy. Ubersmith's support team specializes in bringing its client's vision to life. This flexibility and access to personalization give Ubersmith a strong competitive advantage compared with that of other business solutions providers.
Kurt said it is crucial for Ubersmith not to limit how customers use software, now or in the future. Ubersmith sets out to offer customers customization on all levels.
"We offer turnkey usage and billing out of the box for things like cloud, virtualization, bandwidth, backup, and support, which we think is great for those who can use it or customize what is out of the box. And we've seen people build all sorts of interesting custom usage billing and custom reports for anything they can imagine," said Kurt.

Customers can develop their customizations by using API or plug-in system, which makes customization more simplified and accessible for customers with less expertise. But users don't have to do the work alone; they can also enlist the aid of Ubersmith's support team. Ubersmith also provides a plug-in system, which makes customization more simplified and accessible for customers with less expertise.
Kurt said customers can leverage the Ubersmith platform's customization to a great extent and put a personalized touch on it to fit their management system. They can build tailored billing models with custom pricing and a flexible invoicing engine.
"It's important to enable our customers to do whatever they envision. And we want to listen to their feedback and build things that they suggest so they don't have to build it all themselves. But if they also feel they have something unique and we can't build it for them, then they have that option," said Kurt.
Delivering Management Solutions Optimized for Hosting Providers
Since 2002, Ubersmith has helped many cloud and hosting providers streamline workflows and automate customer management for better operational agility. Some of its biggest hosting clients include Namecheap, phoenixNAP, ServerMania, Codero, and HostPapa, among others.
"Ubersmith software offers us capabilities for efficiently running our business, which ultimately allows us to better serve our customers," said Hillan Klein, Namecheap COO. "It also provides us with valuable statistical data that we can use to improve our service offering. Additionally, our new agreement with Ubersmith gives us priority-level support."
Global IT services provider phoenixNAP is an excellent example of how leveraging the Ubersmith platform can improve internal and external output. Ubersmith allowed the phoenixNAP team to save time and money by equipping it with advanced custom reports and immediate access to critical billing information without accounting lookups. Ubersmith's ordering system helped phoenixNAP better manage its inventory, and its flexible payment options enabled the company to offer more payment options to its customers.
"Today, phoenixNAP can bring a customer online within hours which is due to our automated workflows. We have been able to deliver 200 bare-metal servers within 24 hours to serve customer needs. Without automating the customer onboarding workflow and associated billing processes, we could never have sustained those rates," said Ian McClarty, President of phoenixNAP.
Becoming the Premier Hosting Automation And Billing Vendor Begins with Trust
Kurt told us Ubersmith makes a conscious effort to provide high-quality solutions to its customers. The Ubersmith team tests, supports, and signs off on everything that goes through the pipeline before it's delivered to customers.
"Ubersmith is looking to be the premier hosting automation and billing vendor if we're not already. So we think it's important to have the support we have, but also just the attention to the software, how we release it and test it," said Kurt.
During the COVID-19 pandemic, Ubersmith underwent many changes and had to provide support through it all, not only for its customers but for its teams. The company became independent after Lumine Group acquired it in July 2021, and that allowed it to push more on development. Ubersmith also went fully remote, which wasn't foreign to them.
Kurt said the team had experience with the distributed workforce and already had the technology to ensure connectivity, including communication apps Slack and Zoom. So when the pandemic came around, the team was well-acquainted with working apart and didn't have to scramble with the idea of remote working.
"So what we tried to do is say, look, we trust you and want you to perform the best work you can to serve our customers as well as possible.​​ We went from a position of trust but also of necessity early on. And I think the employees appreciate it, and the customers didn't notice any difference at all," said Kurt.