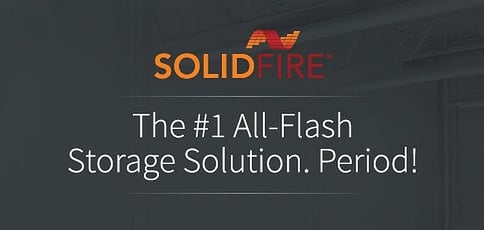 TL; DR: SolidFire is the only all-flash storage provider in the world that can offer guaranteed I/O Quality of Service (QoS) and I/O Operations Per-Second (IOPS). With amazing technology and features, they are quickly become the de facto choice for storage needs of many hosting companies.
If you're a system administrator tasked with monitoring thousands of servers at once, you probably have many horror stories about a few long-running storage tasks causing absolute chaos to the quality of service of a network.
When we heard about SolidFire and its amazing scale-out storage solutions for next-generation datacenters, we had to find out more. We had a great interview with Stuart Oliver, SoldFire's Global Service Provider Programs/Fueled by SolidFire Manager, who filled us in on the company and its impressive technology.
The Need for a New All-Flash-Based Storage Solution
One of the biggest pains for any web host or anyone who is trying to provide a service via servers is storage. Typically, storage I/O is the most common bottleneck and can easily bring a perfectly performing network to its knees in a matter of moments.
SolidFire began in January 2010 after Founder and CEO Dave Wright started a company called Jungle Disk in 2007. Wright went on to sell that backup solution to Rackspace in 2008. After working closely with the Rackspace Cloud division to build a large-scale cloud platform supporting tens of thousands of users, Wright left Rackspace to start SolidFire.
Being placed in charge of figuring out all of the storage needs of a large web host, Wright developed a checklist for what was needed to solve all the storage solution challenges across multiple platforms. The problem Wright faced was that he literally sought out every hardware vendor across the world, and he couldn't find one solution that could solve all of the problems.
SolidFire was originally designed to solve the many storage problems in a multi-tenant environment, such as cloud and managed hosting, where storage resources are shared.
Stuart Oliver and the Fueled by SolidFire Partner Program
Stuart Oliver has been working with SolidFire now for about two and a half years, and before joining this team, he was in charge of product management and product marketing for almost four years at Hosting.com. At the time, he helped with the build-out of all of their cloud and managed hosting offerings, which was the basis of what they're offering today.
When Oliver joined SolidFire, he was originally hired as the Senior Product Marketing Manager, with one of his tasks being to build the Fueled by SolidFire program.
"We knew we wanted to have a service-provider-centric program, keeping in mind that our initial roots were aimed at service providers, that's why we introduced this program," Oliver said.
"We literally started out from scratch and built the program up to where it is today," he added.
The Fueled by SolidFire program is split into multiple phases, and Oliver discussed two of the main elements of the program with us.
The Pre-Sale or Fueled by SolidFire Go-To-Market Program
Oliver travels around the world talking to service providers and helps answer questions they might have about how to market SolidFire's technology with their business model."There are a lot of questions about how to productize flash in the market, especially around SolidFire's architecture. Our architecture is unique in design for service providers, so a lot of product managers have questions about how they take it to market, how to productize it, how they should price it, how they should position it in the market, and how they ought to bundle it," Oliver said. "So I take my product management and marketing background and really act as a trusted resource to service providers, to help them build up their service offerings."
Oliver mentioned working with ServInt, a web host that is part of the Fueled by SolidFire program. Previous to ServInt buying SolidFire, Oliver spent an entire day with them trying to figure out what pricing model would work best for them — not just how much they would purchase SoldFire's service for, but a price they would go out to market with and put on their website.
Instead of buying a new technology and then having to figure out how to effectively use that tech and incorporate it into a profitable business model, SolidFire helps its customers plan for this.
Ongoing Advice and Guidance from Around the World
Oliver travels worldwide and SolidFire deals with all sorts of service providers, so SolidFire is able to help relay current business trends to SolidFire customers to help them better position and plan their service offerings. Again, you aren't just buying some new technology and then being left on our own to figure out how to best utilize and market it. SolidFire works with their customers to help them get the most out of their storage solution system.
SolidFire really stands out among storage vendors by providing a full storage solution — assisting with everything from planning and implementation, to marketing and sales.
Oliver quoted a Head of Product Management: "This is the reason we're choosing SolidFire for our storage infrastructure. With legacy storage companies we've talked to, it's just not in their DNA to have this kind of discussion. This is why we like SolidFire. You're changing the way storage is delivered to the market."
SolidFire Offers Huge Benefits Over Legacy Storage Solutions
With traditional legacy storage systems, you typically plan for and purchase what you think you'll need years in advance, and then you write them off over the next three or four years. This is because you know your hardware is going to be depreciating over that time frame, so you need to plan for that.
With this legacy model, you can quickly run into problems. For instance, if you buy an array of storage thinking it will meet your needs for the next few years, but then six months later you realize there are huge performance and quality of service issues, you're stuck having to buy another storage array for which you didn't budget.
"With SolidFire we're a clustered, scale-out architecture, so what that means is you can start very small and then start adding nodes one at a time. Our minimum footprint is 4U, and then we can start adding 1U nodes. Since it's a scale-out architecture, every time you add a node, you add performance or IOPS and you also add capacity," Oliver said.
This type of storage flexibility allows service providers to keep their storage costs down to only what they need at the time while achieving maximum performance. As storage demands grow, typically from bringing in more customers and revenue, providers can quickly scale up their infrastructure to meet those demands, keeping their revenue and profits better aligned.
SolidFire can also help in making sure service providers aren't flooded with a bunch of support requests from temporary dips in quality of service that might not still be there by the time support is looking at a ticket.
"If a customer calls you and says, 'my application or virtual machine is running really slow,' you can take them from 400 IOPS to 10,000 IOPS in an instant. If the application still has a problem, you can keep the customer on the phone and ask if it's still a problem. If it is, inform them that it's not the storage array, as you just increased their performance more than 10 times. It could be a problem with their application," Oliver said.
On top of all the advantages SolidFire's technology itself brings, by also utilizing an all-flash-based hard drive solution as opposed to legacy disks, in most cases there are five to 10 times fewer costs associated with electricity and cooling due to the lack of moving parts.
SolidFire Technology Continues to Evolve Over Time
One concern for many companies when thinking about storage solutions is whether or not they are future-proofed. What good is cutting-edge technology if you have to replace large parts of your infrastructure every time something better comes along?
"Really the only difference between our systems at the high level is the drive type, so we have a smaller model with 240GB drives and our largest model has 960GB drives. Since the only thing that is different is the drives, it allows us to mix and match these nodes. You could start off with your 4-node cluster of the small drives, and as you start to deploy and bring customers on, you realize we're selling more capacity than performance. It makes sense to buy the nodes with the larger drives because they are a more effective cost per gigabyte," Oliver said.
SolidFire virtualizes the entire storage array the same way some virtualization software might virtualize CPU or RAM, so anytime you add a node to your storage array, its performance and capacity is added to the entire storage pool.
The provider can then determine how they would like to assign out that performance and capacity among their network based on their needs.
There are typically two annual firmware updates that keep SolidFire's storage solution evolving.
As an example, SolidFire did not offer replication initially, but in the latest firmware release, all SolidFire customers now have the ability to configure replication across all of their arrays, which was included for free.
With this expansion, you can start off with a node of smaller 240GB drives, and as larger capacity drives become available, you can replicate the data from the smaller drives onto new bigger ones, with no data loss.
Easily Add SoldFire Storage to Your Network
Another great advantage of SolidFire's storage solution is that it can connect to a network either over a Fiber Channel or with a 10Gb Ethernet connection.
With the 10Gb Ethernet connections that you're seeing more and more data centers using these days, you aren't limited to having your storage arrays directly beside the cluster of servers for which they are providing storage. This can be a huge bonus for infrastructure planning and maintenance, keeping your deployments very organized and easy to manage.
SolidFire Plans to Continue Innovating in 2015 and Beyond
As for SolidFire's plans for 2015 and beyond, Lara Vacante, SolidFire's Director of Corporate Communications, joined in on our discussion with some exciting details on what SolidFire has planned.
SolidFire will be sticking to their commitment to continue on roughly six-month release cycles of its Element OS software.
The seventh generation of the Element Operating System, Nitrogen, introduced two new, major capabilities that allow for multi-tenant networking, creating segmentation of tenants or applications without performance loss. The other one being consistency group snapshots, allowing for safe, consistent snapshots across a set of volumes used for a single application or related applications.
SolidFire will also be working on more case studies and reports to help provide their customers with the data needed to help promote their services. Wright will also be getting more involved with helping SolidFire customers understand current storage trends, as well as what the future storage needs will look like with ever increasing demand.
SolidFire is also moving into some new sectors they hadn't initially anticipated. One example of these new sectors came from a new customer: ezVerify, which provides Software as a Service (SaaS) and Platform as a Service (PaaS) options for the healthcare industry.
The world's storage needs are growing exponentially in many industries, and SolidFire plans to be at the forefront — offering the best possible solution for these growing demands.
Final Thoughts
It sounds like SolidFire's amazing all-flash storage solution technology, as well as their overall company culture, is all about continued innovation and pushing the envelope concerning what's possible with storage.
The possibilities are endless when you don't have to worry about your storage architecture and can instead focus on creating amazing products and services. So if you want to provide the best possible storage performance in the world, look no further than SolidFire!
Advertiser Disclosure
HostingAdvice.com is a free online resource that offers valuable content and comparison services to users. To keep this resource 100% free, we receive compensation from many of the offers listed on the site. Along with key review factors, this compensation may impact how and where products appear across the site (including, for example, the order in which they appear). HostingAdvice.com does not include the entire universe of available offers. Editorial opinions expressed on the site are strictly our own and are not provided, endorsed, or approved by advertisers.
Our Editorial Review Policy
Our site is committed to publishing independent, accurate content guided by strict editorial guidelines. Before articles and reviews are published on our site, they undergo a thorough review process performed by a team of independent editors and subject-matter experts to ensure the content's accuracy, timeliness, and impartiality. Our editorial team is separate and independent of our site's advertisers, and the opinions they express on our site are their own. To read more about our team members and their editorial backgrounds, please visit our site's About page.