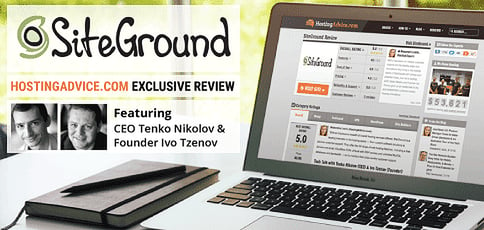 TL; DR: We interviewed SiteGround's Founder, Ivo Tzenov, and their current CEO, Tenko Nikolov, to discuss the ins and outs of the technology behind their hosting solutions. Check out our in-depth review of SiteGround here.
Calling all web-hosting-seekers, software savants, and fellow tech stack nerds — we've added an in-depth, exclusive review of one of our favorite web hosts: SiteGround. We got the chance to sit down with SiteGround's CEO and Founder, Tenko Nikolov and Ivo Tzenov.
Tenko and Ivo gave us an insider's view into the innovations behind their hosting solutions, including a demo of their custom Chat System, which their team designed in-house, along with their Support Ticketing System.
Full Review + Insights from SiteGround Leadership
SiteGround hosting runs the gamut from shared hosting for WordPress, to an impressive cloud hosting solution built upon their own cloud container platform. They offer tons of freebies, features, and expert support to help get you started.
Other products you'll be pleased to discover with SiteGround include their unique downtime prevention technology, a first-ever server isolation mechanism, among other solutions they've engineered from scratch.
What You'll Find in Our Review
Within this in-depth tour of SiteGround, you'll find reviews of each of their hosting services, including shared, WordPress, cloud (VPS), and dedicated hosting options.
See lists of all included features, plus available add-ons, pricing, storage configurations, and customer reviews for all of their hosting plans. We'll discuss their customer and tech support, and highlight popular features, such as their 1-click staging for WordPress and their one-of-a-kind server isolation mechanism.
Hear our thoughts on the benefits of each SiteGround hosting service, as we report on our experience with trying out their interface, as well as our conversation with Tenko and Ivo. Whether you're a first-timer looking to kick-start a website quickly, or you're a hosting guru whose eyes light up at the mention of "Geeky Advanced Features" (check out SiteGround's "GoGeek" Plan), there's tons to explore with our review of SiteGround as a web host.
Our SiteGround Tech Talk in a Nutshell
Getting to talk tech with these two was an awesome experience, and we were thrilled to get to hash out the infrastructural details of such an inventive hosting company. With supreme customer service, stellar uptime, and an ongoing investment in coming up with new, in-house solutions to enhance the user experience, SiteGround is a host you definitely want to check out.
Photo Sources: siteground.com; blogging.org; facebook.com