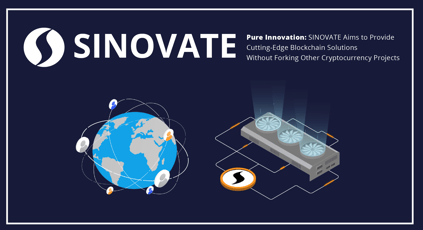 TL; DR: SINOVATE, founded in 2018, is working to build state of the art blockchain technology designed to overcome scalability, security, and governance problems. The company's proof-of-work algorithm, special masternodes, and incorruptible data storage system will help future users take full advantage of cryptocurrency technology. With a new cycle of Infinity Nodes, one-click node setup, and other breakthroughs on the way, SINOVATE is on a mission to take blockchain in an all-new direction.
Software forking, the process of using source code from one program as a foundation for future development, is a common and accepted practice in the open-source world. Case in point: Matt Mullenweg built WordPress — the darling of the free and open software community — using a fork of an existing codebase.
But that doesn't mean every open-source project depends on the technique. Some developers, like those behind the blockchain platform SINOVATE, base their strategy on doing precisely the opposite.
"Our team is dedicated to pure innovation in the blockchain world — making a difference by not copying or forking other projects," said Tamer Dagli, CEO and Co-Founder of SINOVATE. "We have the utmost belief in transparency and innovation, which also runs in our name."
SIN stands for Secure Infinity Nodes — one of the company's most significant breakthroughs thus far. The technology, an expirable take on the masternode, forms the backbone of the SINOVATE platform, ensuring network integrity.
SINOVATE implemented the cutting-edge protocol code to solve the high inflation seen in other blockchain projects. Other innovations include a revolutionary proof-of-work algorithm and an upcoming incorruptible data storage system. These solutions will help future users take full advantage of cryptocurrency technology while overcoming scalability, security, and governance problems.
Like many game-changing technologies, the SINOVATE platform is still in its infancy, but the company's road map lays out a steady schedule of robust upcoming releases. With new Infinity Nodes, one-click node setup, and other breakthroughs on the way, SINOVATE is gradually fulfilling its mission to take blockchain in an all-new direction.
A Collective Mission to Reshape the Blockchain Landscape
SINOVATE's co-founders put their vast technical know-how to use when starting the company, initially known as the SUQA Blockchain, in 2018. Tamer, for example, has been immersed in technology, hardware, software, and games since his early childhood — and has participated in the crypto era as an investor and miner since 2015.
The company's other co-founders boast equally impressive backgrounds. Pallas, current CTO and lead developer, has been a full-time programmer for 30 years and a core blockchain developer for more than five years. XuânTân Nguyen, a big data specialist, served as a solutions architect for more than 10 years before inventing SINOVATE's Infinity Nodes and decentralized cloud.
The trio's collective experience helped them navigate the company through its untimely launch during the 2018 crypto winter — the most brutal period in blockchain's short history, marked by a dramatic drop in Bitcoin value. Still, with the help of a devoted community, the company pressed on.
"SINOVATE was founded by a group of decentralization fanatics who wanted to follow in the steps of Bitcoin," the SINOVATE team said. "It was launched fairly, without an ICO or pre-mining stage, and it was community-driven from day one."
Decentralized governance is crucial for any blockchain solution. As a decentralized autonomous organization (DAO), SINOVATE was designed to function without hierarchical management.
"SINOVATE is an Infinity Node-driven DAO," Tamer said. "All decisions are made by our community of Infinity Node owners through a governance voting process called Revolving Sovereignty Votes (RSVs)."
Significant Advancements: Infinity Nodes and the X25X Algorithm
SINOVATE differs from many blockchain platforms in that users' voting rights must be renewed every year in step with the limited lifespan of Infinity Nodes. These special masternodes disappear after operating for a year, which the SINOVATE team said ensures stability.
Infinity Nodes are also unique in that users must burn a specific amount of coins, known as collateral, needed to activate one.
"When a SINOVATE investor posts collateral to run an Infinity Node, that collateral is burned forever via proof-of-burn," the company explained in a December 16, 2019, post. "This burn mechanism is distinctly different from traditional nodes, whose collateral can be unlocked and sold."
The burn process transforms the typical crypto economic model from inflationary to deflationary, as more nodes mean fewer coins and higher coin value.
"Burning collateral activates Infinity Nodes, which have a limited lifespan of 12 months," the SINOVATE team said. "If users burn their coins to set up a node, they must first wait to get back their initial coins in 10 months. In the remaining two months, they will generate passive income. This assures the consistency, sustainability, and stability of the nodes."
Another significant differentiator for SINOVATE is its custom X25X Proof-of-Work Algorithm, which works to prevent double-spending attacks. The algorithm itself was created to ensure fair mining conditions by resisting the advantages inherent in commercial mining techniques, such as Field-Programmable Gate Array (FPGA) and Application-Specific Integrated Circuit (ASIC).
"X25X is the natural evolution of X22i, the previous algorithm used for SUQA with further improvements on ASIC and FPGA resistance," Tamer said in a June 20, 2019, press release. It aims to help rejuvenate and sustain the GPU mining community and provides decentralization of the network."
Eliminating the Disadvantages of Distributed File Storage
The SINOVATE team said that data has usurped oil as the 21st century's most valuable resource. By leveraging a data-driven approach, companies can make well-informed choices and identify new opportunities, leading to increased efficiency, innovation, and revenue.
Tamer said current concerns over privacy, security, uptime, and storage costs make the shift from centralized to decentralized cloud storage solutions inevitable.
"There are already a couple of projects that have delivered the first steps toward a decentralized distributed file storage solution — but they all have drawbacks in terms of speed, stability, consistency, and sustainability," Tamer said. "The SINOVATE team identified these drawbacks and is working on more definitive and cost-effective solutions."
SINOVATE's decentralized cloud will leverage Incorruptible Data Storage (IDS) services, allowing users to buy space each time they put data on a node.
"The purchase amount will define how long data will be saved in the Infinity Node Data System," the SINOVATE team said. "It will be very cheap, at approximately 0.05 SIN, though the size will be determined later."
The SINOVATE team will evolve its IDS services in five gradual phases, each bringing new features and increased storage to the network.
Up Next: New Infinity Nodes, One-Click Node Setup, and More Features
The SINOVATE community has a bright future ahead. The SINOVATE team told us that fans should look out for a range of innovations on the horizon, including multi-asset creation on the SIN InfiniteChain, proof of integrity, proof of inheritance, tri-hybrid consensus, and IDS services. SINOVATE will also provide a web-based one-click Infinity Node setup empowering newbies to deploy their nodes in just minutes.
"Infinity Node 1.0 pure code, which will separate itself from the Dash masternodes code, will be delivered in June," Tamer added. "It will encourage many masternode projects to fork and use the Infinity Nodes code."
And, because Infinity Nodes have a limited lifecycle, the first of which started in June 2019, users will see a new cycle of Infinity Nodes beginning June 2020.
"Having coins ready to invest provides an excellent opportunity for high rewards and returns," the SINOVATE team said.