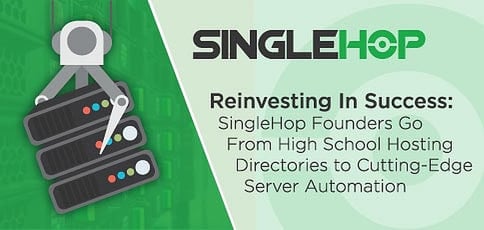 TL; DR: From enterprising student entrepreneurs to seasoned tech business owners able to transition from startup to scaleup, Dan Ushman and Zak Boca have excelled at navigating the nuances of the web hosting industry. Their company, SingleHop, is a leading provider of hosted private clouds, managed hosting, and automated infrastructure solutions for businesses around the world. SingleHop's ability to automate server deployment is mutually beneficial: They save tons of time and reduce the chance for manual error, so you can skip boring maintenance routines and spend more time developing your product or working on other strategic IT projects that impact your business.
Dan Ushman and Zak Boca have been working toward SingleHop since they were teenagers. As young entrepreneurs, they each started and sold companies, always reinvesting in themselves and their ability to notice and solve a problem in the industry.
As SingleHop's Chief Marketing Officer and Chief Executive Officer, respectively, Dan and Zak have taken SingleHop from its early days of transporting hardware to datacenters in taxi cabs, to building and deploying one-of-a-kind automated technology — giving them and their clients the power to deploy and manage servers on any cloud, with few errors and in a fraction of the time.
Young Entrepreneurs Work To Find Their Big Idea
As a high schooler in the late 90s, Dan started a directory of web hosts called HostingCatalog. Through that "little experiment that actually turned out to do pretty well," as Dan called HostingCatalog, he learned about the industry, the companies, and the people operating them — including Zak Boca, another student who was a year older, living in Kentucky, and running a similar site named RateMyHost. The pair got to know one another and started to send referrals to each other and discuss industry trends.
"We realized when we were in college, 'Hey, we're pretty good at this hosting thing. Let's start a hosting company,'" Dan said.
Midphase Finds Success & The Next Problem To Solve
The result was a company called Midphase. In their first day, Midphase attracted four customers and took off from there.
"We started to grow, and we started to learn more about the business and how to build out a team," Dan said. After a year, the company had more than 1,000 customers. "We decided that it was time to leave college, get an office, and go all in. We were on to something."
In just a few years, Midphase grew to about 180,000 customers and 160 employees in multiple offices, and the young entrepreneurs began answering clients' demands for dedicated hosting.
"We quickly realized what a pain it was to deploy custom dedicated servers for customers," Dan said. "Every time you sold a server, you had to go build the server, you had to have the parts for it, you had to put it together, and you had to transport it to the datacenter."
For a while, Midphase staff even transported completed servers to the datacenter via taxi cabs. Then the employee would have to put the server in the rack, plug it in, throw in some removable media with the OS on it, install an operating system, and type out an email welcoming the client to their new server.
Then, as so many great ideas and successful companies begin: "We thought there had to be a better way," Dan said.
SingleHop Brings Solutions & Savings To Server Automation
While still running Midphase, Dan and Zak hired some developers and rented back the crummy office Midphase outgrew a few floors below their newer, larger digs. Their mission was to automate every aspect of infrastructure deployment, and it took them roughly 18 months to complete. During that span, Dan and Zak sold Midphase to UK2 Group. Again, the entrepreneurs invested their capital in their newest venture and started signing clients to SingleHop in early '08.
"SingleHop was the first to fully automate server deployment and it immediately resonated with the market," Dan said. "You could deploy a bare metal physical server in less than an hour in pretty much any configuration you could dream up. It worked so well, we started to look at ways to lean on automation in different ways to make life easier for clients."
SingleHop Takes A LEAP Forward: Automating Both Hardware & Software
SingleHop extended their technology into a client-facing portal called LEAP, which enables customers to do what SingleHop does so well for themselves. With LEAP, customers can design, deploy, configure, monitor, manage, clone, resize, scale, and decommission all their infrastructure from one platform on any device at any time.
"Every year Gartner updates some really interesting research that identifies the real cost of running a server. The true cost goes way beyond the price tag of the servers themselves to include software, connectivity, and disaster recovery, but the largest component of the cost by far goes toward paying staff to maintain them," Dan said. "Most of the time people spend on servers is routine busywork — just keeping the lights on, and making sure backups are being done. Talented IT people are wasting their time and potential on busywork. We're trying to change that."
From day one, SingleHop began as an automated platform able to catalog a huge amount of data about those servers. "We know where every single server in our datacenter is, what parts are inside of them, how long every single cable connecting something to something else is, and much more," Dan said. "When a customer device breaks or when a customer reports something, we have years of data we can look back on and see exactly what components might need to be replaced. The tech can then grab those parts before going to look at the server. It's true and well known that you can greatly accelerate the provision of service using the data you've collected by automating since the beginning, but it is not well understood how that same early automation can improve the quality of service going forward. It's meaningful."
LEAP At The Opportunity: SingleHop Sets Up Servers In A Fraction Of The Time
With LEAP, infrastructure is deployed in minutes instead of hours, eliminating much of the chance for human error and time-consuming troubleshooting that usually follows errors. Clients can monitor progress at every step in real-time. SingleHop also built out APIs and white-label portals so that resellers could extend the same automation to their clients.
"It pretty much integrates most of the stuff that you would want to do to your infrastructure from the purest infrastructure standpoint in one nice, simple place," Dan said. While deployment automation is more common in the hosting industry now, LEAP was the first portal to market to offer it and is still one of the fastest in the industry.
AI Is Out There: SingleHop Serves Software To Machines At Other Companies
Next in SingleHop's queue is AI, a centralized platform to manage server operating systems and software environments on any virtual or bare metal server across any provider. AI is currently in beta. With the increasing prevalence of companies today adopting a multi-cloud strategy, businesses often have servers spread across different cloud vendors. They need an easy way to monitor, patch, and manage all of those servers, regardless of the operating system or cloud they are running on. Right now they have to do it all by hand.
"It doesn't really matter where the servers are," Dan said, "AI keeps them up to date and monitors their OS and software. The services are easy to install and even come with a useful mobile app for receiving and responding to AI's action items, allowing users to manage their servers anytime, from anywhere."
SingleHop customers run a 1-line command on their servers to install AI's agent, which will ping back to their account. From there, they can monitor the CPU, application use, memory, and storage, and maintain patches.
"AI lets you schedule patches to be executed at certain times, lets you ignore them, or lets you assign them to another member of your team, or to the SingleHop team so we can handle the work for you," Dan said. "We found that the patch management feature in particular is something a lot of people are excited about."
Since SingleHop announced AI in mid-November, more than 100,000 servers from 2,000 organizations have been signed up to use the platform. The company expects general availability of AI later this year, but they have not released a specific launch date yet.
"It's applying automation in a way that gives system administrators and developers more time to do what they like to do and less time just maintaining the servers," Dan said.
Managed Hosting Showcases How SingleHop Excels At Customer Support
SingleHop offers more than automation, however. In addition to the dedicated, virtual, and colocated servers, the company features private clouds and a bevy of managed hosting solutions. From fully-managed servers to custom solutions, managed Azure, and soon-to-be released AWS, SingleHop can tailor their services to meet clients' needs.
Onboarding Process Ensures Customers Only Pay For What They Actually Need
SingleHop examines potential customers' current server needs and actual utilization. Clients' perceptions of how much server space they need can be drastically different from what they actually use, according to Dan, who mentioned studies that show the majority of servers are dramatically underutilized — as much as 94 percent of an average server's CPU and memory goes idle most of the time.
"People talk about how virtualization and the big public cloud solve this kind of efficiency issue, but what we've really ended up with is a lot more VMs that are still very underutilized on an individual basis," he said. "You haven't really solved your utilization issues at all, but instead spread them out more. It doesn't matter if you've got bare metal or a VM, it's still for the most part underutilized."
That onboarding evaluation typically means customers save money when signing on to SingleHop, Dan said. "Not by virtue of SingleHop being cheaper, but rather by SingleHop sizing their solutions in a more appropriate way that better aligns with customer needs."
Customization Of Management Means Customers Do As Much As They Want
A lot of traditional managed hosting means customers use the service and rely on the hosting company to completely manage the server infrastructure and environment. In many cases, customers don't get root or administrator access, even if they have the skills to use it. SingleHop's approach is a bit different, according to Dan.
"In our managed hosting relationships with clients, it's more of a co-management arrangement where we perform a lot of the stuff they don't want to do," he said. "When they want to do something themselves, however, they retain that ability. We let them cherry-pick the things they want to do."
SingleHop's co-management approach has resonated well with developer-heavy organizations, Dan said, because developers can continue to maintain their custom software without being bogged down in the mundane maintenance requirements.
"We're a very nice middle ground for a lot of organizations with mixed technical staff and limited time," Dan said.
SingleHop Today: Work, Fun, & Philanthropy
SingleHop accepted their first investment in 2012, after four years of business. Battery Ventures, which has also invested in Akamai, Groupon, and Marketo, supplied $27.5 million to join Dan and Zak on the Board of Directors. Shortly thereafter, SingleHop acquired two businesses and built a "pretty awesome" datacenter outside of the company's headquarters in Chicago.
Now, SingleHop boasts about 150 employees and has datacenters in Chicago, Phoenix, New York City, Connecticut, and Amsterdam, with a support hub in Orlando. Average customers range from mid-market to enterprise companies, "probably a little lower on the talent side and higher on the revenue side," Dan said.
Work: Flat Hierarchy & Independent Workloads
Dan said he and Zak have always believed in running a company "flat." Not all the decisions are top-down, and he said many even come from employees outside of management roles. For example, the development team gets to pick what they work on 40 percent of each week, with assigned tasks taking only 60 percent.
"That works out to about two out of five days where they're their own boss, and they can control what part of the product or what feature they're working on," Dan said.
Fun: Confetti, Games, & Hoverboards
While SingleHop employees are talented and passionate about their work, Director of Communications and Branding Anastasia Bullinger said they still have a lot of fun doing important things. Aside from the standard bean bag chairs, video games, and ping pong table, she said it's normal to see SingleHop employees careening through the hallways on one of the company's several hoverboards.
When Dan got married and was away on his honeymoon, Anastasia described how SingleHop employees filled his office with confetti and balloons. "For weeks, every time the heat blower came on, it would rain down confetti," she said with a laugh.
Philanthropy: Holiday Shopping Spree & Wrapping Breaks
Around the holidays, SingleHop supports a handful of local Chicago and national organizations like Casa Central, Toys for Tots, and Chicago City Santa by purchasing gifts for families and individuals. SingleHoppers, as Anastasia calls them, bring their families to a company-wide day of shopping. "We go shopping and make a day of it," she said. "We all have a good time running around with huge baskets of toys."
SingleHop then sets up wrapping stations in the office so that when employees need a break during the following week or so, they wrap a bunch of toys. "We try to keep giving back in mind and serve a bigger purpose than just ourselves," Anastasia said.
SingleHop Stays Young & Hungers For New Ideas
Despite a slew of successful businesses throughout the years, Dan said he recognizes the talent in the SingleHop offices and understands the next big opportunity could come from anyone. If a high school teenager can end up with a multi-million-dollar business idea, so can his employees.
"My favorite thing about SingleHop, at the risk of sounding a little cliché, is that we've got some amazingly smart people in the office," Dan said. "I like being around people who are smarter than me and have good ideas and a passion for this business. I like people who make decisions based on data and check their ego at the door. We all like that because it leads to a better, more productive, more enjoyable work environment, and that translates directly into a better experience for our customers. That's what matters to us."
Advertiser Disclosure
HostingAdvice.com is a free online resource that offers valuable content and comparison services to users. To keep this resource 100% free, we receive compensation from many of the offers listed on the site. Along with key review factors, this compensation may impact how and where products appear across the site (including, for example, the order in which they appear). HostingAdvice.com does not include the entire universe of available offers. Editorial opinions expressed on the site are strictly our own and are not provided, endorsed, or approved by advertisers.
Our Editorial Review Policy
Our site is committed to publishing independent, accurate content guided by strict editorial guidelines. Before articles and reviews are published on our site, they undergo a thorough review process performed by a team of independent editors and subject-matter experts to ensure the content's accuracy, timeliness, and impartiality. Our editorial team is separate and independent of our site's advertisers, and the opinions they express on our site are their own. To read more about our team members and their editorial backgrounds, please visit our site's About page.