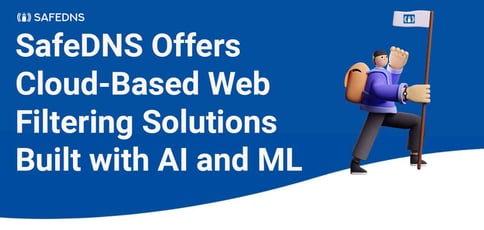 TL; DR: SafeDNS protects businesses and their digital resources from malicious attacks by equipping them with innovative DNS security tools. The company leverages AI and machine learning to detect harmful websites and organize them into categories on a cloud-based database for threat prevention. This way, when a user goes online, SafeDNS can stop access at the DNS layer before the user enters an unwanted site. Its web filtering solutions also allow users to set their preferences according to their needs and industry. SafeDNS safeguards clients against 73 million cyber threats daily and continues to grow its database.
Opportunities for cyber attacks have risen as more businesses build digital web presences for their operations. Many companies operating without cybersecurity expertise can be vulnerable to attacks without knowing it. According to Purplesec, 50% of cyber attacks target small to midsized businesses, with 66% experiencing attacks within the last 12 months.
For SMBs, cybersecurity is essential to the progression of their operations. Most businesses can't afford to get hit with massive attacks, such as ransomware, which can be a detriment to their revenue. With websites being the primary touch point for research and other activities, companies must find a way to protect this digital asset from cybercrime. SafeDNS offers website owners the first line of defense for web surfing with its DNS security solution.
"DNS represents the application layer protocol, the first layer of the 7 OSI model layers. In short, DNS Security stops the malicious content before it reaches your network," said Zack Fair, SafeDNS Product Manager.

The DNS layer is integral to web communication and connection. Its servers allow users to connect to a website but can also bring malicious threats. Many bad actors use the DNS layer to stage attacks, leaving businesses without DNS security vulnerable. SafeDNS enables companies to protect their networks and employees from these threats with its cloud-based web filtering tools.
"DNS Security shields you from data breaches in a very simple but effective way — it blocks access to a resource that contains malicious content," said Zack.
Combating Malicious Content One Block at a Time
More than 4,000 businesses trust SafeDNS to secure their networks, corporate resources, and DNS layers. A pioneer in innovative DNS security technology, SafeDNS uniquely approaches DNS security by leveraging AI and machine learning for its solutions.
"We have been using AI and machine learning in our solution since 2015, which is much earlier than all of our competitors. We've got 64 categories of content to block, which includes security, adult-related, illegal, and apps," said Zack.
SafeDNS sets itself apart from competitors by zoning in on DNS security as its main offering. Since DNS filtering is the company's primary product, it can focus on delivering a fully specialized secure solution. Its web content filtering leverages AI and ML to provide first-level protection for companies to secure their networks. With the help of these technologies, SafeDNS can detect harmful websites and organize them into categories for users to filter out.
SafeDNS allows users to deploy its platform quickly and easily. Since the SafeDNS platform is cloud-based, all users have to do is sign up, set up the service via their preferred browser, and specify their filtering preferences. Within minutes, SafeDNS customers will be able to navigate a safer web. Its AI capabilities allow the company to remain up-to-date and consistently find new threats and maintain its blocked categories. Every new threat goes into SafeDNS's database to enable instant threat prevention for user data and networks.
Leveraging its expertise in the field, the SafeDNS team optimizes the platform with relevant features for its customers. SafeDNS serves multiple audience markets, including businesses, educational institutions, MSPs, and ISPs. Users can access specific features tailored to their industry from the SafeDNS dashboard.
"Our road map and all regular updates of our solution are based on the feedback from our customers. We provide a flexible approach to every client, from SMBs to the largest partners," said Zack.
Helping Businesses Through the Pandemic
The COVID-19 pandemic prompted a surge of new websites as businesses scrambled to keep up with social distancing by going digital with their operations. More people were on the internet than ever before as the internet became the world's leading communication channel.
Zack told us how the pandemic and the switch to remote work impacted the cybersecurity industry. He said people began to consume content on an unprecedented scale, whether it was shopping, video hosting, or games. But consumers didn't realize the dangers that lay underneath these online activities, as unprotected web surfing could leave not only personal data but also corporate resources vulnerable to attacks.
"So, of course, there was a significant increase in demand for cybersecurity and remote access protection, and we cover that. It's not always clear to businesses that DNS filtering can provide a large layer of cybersecurity," said Zack.

DNS security has the ability to eliminate most of the threats that could harm a business. SafeDNS's precise categorization and no false positive results give back control to users from bad actors that try to infiltrate their DNS layers. With its web filtering database and solution, users can block unwanted sites at the DNS layer and from the cloud, stopping phishing, malware, and ransomware before any access. The SafeDNS team also recently launched a new feature to help businesses tackle their security threats.
"We released real-time statistics, and it would assist us in adding notifications and alerts to help organizations and families react as soon as possible," said Zack.
With SafeDNS's real-time statistics, businesses can stay on top of new threats and learn more about their network detections. SafeDNS has helped many companies detect website vulnerabilities and block more than 73 million cyber threats daily.
What's Next: Safeguarding Clients with New Solutions
SafeDNS has gathered tons of data on malicious content over the years, and its database contains information on 109 million websites and climbing. Since the COVID-19 pandemic, cybercrime has risen by 600% and is expected to rise in 2023. This fact shows the need for platforms such as SafeDNS.
"It was estimated that worldwide cybercrimes would cost $10.5 trillion annually by 2025. And these updates we are releasing are intended to safeguard our current clients and bring cybersecurity to new ones," said Zack.
The SafeDNS team plans to add new specialized dashboards to its platform to accommodate reseller and distributor industries. The team members are also improving their statistical processing by introducing more detailed descriptions. But the common denominator is that the SafeDNS team will always focus on creating a better solution for its customers.
"We are proud of where we are with SafeDNS now, including our quick tech support, customer development, offers based on the exact customer requirements, and a personal touch in general," said Zack.