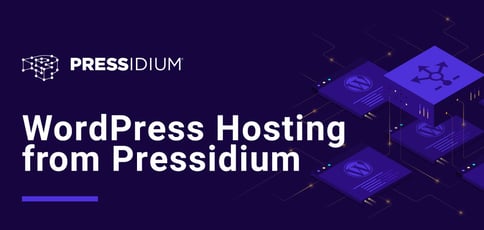 TL; DR: Pressidium provides companies with a high-availability WordPress hosting platform built on robust and scalable server infrastructure. Businesses don't have to worry about the performance of their mission-critical websites because Pressidium's industrial-grade hosting architecture ensures reliability, speed, uptime, and multi-layered security. Pressidium also positions customers for success by offering collaborative technical support and delivering features that fit customer needs and help increase their overall ROI.
In 2014, a team of experienced engineers and developers founded Pressidium, a WordPress hosting service company. As is the case with many other successful entrepreneurs, Pressidium Co-Founder Giannis Zachariadis and his colleagues looked to create a solution to fill a gap in the market.
"We saw a huge gap in the hosting industry which either offered high-end, reliable hosting for large businesses (with a price tag to match) or low-quality hosting that just didn't offer the level of support and uptime needed by smaller businesses," said Giannis.
The Pressidium team set out to bridge the gap by making high-quality hosting accessible to businesses of all sizes when online businesses were growing with speed. Since 2014, the number of people who shop and work online has increased exponentially, and high-performing server infrastructure is in high demand.


Pressidium helps companies generate value by allowing them to focus on what they do best while it manages their website hosting. The solid and scalable infrastructure of Pressidium guarantees optimal performance and uptime to keep online businesses running smoothly while maintaining traffic — all for an affordable price.
"Our core business focus is to build powerful, reliable, and efficient solutions for businesses with features they need. We do this by listening to feedback from our customers, so we know what we're implementing from a features perspective will be truly beneficial," said Giannis.
A Managed Hosting Architecture That Guarantees Value
Giannis told us that, when Pressidium launched in 2014, managed WordPress hosting was in its infancy, with only a handful of service providers offering it. At the time, web agencies had mostly captured the market, selling it as an extension to their design services to existing clients. But the problem lay in that these web agencies were relying on inferior hosting architecture to power their services.
"The result of many hosting services being established by agencies and people whose expertise lay more with web design rather than systems design meant that these 'managed' hosting services focused on 'value added' features such as plugin updates rather than on the 'behind the scenes' architecture and systems which truly add value in the form of speed, uptime, and reliability," said Giannis.
Pressidium offers features that help client websites thrive. The team aimed to build something clients can count on — a managed hosting architecture with high availability and the elements to drive operational success.
"From day one, all our WordPress hosting packages offered true high-availability hosting that was normally only available to large corporations willing to build their own hosting solution (at the cost of tens of thousands of dollars). Such high-availability hosting at a low price point was truly revolutionary," said Giannis.
The Pressidium team is committed to delivering a managed platform that is easy to use, affordable, and built on trust because its clients' growth is its number one priority. Its Portal gives users total control with a simplified dashboard that allows them to efficiently manage even the most complex tasks across a portfolio of websites.
"As we release more features, they are integrated carefully into the dashboard, meaning the learning curve required to take advantage of them is essentially zero for our clients. Efficiency here is key as we want to make life easy not only for clients with one or two sites but those who maintain hundreds," said Giannis.
Serving Customers as an Extension to Their Teams
Customer support is vital for client success, and Pressidium serves it in abundance. The company's approach goes beyond standard customer service and meets customers where they are in their business journey.
"We wanted to become true partners with our clients from day one and provide them with more than just hosting backed up with technical support. Businesses face huge challenges on a day-to-day basis, and it can be helpful to them to work more closely with a host that truly gets to know them," said Giannis.
Pressidium helps businesses tackle their challenges and strategize new ways to optimize their hosting infrastructure by communicating with them through honest human interaction. Its engineer-staffed help desk works around the clock to answer customer questions, and the company also offers DevOps collaboration between client development teams and its IT team.


"We can provide solutions to real-life problems, and once you solve a client's problem, they never leave you. Our churn rate is less than 2% which is the only evidence we need to prove we are on the right path," said Giannis.
Pressidium helps increase satisfaction by getting to know its customers.
"By sharing their roadmaps, ideas, and goals with us, we're in a position to suggest efficient solutions to their technical problems that help ensure they truly succeed!" said Giannis.
Focused Product Development That Delivers the Best ROI
Managing a single WordPress website can be hard work. If you have a large portfolio of websites, the hours and level of effort required to maintain these can become significant. Pressidium understands the pain points of website management and seeks to shoulder the burden for customers with its simplified hosting solutions.
"Most businesses can't afford to spend hours and hours every month managing their site and often don't have team members equipped to handle these tasks. We take away the vast bulk of these issues, freeing businesses to focus on growing their businesses, not managing their website," said Giannis.
Pressidium reduces massive time saps by automating low-value, manual tasks, including daily backups and scanning for malware. Its high-availability hosting platform also lays the foundation for a sound website because the architecture is built to withstand demanding operations.
Customers can also protect their websites during plugin updates by opting to clone their site to a staging server where they can test the update before making it go live. Or they can do an instant backup and revert to the pre-updated site if something goes wrong.
Pressidium focuses on customer feedback to shape its feature development. By listening to its customer needs, it can deliver tailored additions that will help drive performance and increase ROI for its clients because customer growth is its mission.
"Trends come and go, but what never changes is the need for reliable, robust hosting backed up with superior levels of support. Our biggest challenge has probably been to make 100% sure that our standards never slip and that support levels remain as good as they have always been, even with the sizable growth we've experienced. We've managed to achieve this, judging by the regular positive feedback," said Giannis.