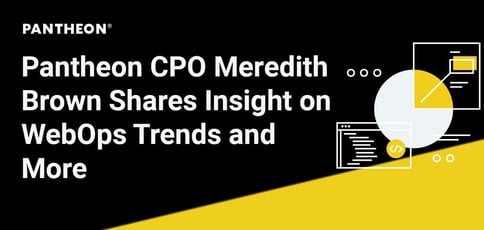 TL; DR: We spoke with Pantheon Chief Product Officer Meredith Brown on the future of website operations and how WordPress and Drupal are crucial during the emergence of headless architecture. With the economy posing challenges for many in the tech industry, companies will have to hone in on their skills and leverage the capabilities of WebOps technology to combat the wave of talent shortages. Headless architecture has helped cross-functional teams become more productive and collaborative by separating the frontend and backend. And Meredith explains to us how technology, including the Pantheon platform, can help users tackle website management and creation for better customer experiences and agility.
It's tough to assess the current economy to determine what direction it will take. Some measures, such as high job demand, indicate the economy is on an upswing, but other factors, including high inflation, say otherwise. The tech industry is even harder to decipher. Some mega giants, including Google, Twitter, and Meta, are announcing layoffs, while other tech companies are in a dire search for top talent to head and fill their IT departments.
As companies continue to undergo digital transformation and adopt new technologies, they will need knowledgeable IT and development teams to help take them in the right direction. Website creation and management are some of the most important factors for companies going digital, especially for small businesses that want to start marketing their brands online. And they need talent and tools to do so.
Pantheon offers users a WebOps platform to boost collaboration and website creation backed by a scalable infrastructure and enterprise-grade security. We spoke with Pantheon Chief Product Officer Meredith Brown about how the economy is affecting companies and how web operations technology, such as Pantheon, can assist them along their journey.

"Website operations teams will need to dig deep to determine whether they have the right skills, talent, and tools in place to meet these demands. In a slow economy where headcount is precious, they'll need to lean into solutions that empower business teams to do more with less," Meredith said.
Meredith also told us companies must find new ways to reduce spending and be more efficient. She said leveraging WebOps technology can make processes easier, as WebOps enables cross-functional teams to drive their strategies simultaneously and ensure they're supporting collective business goals. These types of tools will be essential going forward also, with headless environments growing in popularity.
WordPress and Drupal Continue to Reign
Since the dominant CMS hit the market 20 years ago, companies have come to rely on WordPress for decades. It powers more than 40% of the web and approximately 64% of websites that use a CMS. And the open-source project continues to evolve. With significant backing and a rich ecosystem, the CMS has many websites to accommodate and satisfy with its capabilities.
Meredith told us that WordPress's next development focuses on improving workflows and collaboration between users and making all that easier in real time. 2023 marking its 20th anniversary has pushed the WordPress team to an exciting point in its development.
"Many developers are excited for full site editing, block patterns, block directory, block themes, and a more intuitive way to co-author content. This will make it easier to provide the web experience that users want and that web developers want to deliver," said Meredith.

These changes will help promote customization and collaboration among developers while making the user experience more immersive. According to the WordPress team, these updates are in phase three of development and will launch soon.
Drupal is another popular, open-source CMS that has been making waves. Drupal 10, the latest released version, provides companies a platform for building digital experiences they want to deliver. It allows users to run its software decoupled from their frontend service, which can help developers be more productive. Now developers, content teams, and designers can work in tandem more efficiently.
"Drupal 10 offers a cleaner, leaner codebase, but it also paves the way for the future of digital marketing, thanks to decoupled content management system capabilities and modules that support Progressive Web Apps and GraphQL query language for APIs," said Meredith.
The Growth of Decoupled Architecture
In recent years, many companies have adopted decoupled architecture for its various benefits, starting with its ability to increase productivity among cross-functional teams. Headless CMSes allow developers, content creators, and marketers to collaborate more easily.
"Developers are keen on implementing sites based on using Server-Side Rendering of Node.js and Static Site Generation to generate sites that perform extremely fast and using a headless CMS to provide the content," said Meredith.
But at the same time, companies are also running into operational issues with headless architecture. Businesses relying on proprietary SaaS for their headless solution have found that some of these solutions don't fit into their system or match how their content editors operate. Some companies have even implemented their own UX on top of the vendor's software to solve those problems. Other vendors also have tons of limitations on how users can manage and model their data.
"In either case, IT leaders who were initially patting themselves on the back for their vision to "go headless" are now realizing they are effectively now a CMS vendor themselves with a customer base of one," said Meredith.
Meredith told us that these experiences reveal the value of an open and composable CMS. Drupal and WordPress both offer users a robust and mature headless solution supported by expansive communities and ongoing developments. WordPress delivers a high-performing editorial interface, which evidently works well with content teams. At the same time, Drupal is a standout choice for enterprises that need to manage databases of content and reuse content in multiple contexts, with its powerful data modeling, content workflow, and multilingual capabilities.
How WebOps Technology Accelerates Web Performance
Meredith said the user expectation for website performance has increased. "Websites continue to take center stage as brands work to engage customers and build trust in a digital world. Expectations are high, and speed and agility are the names of the game when it comes to creating websites that deliver impact," Meredith said.
According to Pantheon and Hanover Research's recent study, respondents ranked user-friendliness and speed as the top expectations for a smooth digital experience. But many companies still miss the mark on web performance and these user experience expectations, especially agencies that manage an extensive portfolio of websites. Meredith said WebOps technology can help users deliver seamless experiences at scale. The Pantheon platform, including a fast CDN, enables users to run WordPress and Drupal sites with speed and scalability. Its features also help offload heavy manual maintenance.

"We've found that Pantheon's Autopilot has been incredibly useful to help website teams automatically detect, perform, test, and deploy updates for WordPress and Drupal. In fact, customers using Autopilot say they're saving an average of 50 hours a month," said Meredith.
Brand trust has also become a crucial factor in company web success. Most users feel uncomfortable sharing their data online as more people become aware of the pitfalls of user privacy rights. Meredith said companies will have to adopt new business models and move away from third-party sources for data to create engaging customer experiences.
CMSes and other content tools continue to be the foundation for website experience, and the focus on them will only increase. Meredith told us these solutions are critical for meeting consumer expectations and delivering interactive experiences.
"There's now a great opportunity to augment their use with WebOps technology, artificial intelligence, machine learning, and CDP platforms. The confluence of these technologies will propel the next generation of digital experiences," said Meredith.