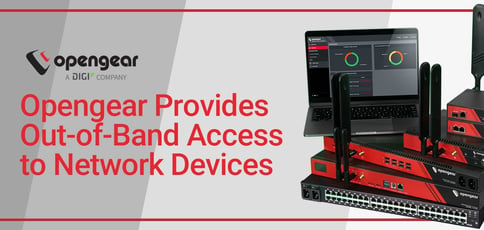 TL; DR: Opengear ensures network resilience and business continuity by enabling secure, remote access to mission-critical devices independent of the production network. The company's out-of-band management solutions empower users to troubleshoot infrastructure without stepping foot on site — helping minimize downtime, protect SLA commitments, and save money. Opengear's latest innovation, the NetOps Console Server, is currently the only appliance that uses open-source tools to combine network automation and out-of-band management within a single unit.
If there's a single task that sysadmins and other IT professionals dread the most, it's the 3 a.m. support call. Being yanked out of bed and away from a peaceful slumber is one thing — getting dressed and driving to a datacenter is entirely another.
In those early hours of the morning, remote access to critical network devices becomes a tech professional's saving grace. And that's where Opengear comes in.
The company's out-of-band console servers and remote management gateways help users monitor, manage, and remediate network issues remotely, even if the primary network is down.
"We provide secure, remote access to your network devices so when you get that call at 3 a.m., you will feel comfortable knowing you have a solution," said Steve Cummins, VP of Marketing at Opengear. "Rather than having to jump in the car, you can remotely access the console server and fix any issues."
From a business perspective, Opengear's hardware provides network resilience, empowering teams to maintain a consistent service level when faced with operational challenges. Ultimately, this helps organizations minimize downtime, remain faithful to service-level agreements (SLAs), and improve ROI.
"If you are a retail company and your store doesn't open for an hour because the network's down and you can't take people's credit cards, you lose money," Steve said. "Our whole approach is about making sure that that doesn't happen — and minimizing any impact if it does through secure remote access to your network devices."
Opengear is committed to continuous development and innovation. The company's latest product, the NetOps Console Server, is the only appliance on the market that combines an always-on, independent management plane with network automation in one piece of hardware.
Ensuring Network Resilience for 15-Plus Years
Opengear, headquartered in New Jersey with offices around the globe, was founded in 2004 by Bob Waldie, an Australian serial entrepreneur, as part of the OKVM Open Source Project — which develops open-source console and Kernel-based Virtual Machine (KVM) management software.
"Bob was one of these guys who always looked for an opportunity to advance technology in underserved business communities," Steve said. "He came up with the idea to provide basic out-of-band management products; terminal servers as they were called back then. For many years, it was a fairly small operation with a devoted group of enthusiastic fans."
Over more than 15 years in the industry, Opengear went from providing customers with simple terminal servers to delivering a wide variety of remote management needs via complex console servers, embedded 4G-LTE cellular access, centralized management software, and NetOps appliances.
Massive amounts of computing power has moved from datacenters to edge locations over the years, making the ability to manage critical network components securely and from any location even more important. After all, end-users expect consistent performance, regardless of whether the service is coming from a core compute location or local point of presence.
In 2014, as part of a strategy to drive innovation in that area, the company hired Gary Marks as CEO. Gary had previously worked at Raritan, a multinational tech organization that provides remote server management tools and hardware for datacenter power distribution.
Gary was appointed President of Opengear after Digi International acquired the company in 2019. Since then, the two companies have worked together to meet the demands of customers with mission-critical networks.
Out-of-Band Management and Security Hardening Solutions
Steve said Opengear's smart out-of-band management provides users access to their distributed networks via a console server at every location that's connected to vital hardware, such as routers and switches.
"Not everybody is familiar with out-of-band management, but when you explain it to them, everybody gets it," Steve said. "The basic idea is that it provides emergency access to your network devices. We're present at every location because we have a physical box at every location. And we also deliver proximity because that box is physically attached to all of your critical devices."
The addition of 4G-LTE serves as a backup access path in the case that a mainline connection fails at the remote site. Opengear's Failover to Cellular technology powers this process, providing ample bandwidth to maintain critical processes during outages.
Steve said the ongoing pandemic has made out-of-band management and remote access even more relevant, as have trends in edge computing.
"Everything used to be located in the datacenter, where the backup plan was redundancy," he said. "You had backup generators, multiple internet lines coming in from different providers, experienced engineers on-site to fix everything. But now, you're pushing out data to all of these edge locations, whether it's a store or a remote office or a bank branch, and you don't have any of those backup resources, making secure, remote access even more important."
In that sense, Steve said out-of-band management has moved past the realm of emergency access to a day-to-day management tool, which Opengear refers to as an independent management plane. The solution can be used in multiple ways — when the production network gets congested, or to add an additional layer of security.
"The production network is not really where you want to be trying to manage your network because that's where the first thing usually goes wrong," he said. "So you can use an out-of-band management network as an independent management network, the other advantage being that you can then lock down certain aspects of your production network, to make it more secure."
For example, admins may choose to allow router configuration on the out-of-band management network only, Steve said.
Pushing the Boundaries of a Console Server via R&D
In 2019, Opengear distributed a survey on the challenges of network resilience to 500 business leaders. The majority of respondents indicated that one of the biggest problems in resolving a network issue is the time it takes to travel to an on-site location and a lack of in-house engineering support.
"Having trouble getting people to a physical site is obviously part of our remote access story, but it's also about using automation to tackle standard, repetitive tasks that a network engineer handles," Steve said.
That's where Opengear's Network Operations (NetOps) automation solutions come in, using the methods applied in the traditional DevOps model to improve network agility.
"One of the products that we launched last year is our NetOps Console Server, which is the only one that has both out-of-band management and NetOps tools in a single appliance," Steve said. "As you roll out your independent management network, it also enables you to use Docker containers, run Python scripts, all that good stuff."
Another aspect of Opengear that separates the company from its competitors is a focus on research and design.
"We're one of the only providers that offer embedded cellular solutions, rather than external, dongle-based ones," Steve said. "We're the only company to use open-source tools to combine NetOps and out-of-band management. We were one of the first to be able to send a text message to your phone if there was an outage. We're always looking to push the boundary of what you can do with a console."
Expanding NetOps Solutions in Line with the Industry
Opengear launched its NetOps Console Server in June of this year, and the company will continue to funnel its energy into the new product in the future.
"NetOps isn't fully defined," Steve said. "I think it means different things to different people. But as it grows, our goal is to expand with it so we're ready for people to use the independent management network as part of the NetOps solution."
In the meantime, the product will likely continue to spread via word-of-mouth marketing — a phenomenon that Steve witnessed at a trade show soon after joining the company.
"People would come over, and they would say, 'I love your product. You saved me so many times in the middle of the night when I got that late phone call,'" Steve said. "Customers would even bring somebody over from another company and say, 'You've gotta be using Opengears' equipment.' I've never seen anything like it before."
Advertiser Disclosure
HostingAdvice.com is a free online resource that offers valuable content and comparison services to users. To keep this resource 100% free, we receive compensation from many of the offers listed on the site. Along with key review factors, this compensation may impact how and where products appear across the site (including, for example, the order in which they appear). HostingAdvice.com does not include the entire universe of available offers. Editorial opinions expressed on the site are strictly our own and are not provided, endorsed, or approved by advertisers.
Our Editorial Review Policy
Our site is committed to publishing independent, accurate content guided by strict editorial guidelines. Before articles and reviews are published on our site, they undergo a thorough review process performed by a team of independent editors and subject-matter experts to ensure the content's accuracy, timeliness, and impartiality. Our editorial team is separate and independent of our site's advertisers, and the opinions they express on our site are their own. To read more about our team members and their editorial backgrounds, please visit our site's About page.