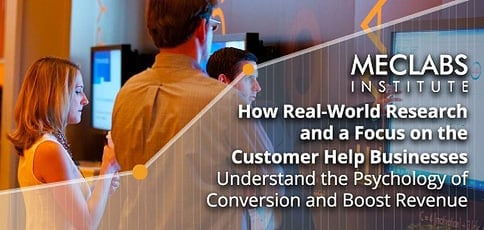 TL; DR: MECLABS Institute has been honing its research and testing methodologies to help businesses uncover insights into their marketing and customer engagement strategies for two decades. The Institute's mission "to discover how people make choices" may be short and sweet, but, at its core, it's a timeless philosophy bent on understanding the fundamentals of how successful businesses operate. We recently sat down with Senior Director of Content and Marketing Daniel Burstein, who told us how MECLABS is continuing its charge to empower companies to better understand their value proposition and effectively reach their audiences.
Daniel Burstein had been consulting for five years when the 2008 financial crisis pushed the economy off a cliff. His job wasn't an easy one to have during the Great Recession.
"When you work full time for a company, there's a clear line when you're suddenly let go," he said. "When you're consulting, you never quite reach the point when you're unemployed."
Nevertheless, he started looking for new opportunities and found an interesting prospect with a company called MarketingExperiments.
"I was kind of feeling around town when this really cool job description caught my eye," Daniel told us. "It said, 'We have a seven-word mission statement that's simple but not easy — to discover what really works in optimization.'"
Intrigued, he applied and got the job.
Not long after Daniel was hired, MarketingExperiments became a subset of MECLABS Institute. MECLABS was founded in the late 1990s, when huge numbers of people first started flocking to the internet. Behavioral Researcher Flint McGlaughlin realized he could use the web to ask fundamental questions about why people say yes and make certain decisions. So he built MECLABS to find answers.
When Daniel signed on, he found himself on a team that used a research-based approach to understand how people act. And the Institute's bigger and broader mission to "discover how people make choices" was a perfect fit for him.
"It was such a cool and different strategy," said Daniel, who is now Senior Director of Content and Marketing. "Part of the reason it was appealing was because it was like nothing I had ever seen before. It's my role to share what we learn, to publish it for free, and to build a community around the lessons we teach."
Ineffective Methodologies Make Marketers' Online Tests Less Useful
Expanding on the short but sweet mission statement, MECLABS is committed to leveraging today's digital technologies to understand the factors at play in the human decision-making process, especially when it comes to choosing one business or product over another. While the Institute has been doing this since the '90s, today, more companies today have developed strong interests in online testing.
"Back in the aughts, not as many companies knew much about testing," Daniel said. "That started to change in 2009 when Adobe bought an online marketing and web analytics business called Omniture. Since then, A/B testing has become much more widespread. The technology is better, so it's easier to run tests.
Daniel noted that, while this increased accessibility to marketing and testing tools is helpful, many businesses and marketers aren't using them to their greatest advantage.
"Too often, the people running these tests don't know how to use their tools correctly," he said. "The tests they create aren't statistically valid, which means they're not learning everything they could about their customers."
Daniel told us that, today, most marketers can easily run split tests on landing pages and email messages.
"The software isn't the challenge," he said. "You need to know what to test. It's like saying, 'I know how to write' because you can type words into WordPress or Pardot. You can't type in just any words and get a result. That doesn't make you a writer. You need to know which words and phrases and overall communication are most effective."
When MECLABS was founded, it focused its methodology on conversion optimization and contemporary web trends.
"For example, one of our first reports tested about 23 different search engines to see which converted best," Daniel said.
The MECLABS team has learned from each new test, growing and enriching its methodology.
"We've done a lot of work, and now we have a methodology that helps companies and brands better understand and express their value proposition."
Daniel told us every brand's digital presence is inextricably linked to customers' evaluation of that brand's overall value. That's why MECLABS' methodology focuses on the consumer and their online experience.
"Of course, your company's value proposition is tied to how your business is run and what it sells. But, maybe even more crucially, your value proposition is about how your customers interact with you and how you communicate with them," he said. "For example, if a business wants to increase its conversion rate, it needs to reduce friction and customer anxiety."
As eCommerce grows in importance, customers' online experiences will be the primary way they interact with businesses. That's why every company that cares about its brand needs to understand how consumers feel about its web presence, and the only way to do that is to use the kind of high-quality testing methodologies that MECLABS has honed over its 20-year history.
Leveraging Partnerships with Entrepreneurs, Academics, and Nonprofits
Daniel noted that MECLABS focuses on what the organization calls "customer-first business."
"All businesses want to learn how to best serve their customers," he said. "And that's why they're curious about the questions we ask — because our job is to find answers about consumers."
MECLABS' MarketingExperiments and MarketingSherpa sites are frequented by everyone from marketers to entrepreneurs.
"That's where we publish all of our free content and training," Daniel said. "If you want to learn about marketing and how to communicate, you can learn a lot by reading our articles and watching our videos."
Other companies reach out to create partnerships. Whether they're small businesses, start-ups, or established enterprises, they can all learn about their customers with MECLABS' help.
"Smaller companies are great because we can work with them at such a fundamental level, really helping them understand their true value proposition," Daniel said. "Sometimes we'll help launch new products, other times we'll create new ways they can serve their customers."
Daniel told us that, at the enterprise level, MECLABS works with digital marketing directors and VPs who want to redesign and optimize their online touchpoints. The goal is to help them launch new products, understand consumers, and train teams to deliver value to customers.
In addition to business-focused organizations, MECLABS also serves the nonprofit sector. However, Daniel noted that, while the value proposition isn't always as clear on the nonprofit side, the benefits MECLABS delivers to this space are real and lasting.
"Working with non-profits is a challenge because they have no tangible product," he said. "Instead, what they're selling is all intangible value. We help them sell that to the people who are essentially their customers — their donors."
MECLABS also collaborates with academics.
"At the end of the day, we're a learning institute, so we're in our element when we conduct research alongside academics," Daniel said.
Robust Research Capabilities That Solve Fundamental Challenges
Not all of MECLABS research focuses on the internet. Daniel told us the goal is to address whatever challenges the organization's partners face. For example, when one of Canada's most widely read newspapers, The Globe & Mail, reached out to MECLABS, the company's question wasn't about its website — it was about telesales operations.
While telesales generated 25% of The Globe's total sales, the department's cost-per-acquisition increased over time. The Globe's team wanted to reverse the trend, but they used external telemarketing vendors who had no plans to bring costs down.
MECLABS dug in and created a plan. The Institute performed a complex data analysis, followed by a qualitative analysis, and then an A/B test. The data obtained was then used to make a few powerful suggestions.
When telemarketing agents started conversations with questions, callers wanted to stay on the line to provide their own opinions, and agents were able to learn about the person on the other end of the line. When agents used call guides that clearly and effectively guided conversations through the use of color, bullet points, and font sizes, they were better able to communicate product values and offer structures to potential customers. And when agents had a deeper knowledge of The Globe's many sections, they were able to speak about the paper more enthusiastically.
These three suggestions became the cornerstone of an optimized call guide. Once the agents had the new guide in-hand, sales-per-hour rose 33% over a four-month period.
The Philosophy: Communication Holds a Timeless Marketing Value
Daniel told us that, despite its usefulness, marketing sometimes gets a bad rap.
"Skeptics think it's just about taking advantage of suckers," he said. "And, to be honest, there certainly is some scammy marketing out there. But here's the thing — if we're going to live in a capitalist system and a society of choice, then we need to be able to help consumers choose. That's marketing's true role, and that's what MECLABS has done. We've helped people return to that fundamental."
Marketers eat, sleep, and breathe their work. They know their websites inside and out. While they want to proselytize their brand's value, their in-depth knowledge of their products can actually make it harder to learn about their customers.
"You can't go in thinking you know the answers because the truth is you don't," Daniel said. "That's why MECLABS prioritizes a hypothesis-based approach. We never say, 'We know this headline will work best.' Instead, we ask, 'What's my hypothesis about our customers? What's my hypothesis about our offer? How can I learn whether that hypothesis is right or wrong?'"
Marketers who want to know about the latest changes to Google's algorithm or Facebook's terms of service can find the information on innumerable blogs, websites, and in news outlets. The service that MECLABS provides is different.
"We don't want to just jump on the latest trends or technologies — we want to help companies communicate with consumers as effectively as possible," Daniel said. "No matter what technology comes along, communication will always be at the core of commerce, business, and all human affairs."
Advertiser Disclosure
HostingAdvice.com is a free online resource that offers valuable content and comparison services to users. To keep this resource 100% free, we receive compensation from many of the offers listed on the site. Along with key review factors, this compensation may impact how and where products appear across the site (including, for example, the order in which they appear). HostingAdvice.com does not include the entire universe of available offers. Editorial opinions expressed on the site are strictly our own and are not provided, endorsed, or approved by advertisers.
Our Editorial Review Policy
Our site is committed to publishing independent, accurate content guided by strict editorial guidelines. Before articles and reviews are published on our site, they undergo a thorough review process performed by a team of independent editors and subject-matter experts to ensure the content's accuracy, timeliness, and impartiality. Our editorial team is separate and independent of our site's advertisers, and the opinions they express on our site are their own. To read more about our team members and their editorial backgrounds, please visit our site's About page.