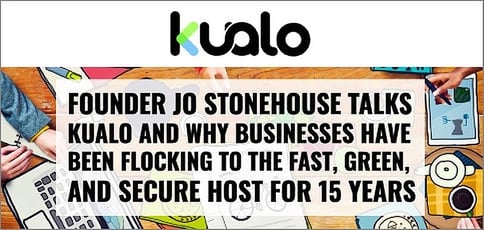 TL; DR: Prior to starting Kualo, it's founder Jo Stonehouse was in web development, designing websites for small businesses. It wasn't long before Jo and team grew frustrated with the hosting providers they used, who were greatly lacking in both performance, reliability, and customer service. So Jo switched gears and founded Kualo to fill a need in the hosting space. We recently sat down with Jo, who told us how Kualo's rapid-response support, robust security, and lightning-fast infrastructure now represent the gold standard for reliable, customer-centric web hosting.
For many people who grew up in the 1980s and 1990s, the year 2000 always represented "The Future" (with a capital "F"). And, while the new millennium didn't usher in the age of flying cars and time machines, the internet explosion of the late 1990s and early 2000s changed the cultural and business landscape for good.
The time presented the perfect opportunity for entrepreneurs to carve out a niche in the growing web development space. And Jo Stonehouse was determined to be a part of that tech revolution when he launched a web development firm, focusing on designing and developing websites for the small business community.
"This was back in the early days of the dot-com explosion," Jo said. "I was in web development at the time, and one of the things we had to do was find suitable hosting for our clients' projects."
Jo found that dealing with problems from hosting providers was taking up an inordinate amount of the company's time.
"We faced tons of problems with downtime, slow speeds, and — most crucially — really poor customer service," Jo said. "It was shocking. We would wait hours for responses, and even when representatives finally reached out, they would sometimes outright lie about why problems were occurring."
Unable to find a dependable host, Jo switched focus and founded Kualo. By providing top-tier customer support, high uptime rates, and robust security, Jo knew Kualo could really compete in the space.
"Because of our experiences with other hosts, we wanted to have integrity at our core," he said. "If we made a mistake, we would be upfront and honest. We would put the customer at the very forefront of everything we did. They would be our obsession."
As a result, Kualo prioritized extremely fast customer service by guaranteeing one-hour response times with a target time of 15 minutes.
"Initially we were operating on a single dedicated server, but we quickly garnered a reputation for providing fast, dependable customer service," Jo said. "That created organic growth, and today we host more than 100,000 websites, providing customers all over the world with everything from shared web hosting to VPS and also highly available managed clusters to enterprises."
Writing the Blueprint on How to Stay Ahead in a Fast-Moving Industry
Kualo has been in the hosting industry since the early days, and every year the needs of the customer have become more demanding and the space ever more competitive. As a result, Kualo has had to develop a variety of strategies to stay competitive and ensure their service remains fast and dependable.
"When we were first starting out, everyone was uploading basic HTML websites," Jo said. "Back in those days, sites could easily run on low-end Pentium 4s and be fast, and the servers coped just fine. It was a simple game — there weren't problems with sites consuming vast amounts of system resources or getting hacked."
Of course, that has changed dramatically.
"As things evolved, websites became much more complex, coded in PHP rather than pure HTML," Jo said. "Sites would place more of a strain on the server, and one of our biggest challenges became dealing with resource overloads, as well as hacked sites."
When Kualo first adapted to this development, the team built an in-house system to lock down individual shared hosting accounts and prevent them from causing system-wide crashes or impact the speed of other sites on the server.
"We weren't afraid to innovate and do things our own way, which is incredibly important in a constantly changing market," Jo said. "And it's one of the reasons our service was so much more stable than those of our competitors."
But Kualo's strategy didn't stop at innovating inside the company — when the team found opportunities to form smart strategic partnerships, it jumped on them.
"Eventually, we saw that CloudLinux was doing quite a comprehensive job at addressing the problem that our own custom solution was built to manage."
So Kualo switched to CloudLinux, and this made stability even stronger.
Achieving Top-Tier Security Through Partnerships and Innovations
Partnerships like the one Kualo formed with CloudLinux have kept the company's security at the leading edge.
"We have a deep commitment to security," Jo said. "Whether we're developing things on our own or partnering with other companies, we always find ways to deliver the best possible service for our customers."
One of those partners is Patchman, which applies patches that protect vulnerabilities of open-source applications like WordPress and Magento, among others.
"A lot of other hosts have 'auto-upgrade' systems for WordPress, but these can actually cause dependency issues," Jo said. "It will update WordPress, but the new version may not be compatible with the website theme or a plugin, and this may cause the site to stop working. Patchman solves this by backporting the vulnerability fix, making it compatible with the version of the software that's installed in the account. This means that security patches can be applied without any risk to the customer's website — helping keep them safe from hackers."
Another of Kualo's partners is BitNinja, a machine learning firewall. Jo said his team loves working with the company because its solutions are extremely effective in keeping bots and malicious networks at bay.
Jo told us that when customers switch to Kualo, they're often amazed at the security measures the company has in place.
"Customers migrating from other hosts are often accustomed to receiving a deluge of emails about attacks on their site, from security plugins like WordFence," he said. "When they move to Kualo, most of these alerts disappear, and at first some customers wonder if they're not receiving these messages because something is broken. Then, they realize that we've actually blocked almost all of the malicious bots that constantly attacked their sites, back when they were using hosts with worse security."
Security is paramount for Kualo. And, when the team can't find a partnership that delivers the goods, it develops its own solutions.
"For example, we built a system that stops outbound email abuse by preventing spam from leaving our server," Jo said. "Email problems due to server IPs getting blacklisted can be a huge problem at other hosts, but this isn't the case at Kualo."
Breaking Down the Importance of Delivering High-Performance
While security is top of mind for most site owners — and rightly so — site performance can make or break any web-based business. It has been shown that visitors will drop off (and likely not return) if a site isn't performing at optimal levels.
"One of my favorite things to discuss is the incredible speed we deliver," Jo said.
Kualo has found a few different ways to improve their speed. And Jo told us one of those is to remove the storage I/O bottleneck.
"A lot of our competitors who add lots of accounts to shared servers, deal with the issue of slow storage by throttling the I/O each customer receives," Jo said. "Whilst this can prevent more serious performance issues, it makes sites slow. By contrast, we have insanely fast storage, which ensures our customers' sites remain extremely fast."
Jo noted that part of the solution to boost performance levels involved switching from onboard disks to highly available, network-attached block storage.
"We have extremely fast distributed block storage, which powers all of our shared hosting infrastructure," he said. "It delivers 150,000 IOPS, which is even faster than onboard SSDs."
In addition to fast storage, Kualo has also introduced a number of caching solutions — including LiteSpeed Cache, Redis, and Memcached. Thanks to these caching solutions, Kualo's customers can load WordPress, Magento, Joomla, Drupal and a range of other applications, with a time to first byte of less than 50 milliseconds. This allows a full page load to complete generally in under one second, including all images and assets.
"The speed with which our platform performs has huge knock on benefits, not only for user experience, but also for SEO," Jo said. "It's one of the key benefits of our service."
While security and speed are crucial, Kualo wants its customers to know that it's delivering more than a powerful service — it's also delivering an ethical service.
"One of the major reasons people come to us is because everything we do is powered by renewable energy," Jo said.
It's easy to forget this simple fact when we're at our desks clicking through links, but the internet produces a huge amount of carbon. Kualo runs two datacenters — and both are powered by renewable energy.
"It's just something we feel is very important," Jo said. "We want to do our little part to make the world a greener place."
Finding Success by Listening to Customers
Jo and Kualo's leadership don't just take a holistic look at the company's effect on the environment — they do the same when it comes to finding new ideas. A big emphasis is placed on listening to all stakeholders to foster continuous improvement and innovation.
"We're always asking our customers for feedback," Jo said. "And we're always searching for new ideas from the people who work for us. We want to know what our staff thinks about the industry, where it's going, and what our customers need."
After more than 15 years in a rapidly changing industry, Kualo understands the importance of being highly adaptable.
"If we hear a great idea, we're very quick to implement it," Jo said. "And if it comes from one of our customers, all the better. Ultimately, the customer is why we're here, doing what we do."
Advertiser Disclosure
HostingAdvice.com is a free online resource that offers valuable content and comparison services to users. To keep this resource 100% free, we receive compensation from many of the offers listed on the site. Along with key review factors, this compensation may impact how and where products appear across the site (including, for example, the order in which they appear). HostingAdvice.com does not include the entire universe of available offers. Editorial opinions expressed on the site are strictly our own and are not provided, endorsed, or approved by advertisers.
Our Editorial Review Policy
Our site is committed to publishing independent, accurate content guided by strict editorial guidelines. Before articles and reviews are published on our site, they undergo a thorough review process performed by a team of independent editors and subject-matter experts to ensure the content's accuracy, timeliness, and impartiality. Our editorial team is separate and independent of our site's advertisers, and the opinions they express on our site are their own. To read more about our team members and their editorial backgrounds, please visit our site's About page.