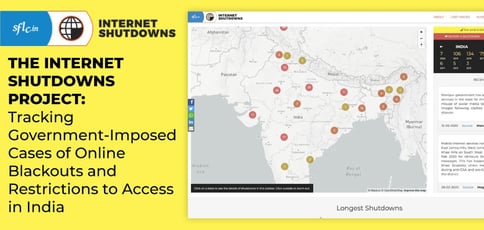 TL; DR: The Internet Shutdowns project, an initiative of the Software Freedom Law Center (SLFC.in), provides a real-time map of government-imposed internet censorship in India, which includes everything from temporary shutdowns to prevent cheating on exams to complete blackouts. In addition to tracking incidents, the site highlights the negative impacts that these restrictions have on residents. Though the Internet Shutdowns project keeps expanding, its founders see a glimmer of hope in the increased awareness of internet censorship in India.
Mishi Choudhary, Founder and Former-President of the Software Freedom Law Center (SLFC.in), which runs the Internet Shutdowns project, had been tracking government-imposed online censorship in India for five years in 2015 when she noticed a major spike in restrictions.
"We tried to talk to people about it, but there was no interest from the media, and the government was mostly dismissive of the issue," she said. "Our idea at the time was to create a visual representation of the trends to capture attention."
The result was a detailed, real-time map on the Internet Shutdowns homepage that documents each instance of censorship in India along with detailed reports on when and why the shutdowns occurred.
For years, the Internet Shutdowns project, run by a dedicated team of lawyers, technologists, journalists, and volunteers, represented the only effort to track such information. By 2018, when India was named the world leader in internet censorship, the site began to draw in even more visitors.
"The project, unfortunately, has grown and seen success — but it's one of those things that gains notoriety for the wrong reasons," Mishi told us. "SFLC.in would rather shut it down, but here we are. Our work keeps expanding, and our mandate becomes larger."
Today, the Internet Shutdowns project continues to provide real-time tracking of government-imposed internet censorship in India. The site also highlights the negative social, financial, and emotional impacts these restrictions have on residents. Though the project keeps growing, its founders are encouraged by the increased awareness of internet censorship within India, as well as recent court interventions.
A Real-Time Shutdown Map & Resources on Legalities and Economic Effects
When Mishi, who grew up in India, attended law school in the U.S., she said she realized that, despite her home country's emphasis on technology, there weren't any Indian organizations similar to the Electronic Frontier Foundation, the Center for Democracy & Technology, or the American Freedom Law Center.
"We were all very involved with computers but never taught about policy from the citizen's point of view," she said. "The absence of digital rights organizations in India was conspicuous, and the extent to which that could impact every aspect of our lives really interested me."
Mishi networked with thought leaders in web censorship to gather more insight. At the same time, she began raising funds to start the Software Freedom Law Center, an organization devoted to protecting freedom in the digital world.
"I raised some money, and then I started the organization by myself in 2010," she said. "We never really intended to create a project out of it, we just kept a tab on censorship in India and let the government know we were watching."
Mishi wore multiple hats of the Founder, President, Executive and Legal Director of the SLFC.in, which changed as the organization grew and more people joined to share responsibilities and occupy these roles. Mishi said SFLC didn't formally recognize Internet Shutdowns as a separate project until after the 2015 spikes in internet censorship.
"Our assumption was that many people must be doing this, and the media must know about it, but little did we know that our site would become the only actual tracking resource and would remain the only one for many years to come," she said.
From Shutdowns to Prevent Cheating on Exams to Complete Blackouts
Mishi said SFLC had some productive conversations with government leaders and was instrumental in discussions on the rules for shutting off telecom services issued by the Indian Ministry of Communications on August 7, 2017.
"But they were always asking, 'Why are you doing this, showing us in this light, and making us look bad?'" she said. "But it wasn't a concern big enough at that time to really bother us. Only in the last two years, especially with the internet shutdown in Kashmir, have we gotten a lot of threats."
From August 4, 2019, until March 4, 2020 — 213 days — the Indian government blocked web access for residents in the Jammu and Kashmir regions under the guise of peacekeeping amid the Citizenship Amendment Act protests.
"It's useful to understand that what has happened in late 2019 and 2020 is an anomaly from the regular trends we've been watching," Mishi said. "They are in a very different category from what has happened historically."
Previously, shutdowns would occasionally occur to prevent cheating on an examination or to slow the spread of rumors and violence. But Mishi said they began to snowball as larger riots took place.
"On August 4, when Article 370 was abrogated by an act of the Parliament, which meant that Kashmir's political status was changed, a communications blockade was imposed," she said. "It would be wrong to call it merely an internet shutdown — there was no communication whatsoever. No phone lines, no texting, no broadband, no wifi."
In January 2020, after the Supreme Court of India declared the communications ban in Jammu and Kashmir unconstitutional, the government partially restored services, but social media was still prohibited.
"As of March 4, the blockade was removed, but only for verified 2G services, and social media is restored, but only for whitelisted sites," Mishi said. "This tells me that the state is being assisted by telecommunication service providers in conducting deep packet inspection. It's an entirely different category in itself."
Highlighting Real-Life Impacts of Communication Restrictions
Because Internet Shutdowns is seen as a reliable source of information on internet restrictions, Mishi said people often report shutdowns to SFLC, whether through Twitter, Facebook, emails, or landlines. When possible, the SFLC then works to mitigate these orders through litigation.
But Mishi said it is challenging to engage with district-level authorities who were responsible for maintaining law and order — especially when free speech isn't viewed as an urgent matter compared with maintenance of peace and crowd management. Therefore, Mishi said anyone who addressed issues of free speed has to come up with real solutions — not just rhetoric.
That's why SFLC started collecting videos, messages, and emails from people describing how internet shutdowns had impacted their lives. The content was then transformed into "Lost Voices," a series of video interviews with real people, including local business leaders and students.
"That's how we learned that a surgeon in the northeast was having problems accessing online patient data," Mishi said. "That's how we learned that people were not able to apply to universities because there was no internet."
Many small business owners who used WhatsApp to deliver orders were losing vital income, and many women feared sexual assault without a way to communicate their whereabouts and well-being. As the stories poured in, it also became clear that the shutdowns were not limited to underprivileged communities.
"It was no longer someone else's problem — and that changes people's perceptions," Mishi said.
Signs of Hope: Increased Awareness and Supreme Court Intervention
Despite increasing government oppression, Mishi said she does see a glimmer of hope in the increased awareness of internet censorship in India.
"There are a lot of quality discussions happening around the topic," she said. "That is a positive thing."
And although it's not completely clear on how the Supreme Court of India will handle the right to access the internet, there have been some encouraging signs.
"What the Supreme Court said about the right to carry on any trade or businesses using the medium of the internet is constitutionally protected, that declaration made us at least hopeful that it will be easier to challenge internet shutdowns in the future," Mishi said.
Advertiser Disclosure
HostingAdvice.com is a free online resource that offers valuable content and comparison services to users. To keep this resource 100% free, we receive compensation from many of the offers listed on the site. Along with key review factors, this compensation may impact how and where products appear across the site (including, for example, the order in which they appear). HostingAdvice.com does not include the entire universe of available offers. Editorial opinions expressed on the site are strictly our own and are not provided, endorsed, or approved by advertisers.
Our Editorial Review Policy
Our site is committed to publishing independent, accurate content guided by strict editorial guidelines. Before articles and reviews are published on our site, they undergo a thorough review process performed by a team of independent editors and subject-matter experts to ensure the content's accuracy, timeliness, and impartiality. Our editorial team is separate and independent of our site's advertisers, and the opinions they express on our site are their own. To read more about our team members and their editorial backgrounds, please visit our site's About page.