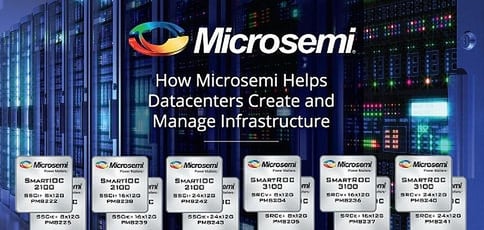 TL; DR: In today's competitive market, hosts need to provide high availability for their customers while maximizing efficiencies to keep costs low. Microsemi provides datacenter solutions that zero in on addressing these issues. The company brings together management software, adapter hardware, and silicon components to provide a unified solution compatible with an array of storage devices. Microsemi allows users to fine-tune workloads, which can reduce the number of servers needed to run certain tasks by up to 50%. With a storage stack that runs over both IOC and RAID-on-Chip variants and by merging CPU horsepower with dedicated engines to reduce power consumption, Microsemi is helping hosts differentiate themselves in a crowded industry.
Many datacenters and hosts turn to THIRDWAVE Corporation to provide customized servers and components tailored to their individual needs. A hosting company using one of THIRDWAVE's older model servers was looking for a more modern replacement that could provide higher I/O performance through an SSD and 6Gbps-capable hardware RAID adapter. THIRDWAVE suggested their R-280-HW base system as a solution for the host; however, problems arose when trying to find a RAID adapter to fit into the small chassis.
After a few swings and misses, THIRDWAVE found the answer with Microsemi. The short-length form factor of Microsemi's 6405E RAID adapter fit without creating mechanical stress and was highly compatible with the motherboard and other chassis components. With Microsemi's help, THIRDWAVE was able to deliver a solution adaptable to the host's needs and infrastructure.
THIRDWAVE's story is no different from what other OEMs and hosts experience when turning to Microsemi for solutions. Microsemi is more than just RAID adapters, however. The company marries management software, adapter hardware, and silicon components into one comprehensive solution that helps hosts and datacenters maximize efficiencies and reduce costs.
"We have a silicon foundation that runs the same software and tools, whereas competing solutions have dedicated I/O solutions and RAID solutions," said Juergen Frick, Microsemi's Product Marketing Lead. "They come with different architectures and software stacks, which is harder to deploy in a hosting environment. We have one product that meets all your needs."
Microsemi's solution allows users to fine-tune workloads on a common storage stack that runs over both IOC and RAID-on-Chip (RoC) variants. This, coupled with a marriage of CPU horsepower and dedicated engines to lower power consumption, is why so many hosts and datacenters are turning to Microsemi to differentiate themselves in a competitive landscape.
Fine-Tuning Workload Performance Saves Hosts Money and Resources
Microsemi serves numerous industries within several verticals, working with OEMs, like THIRDWAVE, and directly with datacenters. As part of Microsemi's scalable storage business unit, Juergen told us about his focus on interfacing with SaaS and storage devices, such as connectivity products that are integrated into, say, a motherboard solution.
"Our classic RAID adapter gives you accelerations through caching, data availability, or redundancy," Juergen said. "Another way to look at this is, you have the connectivity product, the HBA or IFC, and then you have the RAID adapter, which is the more sophisticated platform that can do things for you in the background."
One of the common things Juergen and his team see in datacenters is data redundancy happening at the node level. Users might not deploy RAID in a hyperscale datacenter, but they will still want to have the acceleration through the cache on the adapter.
"Our management tools provide you a map of all your servers, storage adaptors, and connected devices," he said. "If there's a problem, I don't have to individually scan each product. I have a tool that directly provides the information to me."
Juergen noted software-defined storage solutions are being deployed by hosts and hyperscale datacenters to move redundancy away from storage adapters. However, management and error containment is also necessary, which, according to Juergen, is where Microsemi adds value.
"It's all about performance, caching, and visibility," he said.
According to Juergen, when an adapter solution is deployed into the enterprise with caching, there is a dynamic algorithm that adjusts performance depending on the workload. Datacenters might have thousands of systems deployed for the same purpose running the same software. Here, Juergen noted, is where it makes sense to optimize performance for certain applications.
"We saw, in certain workloads, we can optimize up to four times the performance compared to a non-cache solution," he said. "This can translate into half the number of servers a datacenter needs to deploy these workloads."
The savings here are obvious. Datacenters don't need to buy, maintain, or cool as many servers, which can mean huge cuts in cost.
Unified Smart Storage Cuts Operational Costs & Maximizes Reliability
Microsemi recently announced its latest generation of silicon in the form of a unified Smart Storage stack. The stack is capable of being deployed in any storage application with 12Gbps SAS or 6Gbps SATA HDDs or SSDs. The solution marries Microsemi's SmartROC and SmartIOC, which provides flexibility for users.
"Our RAID-on-Chip (ROC) is where you add the caching and, potentially, the redundancy piece, so we have two variants of the silicon, but they're all powered by the same storage stack," Juergen said. "You can pick and choose."
The interface is the same for both IOC and ROC, so the OS drivers and the management tools are the same. This way, users can decide to go with an IOC solution, but if they run into performance or scaling issues, they can try the RoC-based solution.
"It flawlessly integrates because it uses the same software components you've already qualified," Juergen said. "And you can see if it gives you a benefit and work with our engineers to fine-tune the solution."
Juergen noted this is especially useful in reference to software-defined storage, as many of these stacks rely on caching, and this widens the caching capabilities.
Merging CPU Power & Dedicated Engines for Flexibility & Acceleration
How Microsemi's system is architected has a lot to do with its ability to give users flexibility and provide increased acceleration. Juergen told us the silicon is built with embedded CPU cores within, a high-performance DDR memory interface, and a NAND flash interface to back up data from the cache in the event of a power failure.
But there are also dedicated engines within the chip that work to accelerate certain data patterns. Juergen used data encryption as an example of this, where the engine in the chip allows users to encrypt data on the fly. It's a mixture of CPU horsepower and a very dedicated engine.
"The benefit of this type of architecture is that it gives you flexibility where you can tweak and tune your software," he said. "But you also get the acceleration from the hardware, and the footprint is much lower than a general purpose CPU."
Juergen noted this translates to the same or better performance capabilities but drastically reduces power consumption.
Helping Hosts Differentiate Themselves in a Competitive Market
Just as it helps OEMs, like THIRDWAVE, provide datacenter solutions for clients, Microsemi tailors its products for hosts directly.
"We've found in talking to the hosting community the concept of RAID may not be what they're focused on," Juergen said. "But we can help them differentiate from other hosts that only have the standard offerings."
Microsemi owns a significant share of the RoC market, and, as Juergen noted, the company is looking to expand and ramp up its share of the IOC market. By doing so, Microsemi will further its goal to help customers compete with varied solutions.
"Hosts like our model because they can deploy, say, an ROC solution but can still use it as an HBA," Juergen said. "We customize depending on the customer's need."
Advertiser Disclosure
HostingAdvice.com is a free online resource that offers valuable content and comparison services to users. To keep this resource 100% free, we receive compensation from many of the offers listed on the site. Along with key review factors, this compensation may impact how and where products appear across the site (including, for example, the order in which they appear). HostingAdvice.com does not include the entire universe of available offers. Editorial opinions expressed on the site are strictly our own and are not provided, endorsed, or approved by advertisers.
Our Editorial Review Policy
Our site is committed to publishing independent, accurate content guided by strict editorial guidelines. Before articles and reviews are published on our site, they undergo a thorough review process performed by a team of independent editors and subject-matter experts to ensure the content's accuracy, timeliness, and impartiality. Our editorial team is separate and independent of our site's advertisers, and the opinions they express on our site are their own. To read more about our team members and their editorial backgrounds, please visit our site's About page.