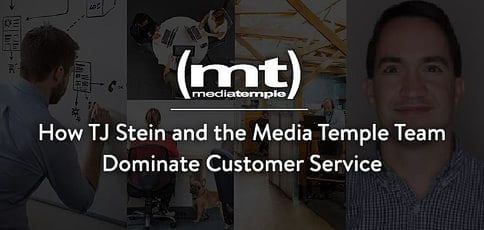 I had an amazing opportunity to interview TJ Stein, the Senior Director of Customer Support at Media Temple in Culver City, California. We talked about TJ's path that brought him to Media Temple, their company culture, and how he runs their top-notch support staff. He also started CloudTech and their Click-to-Call support feature.
I always knew Media Temple was one of the top web hosts in the world. After hearing the passion and dedication they have for their customers from the top-down, I'm pleased to say that I truly understand why they stand out.
The Official Stuff
If you've been unfortunate enough to not have heard of Media Temple up until this point, here is some info about the company right from the source:
"Media Temple is an LA-based company that provides premium web hosting and cloud services to web designers, developers, and creative agencies."
Excited yet? Well, they've got some bragging rights to back that up as well:
"Since 1998, Media Temple's mission has been to help web developers, designers, and creative agencies run and scale their businesses online. Focused on hosting our customers' great ideas, we have been the hosting choice of creative professionals ever since.

More than 125,000 people and businesses in 100 countries rely on our easy tools for web hosting. Our premium service model, combined with our scalable technology, allows us to focus on delivering only exceptional, quality products and best-in-class, award-winning, 24/7/365 customer support.

Our clients range from top-tier designers, popular blogs, and online design communities, to global advertising agencies, artistic eCommerce meccas, and brands like Red Bull, Nike, Diesel, and Under Armour.

With 230 dedicated, US-based employees, Media Temple has been repeatedly recognized as one of the best places to work in Los Angeles."
Alright, now that we've introduced you to the company, let's meet the people!
"The Interview"
We had a great conversation on the phone going over some great topics. As someone who's worked in the hosting industry, I had a lot of fun getting to know TJ and more about what Media Temple is all about.
I appreciate TJ taking time out of his busy day to answer all my questions. I also want to thank Pascale Marchand, Media Temple's Director of Corporate Communications and PR, for getting me in contact with TJ and getting me a time slot for this interview.
The questions and answers that follow aren't exact quotes in all cases. I listened to our interview a few times and tried to break down things in an easily digestible format.
Enjoy this style or prefer to always have the full discourse from our interviews? Let us know!
OK, enough blabbering from me. Let me introduce you to TJ!
Who is TJ Stein?
When I reached out to Media Temple to request an interview, I was quickly given access to TJ Stein, who is in charge of all things customer support.
When TJ's not busy saving the world one customer at a time, he enjoys long-distance running, cycling, and craft beers. It was great to hear about his life before Media Temple, and how he's worked his way up in the company. Now, onto the juicy stuff!
TJ, What Was Your Path Coming to Media Temple and Ending Up at the Top?
I left the publishing industry in 2008 from Florida after the economy started to tank. I wanted a career move, so I moved out to California and stumbled upon Media Temple. I really enjoyed the company and the interview process.
I gave it a shot even though I didn't feel perfectly qualified for it. I initially grasped onto the techy side of things and found myself going home and geeking out on Linux stuff every night. I worked my way up the support level system, became a Senior Support Rep, then a Team Lead, and then onto a management role.
I know it sounds like it happened overnight, but I put in my time with Media Temple for nearly seven years up until now. It was a really great experience being able to wear many different hats along the support path and getting to know customers' needs.
Did You Have Any Web Hosting Experience When Coming to Media Temple?
I felt like I might be a good fit at Media Temple, because one of my largest projects at my last position was building a magazine website for The Drift, which was an 18-to-25-year-old core demographic magazine for the area. I built it in WordPress in 2007 on WordPress 1.0 with limited web experience.
Although I didn't come from a hosting-related background, I knew that I was passionate about helping people. Media Temple speaks to web designers, developers, and creative agencies, and you can tell how passionate they are about their online presence.
Their livelihood depends on their website, so I took the responsibility very seriously. I now spread that passionate care to all of our support agents.
How Many Support Employees Do You Manage?
Including sub teams, leadership roles, and other important staff, the whole support team, including CloudTech, is comprised of about 110 people today.
What About Media Temple's Culture Do You Believe Makes You Stand Out?
Since the very beginning, Media Temple's approach to putting the customer first is all about supporting them 24/7. We keep scripts, flow charts, and automated systems out of the customer experience. Instead, we rely on strong, people-powered interactions.
We don't outsource talent, or have call scripts, quotas, or confusing phone trees — and we don't have any cubicles. Media Temple, in many ways, is like an "un-call-center," compared to a lot of competitors. Reflecting on our philosophy: happy employees make happy customers.
What Are Some Media Temple Perks Your Employees Enjoy?
Media Temple offers generous benefits to empower their employees and invests in each employee heavily. They really want to give each employee the resources to be successful.
There is the usual insurance and great PTO, but you can also work from home one day a week, and as your seniority increases, earn more VPN days.
We keep it very fun on the support floor, so we have lots of drawings and raffles for iPads and other gifts. Media Temple definitely has a very "work hard, play hard" atmosphere.
How Do You Judge Employee Success Without Strict Quotas?
We do have the normal industry-accepted metrics, but the two primary ones we really focus on are Customer Satisfaction (CSAT), and our Net Promoter Score (NPS).
While we do look at a lot of metrics for how the company and individuals are performing, a lot of trust is placed with the agents to do what's best for the customer.
How Involved is President Russell Reeder With Day-to-Day Operations?
Russ has been a tremendous leader, and Media Temple has grown a lot since he came aboard in March of 2012.
Russ places a lot of trust in his leadership team, but is also a very hands-on leader himself. If someone reaches out directly to him via social media or other means, he reaches out to his support team.
Russ is always looking for ways to improve our support processes and get problems solved faster.
What Does the Typical Support Request Flow Look Like?
Issues are tackled oldest first and are escalated up the chain of command until a resolution is quickly found for the customer. We try really hard to have problems solved upon the first contact from the customer, so there is not a lot of back-and-forth needed.
How Much System Access Does Your Front-Line Support Staff Have?
The front-line support team has all the tools and resources to fix the overwhelming majority of issues they come across. If they haven't come across something before, there are senior members available to walk them through the process.
Focusing on our "first contact" resolution goal, I would rather a phone call last a bit longer and a customer's problem be fully resolved than have the issue dragged out.
Can You Talk About the Launch of CloudTech and Your Instrumental Role in That?
I noticed a support trend around 2012. We weren't addressing the needs of a certain segment of our customers — the ones that wanted to focus on running their business, not worrying about how to make their servers faster or more secure.
My manager at the time and I just pitched the idea of going into the professional service space with some slides. Russell Reeder signed on and gave us all the resources we needed to go out and execute the plan.
It really came from a technical place — with a goal of empowering customers with solutions that the average customer isn't comfortable doing on their own.
Is CloudTech Just Available for VPS Customers?
CloudTech is also available for our shared hosting platforms, so if there are more advanced technical needs for a customer on shared, they can get additional, hands-on help. On the VPS platform, CloudTech does have more options for optimizing and tweaking the server to its full potential.
You Also Introduced Media Temple's Click-to-Call Feature. What Was That Like?
Click-to-Call really addresses a few problems with the phone model. As a customer, you could wait on hold for different amounts of time based on call volumes, staffing levels, time of day, and any potential system-wide incidents.
This morning the wait time was nine seconds, but as mentioned, that can change for a variety of reasons. Media Temple wanted to make the perception of waiting more pleasurable.
When you're waiting for a support rep on live chat, you're still able to do things in the account center and keep working. So the perception of waiting for help is a lot more positive, and Media Temple wanted to mirror that awesome experience on the phone side of things as well.
You can continue to work while waiting for support.
Since you're logged into your control panel when initiating the Click-to-Call request, when you're called back at the phone number on your account, you're already authorized.
You simply get a call and the support agent already knows the general issues you're having and can jump right in and start offering tailored support without having to jump through additional authorization hoops.
The experience has been a long time coming and something Media Temple has been dreaming about in order to improve our customer experience. It's something customers really need in this ever-busy and time-demanding world.
How Many Customers Utilize Click-to-Call, and Do You See Benefits As Well?
Right now about 20 percent of calls are handled via Click-to-Call, and I would love to see this feature promoted and used more in order to really improve the customer experience. While it was intended to improve the customer experience, it has other positive side effects. We see less abandoned calls, and the average call time has been shorter, due to no authorization process.
Are There Any Other Things About Media Temple You'd Like to Highlight?
In my experience, after doing a lot of competitive analysis, I think Media Temple has one of the best knowledgebases in the industry, written by our own internal team on a wide variety of topics.
We have great self-help options available to customers, and there are new articles or updates to previous articles posted almost every day to keep steering customers in the right direction.
Also, I think an underutilized feature in the control panel is the Service Diagnostics resource. Users plug in their domain name and get back a wealth of knowledge about their site. This includes information about name servers, DNS, email settings, and a report on the state and health of the domain.
Wrap-Up
I hope spending some time reading what TJ had to say about working at Media Temple and what they're passionate about was informative. I know for myself, coming from working with multiple web hosts, Media Temple definitely seems to have their priorities straight.
I loved how TJ wasn't just some "manager" brought in to "manage" a support team. He clearly paid his dues, cared deeply about customers, and now spreads that passion and knowledge to the rest of the support team.
If you're in the market for a new host, or even if you're happy with your current host, I'd really recommend learning more about Media Temple.
I had a blast getting familiarized with their company culture, and I feel good recommending Media Temple to anyone — knowing customers will be placed into the caring hands of TJ and his team!
Advertiser Disclosure
HostingAdvice.com is a free online resource that offers valuable content and comparison services to users. To keep this resource 100% free, we receive compensation from many of the offers listed on the site. Along with key review factors, this compensation may impact how and where products appear across the site (including, for example, the order in which they appear). HostingAdvice.com does not include the entire universe of available offers. Editorial opinions expressed on the site are strictly our own and are not provided, endorsed, or approved by advertisers.
Our Editorial Review Policy
Our site is committed to publishing independent, accurate content guided by strict editorial guidelines. Before articles and reviews are published on our site, they undergo a thorough review process performed by a team of independent editors and subject-matter experts to ensure the content's accuracy, timeliness, and impartiality. Our editorial team is separate and independent of our site's advertisers, and the opinions they express on our site are their own. To read more about our team members and their editorial backgrounds, please visit our site's About page.