TL; DR: GLPI is an open-source IT service management solution that helps businesses of all sizes streamline their helpdesk and IT asset tracking. Users receive access to an all-in-one solution for managing inventory, maintaining hardware and software, tracking incidents, and defining contracts. GLPI leverages open-source software to provide a well-maintained and quickly updated platform backed by community contributors and partnerships. The GLPI platform is available to 186 countries and offers an easy and scalable way to manage all things IT.
Faculty members at De La Salle School: St. Helens had a trying problem on their hands. Like many other schools, the Catholic high school of more than 1,200 pupils was routinely the victim of vandalized equipment. But reporting vandalism wasn't the only issue it had. The antiquated system the school was using to track and manage its end devices further compounded its reporting process.
"At the high school, we needed a better asset register than the spreadsheet I had inherited — preferably something web-based and accessible from any device. We also needed a better method of logging incidents and requests," said one De La Salle staff member.
So the school switched to a software platform by GLPI. The GLPI open-source service management software allowed the staff to better manage its 800 end devices with reporting and monitoring functionality. The school could spot trends, log issues, alert staff of problem areas, and save solutions for future reference and building a knowledge base.

"Our primary use of GLPI is as an asset database. The ability not only to keep track of every IT asset but to log its connectivity to other devices, even down to which switch port it is connected to and what software is installed, makes a massive difference to the level of support we are able to offer," the staff member continued.
But GLPI does much more than serve as an asset database. The GLPI platform is an all-in-one solution for help desk features, asset management, and project management. It allows users to organize support, define SLAs, manage hardware and software, and track expenses and contracts, among other tasks. GLPI users can also link and simultaneously access these tools in one place.
"GLPI offers everything on one platform, which means a user gets all core features jointly. We do not distribute features as separate modules," said Polina Marishicheva, the Marketing and Communication Manager at Teclib´, the official editor of GLPI.
Leveraging Open-Source for Smoother and More Collaborative Operations
GPLI's open-source framework enables the company to accomplish many goals, from accessibility to a collaborative atmosphere for feature releases. Because GLPI can partner with the open-source community, it can leverage multiple avenues for development input and create tools users need based on real-life feedback.
"At Teclib´, we practice the open-source core value approach where each development contributes to the community. First of all, we take into account users' needs, and more often, they are aligned with market tendencies," said Polina.

When adding new features, the GLPI team first considers user feedback because it will help improve the overall user experience and usually incorporates these updates in the next available release. GLPI also has partnerships with brands, many of which are in the IT sector.
"They work with GLPI customers every day, and since open-source gives the flexibility of development, they create valuable features/plugins, which can be added to GLPI upon agreement," said Polina.
And, of course, GLPI goes straight to the open-source community for contribution. Polina told us external contributors improve GLPI by testing the releases, reporting bugs, and suggesting features. With input from various places, GLPI can quickly create new features and remain agile in its development process. That also means its platform stays updated in a timely manner.
Reaching a Global Market with an Accessible Cloud Platform
GLPI has a vast global reach, servicing 186 countries with 85 languages worldwide. Polina works in the marketing department whose role is to make GLPI resources accessible to everyone, no matter where they are. Accessibility is what makes GLPI run and stand out, starting from its open-source foundation.
"It is open-source software, meaning it is for everyone! Thanks to that, it is one of the most deployed tools in the world: the size of your company does not matter. GLPI can be used as a personal tool as well as in a multinational company," said Polina.
GLPI's reach is evident in its customer base, which ranges from high schools and military aeronautics to telecommunications companies. Because of its general use, many people can leverage the GLPI platform to handle their assets and manage their IT support tasks. The GLPI team recently added a new solution to its line called GLPI Network Cloud. This new addition not only expands accessibility in terms of use but also in technical experience.
"Our goal was to develop a solution that would not require profound technical knowledge to use it. GLPI Network Cloud is built on the principle of 'plug-n-play.' Once created, an account user is offered a pre-installed environment they can start work with immediately," said Polina.
GLPI Network Cloud gives users access to the GLPI platform and other services, including support, backups, updates, exclusive plugins, and free data migration from on-premises. The solution is scalable, allowing businesses of any size to meet their requirements and operational demands. GLPI also offers a private cloud version for companies that want more customization and tailored resources.
GLPI's strategic use of Transifex and partnership with the open-source community has helped the company localize its platform and share it with many countries. Without its open-source community members, the team wouldn't have been able to translate its platform into various languages or deliver the features it has so quickly. "Open source also gives a lot of opportunities for rapid growth, development, and improvement. GLPI community is based everywhere and contributes to multiple aspects on a daily basis," said Polina.
Launching New Features with User Security and Flexibility in Mind
Polina also spoke to us about recent updates and upcoming releases for GLPI. The company mostly centered these updates around user security and flexibility, with new features on the road map for boosting user experience. The GLPI team plans to release two plugins to address the organization of generic assets.
"We want to add the possibility to let you customize each type of object displayed in the Assets menu. We will provide a list of predefined types matching the current assets list and let you add new ones if you want. Like servers in addition to desktop or laptop computers," said Polina.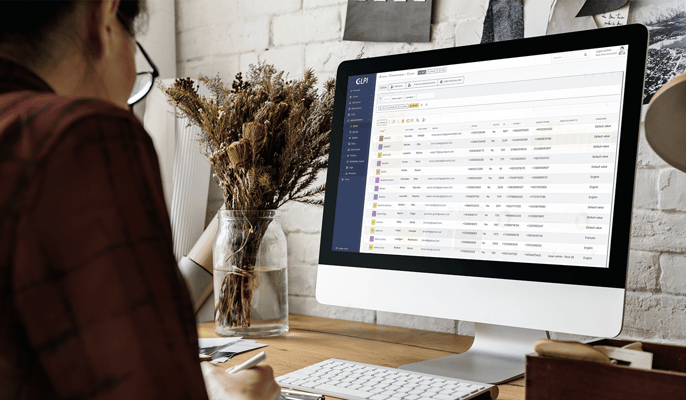 GLPI will enable users to define the capacity an asset type uses on the same setup dashboard. Administrators can also create workflows with a complete toolkit describing their actions, steps, and conditions. This feature will give users a new view of their business processes.
A significant change to the platform's interface will be the launch of an updated API. GLPI's old API made it challenging to maintain stability and avoid regression. So this new API will have a higher-level connection with stabilized endpoints and parameters.
Rounding out its road map is the release of a security feature. The GLPI team sets out to bolster its platform by adding two-factor authentication. "Administrators can enforce users' logins in the security setup to ask them to register an external application such as Google Authenticator or Authy. After a successful login, a new field will appear asking users to paste a pin code from the authentication application," said Polina.