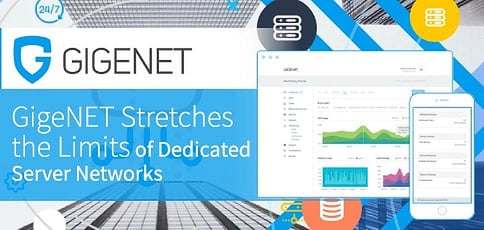 TL; DR: Whether it's finding a faster way to set up a server or improving network traffic, GigeNET is a dedicated server provider hooked on speed. As the first company to offer automated DDoS protection and an innovator in traffic rerouting, the company has a lot to offer in terms of efficiency. GigeNET's culture revolves around looking at the big picture, with collaboration across teams a part of day-to-day work. Vice President of Sales and Marketing David Dunlap recently talked to us about how the staff keeps close tabs on what their customers are doing in their work so GigeNET can work better for them.
When it comes to customer service, GigeNET can be a little bit nosy. It's not uncommon for staff to ring up a customer just to ask how they're doing and whether they need anything.
"We take an active role in wanting to learn about our customers," said David Dunlap, VP of Sales and Marketing. "It's one of the reasons why we have a less-than-1% turnover rate."
These casual, friendly conversations is where the company gets its best solutions to customer issues and its ideas for innovation. From the beginning, GigeNET has looked to its clients to see what's next on the horizon.
"Every single thing that GigeNET has done over the years has basically been customer-driven," David said, mentioning the company's colocation service among them.
The connection to customers resonates throughout everything the company does. Even David will call up customers to learn about their company and their goals.
"It's kind of lucky for us in that we're not a gigantic company," he said. "I couldn't see the Rackspaces and the Amazons of the world doing something like this. It would just be too much for them. That's fine, but in our own unique perspective, it's kind of what makes us who we are."
A Company Culture of Asking 'Why Not?'
David describes Founder Ameen Pishdadi as being "a bit of a mad genius" for being willing to try just about anything that will provide better services to GigeNET customers.
"He doesn't really know what can't be done," David said. "I think you need that, especially with someone as technically proficient as him."
Whereas many people with system administration backgrounds would maybe look at something and say it can't be done, Ameen is more inclined to shrug his shoulders and say, "Why not?"
"It's fun to be in that sort of environment," David said. "Through the years, he's managed to hire on a lot of people who are like him — people that kind of just go, 'Yeah, why not do this?'"
Some of the company's team members are currently working on making private clouds fully automated. Normally, a dedicated private cloud can take months to install and hand over to the customer. Automation would allow customers to get up and running much more quickly.
"There are a lot of things that go into a private cloud," David said. "There are firewall rules, there's IP access, and the people we talk to generally don't know all the details."
With full automation, the power of control would go directly to the customer to set up their private cloud with just a few clicks.
"Most other companies are kind of like, 'Why would you want to do that? Wouldn't it be better if we held on to that to make sure it was done properly?'" David said. "But GigeNET looks out for the customer's interest. It's just the culture of innovation that we have."
Paving the Way to Automated DDoS
Automation is a common theme in the operations of GigeNET. It was the first company to offer automated DDoS protection, an initiative that came about when a customer was being repeatedly hit by DDoS attacks — so badly, it took down a trans-Atlantic connection.
"At the time, the only way to really protect against DDoS was either through null route — and my analogy of that is that it's like lemmings falling off a cliff, with all the traffic wiped out — or you separate out the good traffic from the bad," David said. "There were appliances for it, but they were something like $500,000."
As an alternative solution, GigeNET created an algorithm that could seek out and remove the bad traffic from the connection. After applying this algorithm, the entire network continued to run smoothly.
"It became such a focal point at the time that they started up a second business to sell it," David said. "The company productized it as ProxyShield and used it for customers who maybe didn't want to change hosts but needed DDoS protection."
Everyone on GigeNET's network gets 2 Gbps of automated DDoS protection for free, and customers report being happy with the results.
"From the game hosts that host with us, they say that it has zero false positives," David said.
Improving Performance Through Optimized Routes and an Elastic Cloud
Given that much of the innovation at GigeNET revolves around real-world customer issues, it's no wonder that the company has developed several creative ways to improve the flow of data.
The GigeNET network increases speed and capacity through a Dense Wavelength Division Multiplexing (DWDM) fiber optic ring, as well as FCP routing and DDoS protection. These implementations ensure that the network is always using the fastest route to deliver traffic regardless of distance.
"A lot of our customers are latency sensitive, from high-frequency trading to Voice/VoIP to VPNs," Ameen said. "Our fastest-route network was created so we could make better use of its diversity of carriers and connectivity while reducing latency for all of our customers."
Finding the fastest route allows the network to automatically reroute traffic around oversubscribed connections, external network brownouts, or any other impediments.
"We are capable of operating a premium network by guaranteeing the lowest latency, and guaranteeing packets will be delivered on the most optimal path," Ameen said.
Making public clouds more available out of the box is another challenge that GigeNET engineers have taken on. Although cloud products like Amazon Web Services work well, they can take a lot of time to set up when many services need to be deployed.
"The problem is that if you have a complex deploy, you're looking at five to nine services that you have to roll up, so it can get remarkably complex," David said. "How do you get a public cloud that's robust but doesn't have multiple services you have to learn, or has everything in the box without having to recode?"
GigeNET developed a KVM public cloud that addresses this very problem. It's an elastic cloud that can expand as needed without any interruptions in service.
"With your average cloud, if you want to expand it, you have to restart your public cloud VM, or you have to shut it down, move it to a new VM, and then bring it up again," David said. "It's done within like a minute, so it's kind of elastic in that you don't really notice it's different. But if you have customers like we do, who are VPN customers and game server customers, one minute means you just knocked everybody off the connection. Ours will actually go up without restarting."
Playing to Each Other's Strengths to Cultivate Success
Working at GigeNET is a holistic experience that offers many opportunities for collaboration across departments. The weekly Thursday all-hands meeting ensures that there are no silos in this office.
"It's absolutely refreshing," David said. "We get everyone together and each department talks about what they've worked on, where they're going, and if they need any help from another department or an asset from another group. It is deeply entwined in the culture."
Overall, there's not a lot of turnover and staff are able to wear different hats during their time with GigeNET. The company isn't top-heavy, leaving a lot of room for growth among employees.
"Half of the company is support, a quarter of the company is engineers — DevOps rolled in with SysAdmin — and they generally jump around a lot," David said. "Our DevOps will work support tickets if some odd random problem happens. Joe De Paola, our Senior VP of Products, may end up being your solutions architect. He has a blast talking to customers and getting involved."
Even Ameen, also GigeNET's President and CTO, will jump into the fray and work on a dedicated private cloud deal or check in on the datacenter.
"We're all working there and will solve a problem for a customer without thinking two things about it," David said.
Advertiser Disclosure
HostingAdvice.com is a free online resource that offers valuable content and comparison services to users. To keep this resource 100% free, we receive compensation from many of the offers listed on the site. Along with key review factors, this compensation may impact how and where products appear across the site (including, for example, the order in which they appear). HostingAdvice.com does not include the entire universe of available offers. Editorial opinions expressed on the site are strictly our own and are not provided, endorsed, or approved by advertisers.
Our Editorial Review Policy
Our site is committed to publishing independent, accurate content guided by strict editorial guidelines. Before articles and reviews are published on our site, they undergo a thorough review process performed by a team of independent editors and subject-matter experts to ensure the content's accuracy, timeliness, and impartiality. Our editorial team is separate and independent of our site's advertisers, and the opinions they express on our site are their own. To read more about our team members and their editorial backgrounds, please visit our site's About page.