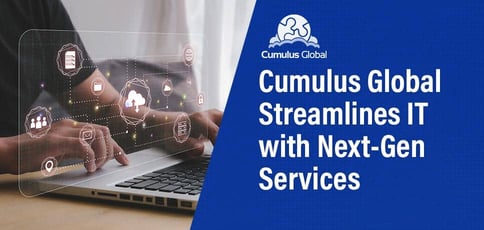 TL; DR: Meet Cumulus Global, a cloud solutions agency that works to streamline and simplify your IT infrastructure. With more than 40 years of experience in the industry, Allen Falcon, CEO of Cumulus Global, tells us how the company aims to help small-to-medium businesses and the education and government sectors better manage their data in the cloud.
Whether you're a tech tycoon from humble beginnings or a small LLC that makes most of its revenue through eCommerce, managing your business's IT infrastructure is just as crucial as producing your goods.
Think back to Target's 2013 massive data breach. Hackers gained access to the company's payment processing system because of a vulnerability in the IT infrastructure, compromising the personal information of over 40 million customers. The breach resulted in a considerable revenue loss, damaged the company's reputation, and led to lawsuits and regulatory fines.
If you're thinking, "I don't need IT management because my business is too small," you may want to think again: SMBs are prime targets for cyber attacks. Plus, proper tech management gives you a competitive edge.
So no matter the size of your company or the industry you're in, all businesses need to consider security, scalability, performance, data management, compliance, and how they all work together.


In fact, it may be why IT spending has steadily risen for the past decade. Experts theorize SMBs are more willing to invest in IT solutions to increase productivity and capitalize on new trends.
The rise in demand for IT management comes as no surprise to Cumulus Global, a managed cloud service provider that helps companies create strategies to improve new and existing cloud solutions. Born from a small successful IT consulting firm, Cumulus Global works with SMBs and low mid-market businesses to increase efficiency and the value they get from their cloud infrastructure and services.
The Small Powerhouse that Streamlines Your Cloud Strategy
Allen Falcon, CEO of Cumulus Global, is no stranger to the IT industry. Although the company came to fruition in 2006, Allen has been in technology since the mid-1980s — so he's seen it all, from minicomputers to Y2K to the reinvention of the cloud in the 2010s.
In 1992, Allen and a former coworker started a consulting firm that catered to several of the top 100 financial institutions in the US. Post-Y2K, Allen decided to zero in on what he was most passionate about: strategic technology management consultancy.
Providing contract CIO services to small and midsize businesses, Allen and his team saw a need for better email security and compliance solutions. Allen and his partner spun off Cumulus Global and partnered with Postini, an enterprise cloud-based email protection provider. Using the cloud to deliver enterprise-class services to small and midsize businesses was a market differentiation.
Less than a year after Cumulus Global's launch, Google licensed Postini to provide spam and virus protection for Gmail. Leveraging market awareness, Cumulus Global grew. With Google's subsequent acquisition, Cumulus Global became a Google partner.

"One day, we get a call from Google asking if we were familiar with an application called Google Apps. They were looking for 20 North American partners to see if there's a market for a paid business version," recalled Allen. "When the 800-pound gorilla in the industry asks you to come on board, you say yes."
Cumulus Global was off and running a new trajectory. The company delivers managed cloud services to small and midsize entities, including commercial, local, and regional government, and K-12 education. The company streamlines IT strategies and infrastructure according to the customer's needs.
Today, with only nine full-time employees, the group has been named an Inc Power Partner and currently trends more than $9 million in revenue.
Forecast on the Future of Cloud Computing
With a strong background in IT services, we asked Allen how he and his team stay up to date on current trends and what he predicts is coming up next. He said they stay one step ahead using forward thinking.
"We're actually more inclined to look at what customers want rather than what people say will be the next big thing," explained Allen. "It gives you a better sense of whether it's a fad, a strategic shift, or a tactical issue. We can see things that are six to 18 months ahead of what people say is the current thinking."
For example, while you could focus on how to use AI in your everyday life, Allen suggests looking at what the aftermath of using AI may bring.
"We see some serious challenges with generative AI," said Allen. "We always talk about the law of unintended consequences with our clients. So while we understand people's excitement toward AI, we see drawbacks that could create problems for companies, especially information and technology licensing."
Allen also mentioned two types of trends within the market: pop culture and the SMB space. AI is hot in pop culture now, but for small-to-medium-sized businesses, it's all about how they use the cloud.
"Small and midsize organizations use the cloud differently than mid-market and enterprises," Allen explained.
Here's how: SMBs are less likely to use custom-built apps and instead want to prioritize moving to the cloud for better security, redundancy, and cost management.
Allen explained that this transition to the cloud is called the "lift and shift." The idea is to move the applications to the cloud and optimize them over time rather than trying to re-architect them all at once. Small and midsize businesses are also more interested in business analytics and intelligence tools, including low-code or no-code tools that can automate processes and generate KPIs.
"Right now, we're building out services that we can meet both of those changes in SMB mindset around the cloud," Allen promised. But that's not all: there's plenty more on the horizon for Cumulus Global.
What's Next?
Cumulus Global is enhancing its managed cloud offerings by formalizing services based on client needs. The company has three primary strategies in the works: expanding its cloud management services, providing remotely-managed services for on-site management, and introducing co-managed services.
Expand Cloud Management Services
Cumulus Global plans to introduce new service tiers, allowing the company to offer more customized and tailored services to its clients with a specific focus:
"There will be multiple tiers based on the capabilities, security requirements, and data management requirements for different sized and focused businesses," said Allen.
Introduce Remotely-Managed Services
Remotely-managed services are nothing new but can be life-changing for Cumulus Global's customers.
"We now have clients where the vast majority of their computing is in the cloud — but they still need the firewall, routers, switches, and wireless access points," said Allen. "So we started rolling out remotely-managed on-premise services."

Because Cumulus Global has the ability to access customers' systems and devices remotely, it can help them save time and money. Customers can also better focus on their business without the distraction of someone in the office or having to manage the IT infrastructure themselves.
Introduce Co-Managed Services
Cumulus Global is in the early-rollout stages of offering co-managed services. While the clients will need to get hands-on, this drastically reduces the need for an in-person technician, which is much more cost-effective and convenient.
"We deploy infrastructure and technology that we can manage and monitor remotely," explained Allen. "If the clients are willing to provide the eyes and the hands to unplug the switch and plug a new one in, then the model works well."
This phase has been active for 12 to 15 months, but Cumulus Global plans to introduce it to all their clients by the end of Q3.
With plenty to look forward to, Allen offered some words of wisdom before our call ended.
"Technology for technology's sake isn't worth the investment. Whether quantitative or qualitative, you have to have business goals and objectives you're looking to achieve. Every dollar you spend on IT services should go to those goals and objectives."
If you're one of the thousands of businesses doing the "lift and shift" to cloud computing or have already made the switch with goals to simplify your processes, Cumulus Global may be the answer. Its tailored managed cloud services help you boost efficiency, improve security, and cut costs. Discover how you can streamline your IT strategy and take your business to the next level.