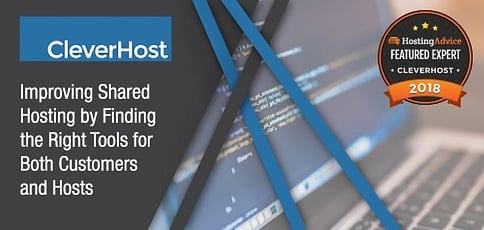 TL; DR: Facing everything from a destructive WordPress brute-force campaign to a developer's complicated Node.js application, CleverHost withstands the diverse challenges common in the shared hosting industry. Tapped as another of our featured experts, Founder and CEO Derek Silva gave a candid look at the challenges his hosting company faced in 2017, along with its exciting growth potential in 2018. To him, support, security, affordability, and flexibility continue to reign over the ultra-competitive realm of shared hosting.
Facing an onslaught from the most aggressive brute-force attack WordPress security experts at Wordfence have ever seen, Paul, Alia, and Chani bravely banded together.
Alia was overwhelmed, but Chani bravely held strong. Paul heroically blocked web traffic from the militant IP addresses, which generated upward of 14 million attacks per hour. With Paul valiantly holding on, CleverHost administrators quickly adjusted their defenses and turned back the assailants.
As the dust settled, CleverHost provided rations and reinforcements to Paul, Alia, and Chani — the company's three cloud servers named after characters in the Dune science-fiction franchise. As shared hosting providers know painfully well, limited technical expertise can leave customers and the underlying infrastructure at risk.
CleverHost Founder and CEO Derek Silva, who continues to look forward after having just averted such a massive attack, is another of our featured experts looking at timely trends in the web hosting industry. Our series checks in with the top managed, WordPress, shared, and free hosting services to project the innovations in store for 2018.
CleverHost, based in Canada, provides a personalized approach to hosting, with Derek frequently signing on to man the company's live chat support.
"A lot of that is about getting the message out there about the company, what we do well, why we're great, and why they should choose us," he said. "Then, we use every opportunity when clients come in the door to reinvest in the company to find efficiencies, improved security tools, and new ways to scale."
---
---
Helping Customers Find the Right Tech and Tools for Their Budget
Derek recently spent several hours chatting with a potential customer, painstakingly going over details that would help the client pick the best hosting plan.
"For the same level of service, in terms of support and very similar hardware, they saved more than 30% by switching to CleverHost," he said. "Just by having a good discussion about what they had and what they actually need, we were able to save them some money and increase our revenue at the same time."
Instead of simply undercutting the competition, Derek and CleverHost consider attributes such as the number of websites, the amount of traffic, and the control panel requirements to determine which route is best. Even if a client thinks they want to sign up for the top unlimited services plan, CleverHost will recommend a smaller and cheaper option if one exists.
"As nice as that would be from a revenue perspective, we'd much rather have them for a longer time in the right size plan, as opposed to just taking the money," Derek said. "If that means they're paying us $38 (Canadian) instead of $80 a year, that's OK. We figure they'll be happier in the long term. Hopefully they'll refer some folks over, and we'll make up the money elsewhere."
CleverHost Sticks to Its Strengths When Supporting Various Languages
Many shared hosting providers find success in offering flexible, optimized services when it comes to supporting various programming languages and software. CleverHost is no different — with one exception.
Not being a developer, Derek has a "passionate hatred for JavaScript." Excelling at hosting Node.js applications has been a particularly tough run-time environment nut to crack.
"Ruby on Rails has been much easier to get my head around and support," he said. "PHP is easy. But there's no clean way to just run a Node.js program and leave it running."
Of all CleverHost's customers, only one runs Node.js. Although shared hosting isn't really the target market for Node.js, Derek recognizes that CleverHost might not be the best fit for expanding the market.
"If you want to take the Node.js path, I would much rather help you find success somewhere else," he said.
Derek and the CleverHost team regularly support Python and Ruby applications, along with offering four versions of PHP. They began supporting MongoDB a few months ago.
"There's practically nothing we're not willing to learn to meet customer needs," he said.
Next in 2018: Passion for Cryptocurrency Unlocks New Revenue Streams
In late 2017, a cousin asked Derek to buy a princess costume for his daughter and ship it to him in Portugal. The frustrations they encountered while trying to work out how to pay Derek back spawned an exciting new venture for CleverHost.
"Obviously, there's going to be extra costs as I send a physical good from one country to another, but for him to reimburse me the $60 Canadian I spent, it was going to cost him almost another $60," Derek said. "It's ridiculous, the exorbitant fees you pay for sending rather small amounts of money to friends and family in another first-world country."
From there, he learned how much more efficient and affordable it would be to make the exchange using cryptocurrency and decided to apply the knowledge to his hosting business. In addition to attracting a new pool of customers, cryptocurrency is more affordable to process.
"Credit card transactions cost me 2.9% and 29 cents, whereas our cryptocurrency payment provider charges us half of a percent," Derek said. "In the end, everyone wins out."
The new payment protocol accepts 13 types of cryptocurrencies, including Bitcoin, Bitcoin Cash, Dash, and Litecoin. Using CoinPayment, CleverHost launched the new system toward the end of 2017 and has already attracted its first customer.
"I understand a lot about the technology and how it works, so I was comfortable setting that up," Derek said. "We're really hoping that will help us foster some growth in that community, in which I'm actively involved and really passionate about."
Free SSL Certificates and Encouraging Customers to Secure Their Sites
Following December's unprecedented brute-force attack on WordPress, Derek said that CleverHost will spend much of 2018 educating customers about how to play active roles in protecting their own websites. The company gets site owners started on the right path by including free SSL certificates with every shared hosting plan
Although CleverHost implemented the ModSecurity web application firewall and has measures in place to thwart attacks on WordPress login pages and .xmlrc files, Derek said he'll likely recommend other content management systems as part of what he calls a "security by obscurity" approach.
With WordPress powering nearly 30% of the web, the popular platform is a common target. Derek, who runs a few blogs on WordPress, said he won't stop customers from using the CMS. Instead, he wants them to have the full understanding of the services and requirements of each option — much like choosing the right hosting plan.
"If you're buying a car, you don't just get it and go," he said. "You need to at least take a cursory glance and actually learn what all the fiddly knobs and touchscreen controls do. You should take the same approach with your website."