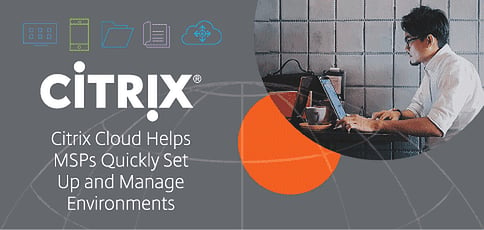 TL; DR: Citrix Cloud offers a centralized console that facilitates management of all Citrix pre-integrated technologies. The platform is changing the traditional view of cloud-based management, as workspaces can be deployed from any infrastructure — on-premises or in public or private clouds. This, coupled with bi-weekly software updates and a company culture focused on innovation, makes Citrix Cloud a valuable workspace virtualization tool for administrators and service providers.
A few years ago, I attended a tradeshow to interview industry experts for a magazine I was working on. As anyone in the magazine publishing field can attest, if you're compiling content for an upcoming issue, odds are good there's another already in the queue waiting for production to be finalized.
After a long day rubbing elbows with interviewees, it was time to get to work on completing edits in the company design program to get the next issue on the street. Being more than 200 miles away from my PC at the office could have posed a problem. Fortunately, my company offered secure, virtual access to the design program, so I was able to access my workspace remotely. Our IT department managed the secure app delivery process via Citrix Cloud.
Employing applications securely managed and delivered through Citrix Cloud services was as easy as running any other installed program on my laptop. While the seamless use of software is an obvious benefit for the end-user, Citrix also enables service providers to securely deliver virtual applications from multi-tenant environments, ensuring an excellent workspace experience.
"What we're trying to do for the provider is make their lives easier," said Ken Oestreich, Citrix Cloud's Senior Director of Product Marketing. "There will be a lot less of Citrix for them to install, configure, and size. This will get them and their tenants up and running faster and still provides flexibility to run the workloads wherever they want."
Citrix Cloud is essentially an intuitive cloud-based console that allows the management of all Citrix technologies in one place. The reduced configuration time the platform provides dramatically speeds up the onboarding process for service providers. Features come pre-integrated, and administrators can set up virtual workloads on any type of infrastructure. With bi-weekly software updates and a continuous dedication to innovation, Citrix is changing the way IT professionals view the Cloud.
"Everything as a Service" — How Citrix Simplifies IT Management
More than five years ago, Citrix initiated a new channel called Citrix Service Providers, who host Citrix technologies, Ken told us. This channel has grown to include more than 2,000 managed service providers worldwide. Citrix is now preparing to make Citrix Cloud technologies available to these partners sometime in 2017 — helping simplify how they integrate and manage Citrix technologies for their tenants.
"More customers, whether they're enterprise, service providers, or user tenants of those service providers, are expecting more cloud-like SaaS services," Ken said. "What we're doing will give the provider management as a service over the different Citrix technologies. This lets them focus on what they do best — the configuration, the management, the integration of apps for their tenants."
Service providers can turn to Citrix Cloud to quickly get virtual environments up and running and seamlessly manage them with a centralized user interface.
Reduced Configuration Time Lets You Stand Up Infrastructure in Just 29 Days
For managed service providers, virtual desktop onboarding can sometimes be daunting and time-consuming. Ken told us the process could take their service provider partners upward of 150 to 175 days to come up to speed and install infrastructure. What they're finding now is the process will be much faster and relatively painless.
By next year, Ken and the Citrix Cloud team plan to ease these processes for service providers by taking on the lion's share of installation and configuration for them through Citrix Cloud.
"Today, we're having customers onboard to Citrix Cloud in 29 days," Ken said. "We can get a customer to stand up a hosting or traditional enterprise infrastructure in less than a month. It's an order of magnitude shorter and will translate to a faster time to market and a faster time to value for managed service providers when they have access to Citrix Cloud."
Design-Centric Console Makes Management Easy
One of the features Ken said sets Citrix Cloud apart from other cloud platforms is the intuitive, centralized user interface. One of the internal slogans of Citrix is to have "customer empathy." The Citrix Cloud interface delivers on this motto with a design-centric approach.
"What we're trying to do is understand what a first-time user experience looks like, whether it's a customer or a service provider," Ken said. "Where are their contextual help, guidelines, pointers, et cetera within the user interface? We're trying to make things simpler for administrators."
Because all management functions are assembled in one place, there is much less for administrators to do. Scaling, tuning, and configuring databases can all be done in, as Ken calls it, "the black box."
Pre-Integrated Services Orchestrate Virtual Workloads
The Citrix Cloud is an umbrella under which all Citrix technologies are made available. Virtual desktop, virtual app, data sync, mobility control, and networking management services are all features integrated and deployable under Citrix Cloud.
"The real value here is not just using the Citrix Cloud to turn on a given service," Ken said. "It's that all the services are self-aware and integrated. If I want to, say, spin up a virtual desktop service and a file sync-and-share service, they both know about each other."
Pre-integration makes deployment simple for administrators, as services draw from the same active directory information. And, because the set of services in Citrix Cloud run just like they would if they were installed as traditional software, end-users never see a difference.
"From an administrative perspective, some of the services need to be pointed to an execution environment," Ken noted, "but there is far less to configure, scale, and integrate because it's done for you as a service."
Changing the Cloud Model With Flexible Features and Innovation
Citrix Cloud is shifting perceptions of how cloud-based virtualization can be employed. In the traditional cloud model, all services and features run within the Cloud.
Ken noted Citrix Cloud is different. Virtual desktop and app workloads can be deployed anywhere, giving flexibility to service providers and admins. The platform also eliminates the need to purchase software updates, and its labs area ensures a velocity of innovation toward new product design and creation.
Deployment is Possible On-Premises and In Public or Private Clouds
One Citrix hallmark has been the flexibility of deploying from any cloud or on-premises IT infrastructure. Ken noted roughly two-thirds of Citrix service providers using the platform deploy from their own infrastructure, and of those, about one-third expect to begin to tap the public cloud within 12 months.
Citrix Cloud will make this process easier by providing a cloud-based management platform for all Citrix workloads and simplify how they can be deployed on any cloud or traditional infrastructure.
"The provider decides if their choice of infrastructure is one of economics, one of convenience, performance, data sovereignty," Ken said. "Our decision was to give them that choice. We don't want to force it on them."
Providers can put workloads, such as virtual desktops and virtual apps, wherever they want, on existing infrastructure or in a public or private cloud. As Ken noted, Citrix Cloud is infrastructure agnostic, meaning the platform is just the data and presentation layer, and any infrastructure can be used to run it.
"People can have some of their virtual workspace environments in, say, Azure, some in Amazon, and some in a datacenter in the UK and manage them all together," he said. "It's pretty neat."
Software Is Evergreen with Bi-Weekly Updates
Updating software to ensure users have the most recent and effective tools is an ever-present concern for administrators and service providers. This worry is removed for those deploying Citrix Cloud services.
"The SaaS notion of evergreen software really grabs people," Ken said. "All of our consoles, all of our technologies, are updated every two weeks."
Frequent patches and usability tweaks to Citrix software create seamless operation for end-users and free up administrator time that can be better spent not trying to remedy issues created by outdated software. Any anxiety around the cost of upgrades is also removed, as this is all included as part of the Citrix Cloud service.
Labs Area Lets Users Test and Give Feedback on New Software
Citrix is able to stay competitive and produce technologies like the Citrix Cloud because of their dedication to innovation. They have engineering teams around the world working together in a unique and open labs area where experimental software services, such as app virtualization and acceleration, can be tested, experimented with, and commented on by the public.
"If a new-fangled idea comes out of our engineering teams, it shows up in the labs area, and customers are free to play with it," Ken said. "The services sometimes fall on their face. Sometimes they're productized. This is a fantastic opportunity to innovate"
The labs allow Citrix to obtain real-time customer feedback and help direct where the company takes a given technology.
The Future: XenApp Express and Expanded Partnership With Microsoft
Big things are on the horizon for Citrix and the Citrix Cloud platform. In 2015, the company announced a partnership with Microsoft on a few upcoming technologies.
One of those, potentially named XenApp Express, is a Microsoft-hosted service for streaming apps that can be managed out of Citrix Cloud. They'll also be offering management for Windows 10 VDI hosted out of Azure. Ken told us to expect specifics within the coming months.
"We'll have a stronger partnership with Microsoft," Ken said. "This really illustrates the notion of one place to go. There's a single console that integrates all of the workspace resources you'll use as a provider or administrator."
As a person using apps managed and delivered through Citrix Cloud, I had no idea what infrastructure deployed my company's design application. I just knew it worked when I needed it while off site. I'm sure my company's IT administrator was just as thankful as I was for how simple deployment was to power and supply software to his tenant workspaces.
Advertiser Disclosure
HostingAdvice.com is a free online resource that offers valuable content and comparison services to users. To keep this resource 100% free, we receive compensation from many of the offers listed on the site. Along with key review factors, this compensation may impact how and where products appear across the site (including, for example, the order in which they appear). HostingAdvice.com does not include the entire universe of available offers. Editorial opinions expressed on the site are strictly our own and are not provided, endorsed, or approved by advertisers.
Our Editorial Review Policy
Our site is committed to publishing independent, accurate content guided by strict editorial guidelines. Before articles and reviews are published on our site, they undergo a thorough review process performed by a team of independent editors and subject-matter experts to ensure the content's accuracy, timeliness, and impartiality. Our editorial team is separate and independent of our site's advertisers, and the opinions they express on our site are their own. To read more about our team members and their editorial backgrounds, please visit our site's About page.