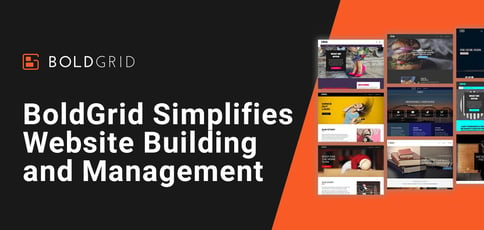 TL; DR: BoldGrid delivers a suite of WordPress plugins, themes, and services to help website builders create and manage WordPress sites. The platform offers simple and complex design options through a responsive system that allows users to view websites on many different devices. In addition to BoldGrid's design features, users still have the same administrative options available to all other WordPress designers.
WordPress continues to dominate among businesses or developers looking to build a website, with an estimated 43% market share. And the platform far outpaces its nearest competitor, Shopify, which claims a 4.5% share.
WordPress has long-established credentials as a platform that can support everything from SMB to enterprise-grade websites. High-volume global companies, including Dell, Godaddy, Grammarly, Indeed, and Salesforce, use WordPress to power their web presence.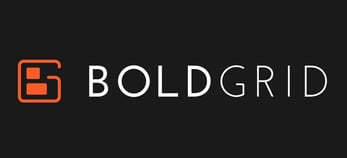 But WordPress is more than a globally successful product. It has given rise to a secondary market that offers enhancement and support solutions, including plugins, site themes, and other value-add services.
Software company BoldGrid is one of those plugin providers, and it aims to help businesses create and manage an online presence without investing too much time or money.
BoldGrid offers flexible plugin and theme options, and features that can be simple or complex — depending on the requirement. In addition to BoldGrid's design features, users maintain the same administrative options standard to all WordPress installations.
The company also partners with WordPress hosting providers to offer customers more extensive integrations that add flexibility and performance to websites.
"BoldGrid streamlines website build workflows and makes it so that users can get a workable website — one they can be reasonably proud of — up and running within about an hour," said Joseph Wood, BoldGrid Technical Account Manager. "And the sooner their websites go live, the shorter our customers' time-to-market."
BoldGrid's value proposition is based on the software suite that makes up the brand's principal components. It includes BoldGrid Inspirations, Post and Page Builder, Total Upkeep, Easy SEO, and weForms.
Integrated WordPress Plugins and Tools Provide More Creative Control
BoldGrid Inspirations is a plugin that delivers WordPress themes and content to help users establish a website quickly and easily. Each Inspiration is a complete website with a full set of pages filled with text and images relevant to a user's business or commercial interest.
"The idea is that users don't start with a blank slate," Joseph said. "They simply replace the stock content with their information, and the site is then ready to go live."
BoldGrid Crio is what the company calls a "WordPress SuperTheme," with advanced customization options that offer more granular control of each aspect of website design. It includes more than 250 customized controls and integration tools, providing users with ultimate control over a wide range of website elements.
"BoldGrid's Post and Page Builder adds a WYSIWYG interface with drag-and-drop capabilities to the standard WordPress Editor that makes creating posts and pages easier," said Joseph.
BoldGrid's WordPress Backup plugin is a restoration and migration tool that users can set up to automate backups with offsite storage. Its Total Upkeep product handles WordPress updates, creating a backup before updating — in case anything goes awry.
BoldGrid's Easy SEO feature provides in-editor optimization options so businesses can easily improve content during creation. Users can also leverage its weForms plugin to support pre-made forms that come with the Inspirations provided.
Software and Individually Priced Components Optimize Effectiveness
BoldGrid offers a variety of other tools that help with performance optimization, website update staging, and WordPress support. Once a business completes a website, it can use BoldGrid's Speed Coach for optimization.
"It's a speed test that provides both a report and gives users actionable steps to improve their website's performance," Joseph said.
If users need to make changes to a website at the same time, BoldGrid's Cloud WordPress feature offers a staging website environment for testing. The Total Upkeep plugin transfers the site back and forth until it's ready to go.
When the organization finishes the website design process, it can add new content. If a business doesn't want anyone visiting its uncompleted site, it can load a Maintenance Mode plugin for WordPress, and only the builder or trusted reviewers can access it.
Each of BoldGrid's component products and services is priced individually, per month — all billed annually. Its Total Cache Pro plugin is $8.25 per month, Total Upkeep Premium is $2.50 per month, and Post and Page Builder Premium is $2.50 per month.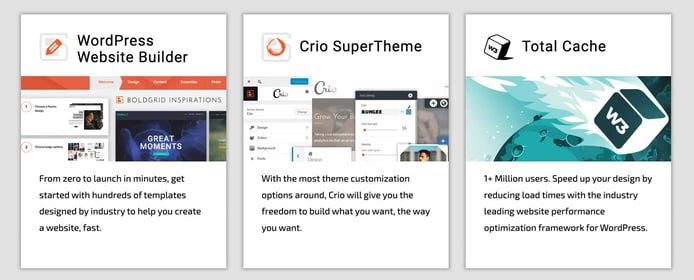 Businesses can use BoldGrid's Cloud WordPress to develop, stage, and safely test WordPress plugins, themes, or websites instantly before deploying live. The service starts at five sites for less than $2 per month.
More experienced BoldGrid users often upgrade to a range of premium BoldGrid products, including WordPress Page Builder ($2.50 per month), WordPress Website Builder ($5 per month), and WordPress Creator Bundle ($8.25 per month).
"Our customers can choose from a catalog of individual premium BoldGrid plugins, themes, and services to build, manage, and optimize their WordPress websites," Joseph said. "We make it straightforward for them to purchase the right mix of plugins and services to fulfill their needs. They're not obliged to buy features that they do not need."
BoldGrid also offers a range of free support resources. It maintains a series of tutorials on its website covering a wide range of topics, tasks, and how-tos. The company also hosts many video tutorials on its YouTube channel.
Customer Feedback Informs New Features and Development Road Map
WordPress powers most websites entering the market, and BoldGrid optimizes those sites with its site-building tools and services. And BoldGrid thrives on client feedback to make its product line even more effective.
"One of my jobs is to handle the premium support tickets for all of our users. They call in with a broad range of problems and other issues, and we figure out if something is broken or maybe just misconfigured," Joseph said. "And often they will say 'Hey, we'd like to do this,' and we reply, 'Great feature idea, we will shoot it to the BoldGrid developers to look into.'"
BoldGrid gathers valuable and instructive insight from feedback that effectively guides its development road map and feeds into future solutions.
BoldGrid has established partnerships with WordPress hosting providers to offer a more integrated experience to users and simplify website design. Those partners include trusted industry hosts DreamHost, InMotion Hosting, and Web Hosting Hub.
Looking to the future, BoldGrid is working to consolidate and improve the integration between its solutions and its three hosting providers.
"One of our big areas of focus going forward is integrating with our hosting partners," said Joseph. "They now account for some of our largest installed user bases. We are making the onboarding process easier, and will ultimately provide a better way for our partners to manage their BoldGrid customer bases through features such as preinstalled plugins."