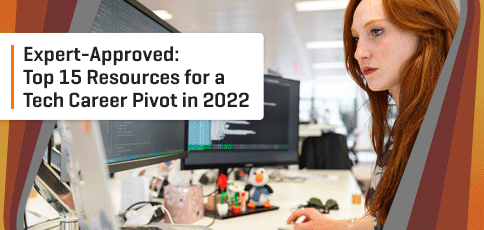 In the United States, the average software engineer salary is roughly $88,000 per year, depending on the source. Entry-level data analyst positions offer nearly double the median annual wage of working adults in other fields. And an astounding number of IT professionals see six-figure salaries before their 30th birthday.
Unfortunately, not all of us had the foresight to power through four years of college-level calculus and got that engineering degree at age 22. I did what my high school teachers and advisors warned me not to do: I majored in Psychology, with no plans to get a doctorate or practice clinical psychology. Granted, I still argue my bachelor's degree comes in handy when managing people; but, it did me no favors when I wanted to advance into a technical project management role.
IT is competitive. Knowing my industry experience was lacking, my most significant barrier was self-confidence. Getting accepted into Virginia Tech's Master of Information Technology program was a game changer for me, and I'm now a firm believer in second-chance careers.
It's never too late to pursue a career in a technical field, so don't let a little self-doubt stand in your way. Online training resources, boot camps, and university programs abound to give you the core competencies you need to succeed. We've hand-selected the programs and resources deemed most advantageous and helpful for pivoting into a promising career in tech — featuring testimonial stories and words of wisdom from those who have successfully made the switch.
1. Fully Accredited Master's Degree Programs Through Coursera
Coursera partners with the world's top universities, including Yale University, Stanford University, and the University of Michigan, to offer college-level courses online. The classes are self-paced, presented by high-profile professors, and often supplemented by assignments and practical exercises. According to its website, Coursera boasts 92 million registered learners as of September 30, 2021, making it one of the largest online learning platforms available.
Computer science and engineering master's degree programs include:
Master of Computer Science from the University of Illinois at Urbana-Champaign
Master of Science in Electrical Engineering from the University of Colorado Boulder
Master of Computer Science from Arizona State University
Master of Applied Data Science from the University of Michigan
And other top-rated bachelor's and master's degree programs
Companies worldwide leverage Coursera to "upskill and reskill" their employees in high-demand specialties such as data science, computer programming, and business administration.
2. Udacity's Data Analyst Nanodegree Program
Udacity is a pioneer in online education and boasts several industry partnerships, including Google, NVIDIA, and AT&T. The company offers courses across various technical disciplines, including computer science, mechanical engineering, and data science.
In 2014, Udacity branched out into a disruptive new model known as a "Nanodegree," which offers a certificate for completing required coursework. Nanodegrees are available in high-demand specialties ranging from self-driving cars to web development.
"Udacity has the power to transform lives and create new career opportunities in the most in-demand technical fields," said Diana Adair, Head of Communications for Udacity. "We see people from all backgrounds gain increased job satisfaction and success by investing in their own professional growth."
If a career pivot toward data science has caught your attention, strongly consider Udacity's Data Analyst Nanodegree program.
Data Analyst Nanodegree students will acquire the following core competencies:
Python and SQL training
An understanding of Big Data concepts and tools
Data visualization and presentation skills
Statistical analysis and forecasting abilities
And other fundamental strengths of a data scientist
The curriculum includes real-world projects that put your new skills to the test while receiving feedback from experienced professionals. Upon completion of the program, you'll be more than ready to enter the field as a junior data analyst or data scientist.
"At the beginning, it's really hard. There's always frustration; there are always disappointments," said Soria, a Udacity user who pivoted from finance to React development. "Never give up… and learn everything bit by bit. One day, you will be the master of it."
3. Coding Dojo's Software Development Courses
Coding Dojo offers online coding boot camps with a mission to "make technology education affordable and accessible to all." The organization offers a three-full-stack computer programming boot camp, as well as courses on data science, cybersecurity, and other emerging technologies, for those looking to upskill or reskill in the lucrative technology space.
"It's never too late if you have the determination and grit to make the change," said Richard Wang, CEO of Coding Dojo. "This is even more so the case when transitioning into a tech role, where job openings are plentiful and accelerated training options are available… Nearly every industry is adopting more and more technology to streamline operations, better serve their customers, or pursue innovation."
Coding Dojo offers rigorous, hands-on training and mentorship, making it our top choice for aspiring developers looking to transition into computer science as a career path. Familiarizing yourself with web fundamentals, such as HTML, CSS, and basic JavaScript, is the first step according to Richard. From there, research the role to which you'd like to aspire, and determine which languages are needed to be successful in such a role.
"Large tech companies use a lot of different technologies, but that doesn't mean you need to learn all of them," he said.
The full-time Coding Dojo path features three stacks, along with an introductory section:
Warm up with "The Basics" and then get started with weeks 1-2: During the first two weeks of the bootcamp, students will take an initial skills assessment, learn or review web and programming fundamentals, and cut their teeth on industry tools such as GIT and the terminal.
"Stack 1" spans weeks 3-6: The next four weeks cover object-oriented programming in one of the web's most in-demand languages, Python. Students will learn the fundamentals as well as how to build Python-based applications while working within a team, keeping collaboration and scaling potential top of mind.
"Stack 2" spans weeks 7-10: Next, Coding Dojo introduces MERN, an open-source, full-stack JavaScript framework used to quickly deliver prototypes, websites, and applications. Students will learn about custom JavaScript libraries, NoSQL database design, and popular JS frameworks and design patterns.
"Stack 3" spans weeks 11-14: During the final four weeks, Coding Dojo students take on C#, a programming language whose use cases range from desktop applications and background services to mobile apps. Wrapping up the course with this language leaves students well-equipped to tackle whatever their heart desires in the job market.
Those looking for a part-time option can enroll in the accelerated program where you choose your own adventure based on your professional goals and other commitments. Take the complete curriculum over 32 weeks, or choose to only take one or two stacks. For a more flexible option, Coding Dojo's flex program is unique in the boot camp industry — offering the same benefits as a full-time program but with the most manageable time commitment out there.
The Coding Dojo curriculum is constantly updated to include new languages and technologies, and all courses are self-paced and reasonably priced.
A former Coding Dojo student, Billy Ding encourages those who are on the fence about making the jump into a technical career path to take the sleep. "If this is something you want to do, go all out and learn as much as you can," he said. "If a college dropout with no relevant work experience, like me, can attend a boot camp and land a great job in less than nine months (from the start of boot camp to landing the job), so can you. High-paying tech jobs are out there, and they are hiring more than ever."
According to Coding Dojo's CEO, the key ingredient to a successful career pivot is hard work. And it helps to know whether you want to shift into an entirely different industry or merely supplement your existing skills with technical competencies.
"If you want to stay within your current industry and just transition roles, there may be specialized software you need to learn or other less-common technologies may be more prevalent in a given industry," Richard said. "For a generalized approach, I always suggest learning Python after picking up the basics. It's beginner-friendly, widely applicable, and also highly in-demand with employers."
Choosing to push yourself into a new field is a gamble. But the potential payoff is worth it, according to those who have taken advantage of Coding Dojo resources.
"It was scary (as switching industries always is) but nothing good will come without taking the risk," said Taylor Muhrline, another Coding Dojo graduate. "I believe the program really taught me the skills needed to be the best developer I can be."
To learn more about Coding Dojo and how you can change the trajectory of your career, visit the website.
4. Self-Paced Programs on Code.org
Code.org gives aspiring software engineers the chance to learn at their own pace and schedule, without the burden of homework or exams. More than 10 million students as young as kindergarten-aged learn to code through Code.org each year, and most of them are women and minorities. It's a testament to the organization's inclusive, fun, and engaging approach to education.
The curriculum coverage ranges from JavaScript basics to programming concepts, game development, and even computer science fundamentals. There's also a particular focus on teaching students how to code for the web.
Code.org presents the material in an approachable manner, allowing users to learn at their own pace. While the curriculum is self-paced, short tutorials and workshops are available to guide you along the way.
5. General Assembly's Immersive Boot Camps
General Assembly (GA) is the world's largest network of dedicated-learning campuses and one of the most well-known providers of coding boot camps. The organization's line of "immersive" 12-week programs is rooted in a cohort model, where students work together in small groups to tackle challenges and build new skills.
Currently available immersive programs include full-time boot camps specializing in:
Data Science
Software Engineering
Digital Marketing
User Experience Design
We recommend the Digital Marketing Immersive program if you're interested in shifting toward a technical project management role that requires web and/or mobile marketing chops. Search engine optimization (SEO), website analytics, content marketing, and growth hacking fall within the curriculum wheelhouse. Students learn to use tools, such as Hootsuite and Google Analytics, to measure, analyze, and improve their online marketing efforts.
For those interested in product design or management, a gratifying and fast-growing career prospect, try the User Experience Design Immersive. The curriculum covers everything from user research and personas to wireframing and prototyping. Students become familiar with popular tools, such Axure RP, Sketch, and InvisionApp, to design mobile apps, websites, or software products.
General Assembly boot camps have placed more than 12,000 students into high-tech, high-pay jobs. The immersive program objective is to empower students to switch careers in 12 weeks. If that's you, browse the course catalog.
6. Udemy's "Learn Linux in 5 Days" and Other Jason Cannon Courses
Udemy is an online marketplace for high-quality courses across a wide range of subjects. Courses are self-paced and presented by expert instructors who give you the direct support and feedback you need to succeed.
One of the most popular Udemy instructors is Jason Cannon, founder of Linux Academy. His unique approach to teaching Linux fundamentals has helped thousands of aspiring IT professionals learn how to install, configure, and troubleshoot Ubuntu Linux.
Jason Cannon's "Learn Linux in 5 Days and Level Up Your Career" is a highly rated Udemy course and a natural fit for our list of career-pivoting essential resources. Other favorites by this expert instructor include:
Intro to Linux Shell Scripting (Free course)
Linux Administrator Bootcamp: Go From Beginner to Advanced
Linux Command Line Essentials
Vim Masterclass
Check out other Udemy courses for aspiring Linux administrators and developers here.
7. The Complete Software Developer's Career Guide
John Sonmez is a seasoned software developer turned highly sought-after consultant. Over the years, he's helped more than a million developers increase their earning capacity by acquiring new skills.
In 2017, John Sonmez published The Complete Software Developer's Career Guide, a must-read for anyone interested in a career in software development.
"If you're a developer, green or a veteran, you owe it to yourself to read The Complete Software Developers Career Guide," said Jason Down, a developer based in Ontario, Canada.
The book covers everything from what to do before you even think about quitting your job to launching your own startup. Incredibly detailed, the guide includes an extensive breakdown of each step in the process of building a successful software company. It also provides helpful tips for getting a job in the software development industry and climbing the ranks once you have a job.
You can purchase The Complete Software Developer's Career Guide on Amazon here.
8. Pluralsight Labs
Pluralsight is another online learning platform that allows you to learn from professionals at Microsoft, Adobe, IBM, Salesforce, and Google, among other top technology companies. Learn from the industry's brightest and put your skills to the test using one of Pluralsight's Labs.
The Labs feature of the site gives users the chance to tackle real-life cloud problems, from beginner to advanced challenges. Beginner Lab project examples include:
Create an EC2 Key Pair on AWS
Configure an Application Load Balancer on Amazon EC2
Create and Manage Users with AWS IAM
Access and Enforce Data Compliance Using AWS Config
And new challenges pop up weekly. If you're interested in taking on a more hands-on role within your company's IT department, Pluralsight should be a key tool in your systems administration tool belt.
9. DataCamp Boot Camps and Competitions
DataCamp is one of the most highly respected online training programs for aspiring data scientists, analysts, and statisticians. The company's interactive platform transforms boring lectures into engaging hands-on exercises and quizzes. All lessons are video-based. Set your pace to meet your schedule.
If you're a technical individual interested in data analysis, DataCamp may be the best investment you can make in your future. The program's cost is relatively affordable, and the credentials you earn upon completion are impressive.
DataCamp offers a variety of recommended educational programs, but the data science boot camp welcomes students with little to no prior experience in data science or statistics. You'll learn data science fundamentals and core competencies, including:
Basic data wrangling and cleaning
Data visualization and presentation
Exploratory data analysis
Regression and correlation analysis
Simple machine learning and other skills
Upon completing the BootCamp, you'll earn a certificate in Data Science and access to advanced courses that will propel you toward a high-demand data science career.
Pro Tip: Once you've cut your teeth on the fundamentals of data science, join a competition. This new feature of DataCamp affords you real-world experience without the grueling job hunt and interview process.
10. edX's Introduction to Computer Science and Programming
A group of universities founded the nonprofit edX, which now partners with some of the most prestigious educational institutions, including the Massachusetts Institute of Technology (MIT), Harvard University, and the University of California at Berkeley. The prestigious and popular online-learning platform has more than 8 million users and offers more than 1,000 courses — but the Introduction to Computer Science and Programming course remains our #1 recommendation.
Eric Roberts, one of edX's most popular instructors, leads this course while catering to the absolute beginner in a highly interactive and engaging online environment. Students learn to write programs and build a website using HTML and CSS. Other takeaway skills include:
How to solve problems using algorithms and data structures
How to design programs using object-oriented programming
The basics of computer systems and how they execute programs
Students can earn certificates of completion and come away with a solid foundation in computer science principles.
11. CareerFoundry
CareerFoundry is an online education platform whose graduates have accepted positions at Netflix, Amazon, and PayPal, to name a few. For those who dream of becoming UI/UX designers, or if you're an aspiring frontend developer, CareerFoundry is the move.
The curriculum consists of three core modules:
Design
Frontend development
Backend development
After completing the first two modules, students must pass a portfolio evaluation to progress to the third module. The final module covers data science, machine learning, and artificial intelligence, among other advanced computer science topics.
The instructors are all industry professionals, and most courses are 100% free; you can pay to schedule a private session with one of the expert instructors. CareerFoundry focuses on giving students the fundamentals they need to build a successful career in the tech industry.
Check out CareerFoundry's Job Guarantee: Get a job within six months of your CareerFoundry graduation, or the company will refund the cost of your course(s).
12. JavaScript: The Good Parts
Douglas Crockford is an American computer programmer specializing in web programming and software development. He is a Yahoo fellow, an O'Reilly author, and a popular consultant. In 2007, he published JavaScript: The Good Parts, a highly recommended resource for aspiring web developers.
The book is a guide to learning JavaScript the right way. Crockford argues that code can be elegant and readable, even when it's written in JavaScript. He refutes myths about the language, stresses the importance of learning good practices and avoiding bad ones, and provides a pragmatic overview of the language and a brief history of its use.
If you have your eye on becoming a web developer, this book should be the first addition to your Amazon cart.
13. Software Guild's Digital Badges
Software Guild offers coding boot camps, resume and social media assistance, interview training, and access to an employer network of those looking to hire.
One of the biggest challenges to a career pivot is maintaining a current job while working toward your next role. Software Guild's Digital Badges feature a four-level, pay-as-you-go model that makes it easy to acquire new skills while working full-time.
Once you complete all four levels, you'll graduate with the skills needed to enter the technical field of your choice.
Some of the opportunities open to Software Guild graduates include:
Software engineer
Software developer
Quality assurance engineer
Database administrator
Computer systems analyst
Check out current tuition rates and upcoming program start dates here.
14. The Pragmatic Programmer: From Journeyman to Master
The Pragmatic Programmer: From Journeyman to Master is the quintessential guide to software development. Some colleges feature the book as assigned reading, and industry veterans often recommend it.
Authors Andrew Hunt and David Thomas deliver a comprehensive overview of the software development industry, written in an engaging and accessible style that's perfect for anyone new to the field.
The Pragmatic Programmer is a fun read, but it also provides a wealth of software industry knowledge. The book covers software engineering topics ranging from testing and debugging to organizing teams. Purchase your copy on Amazon.
15. Microsoft Certifications & Microsoft Learn
Microsoft needs no introduction. But the world's largest software company offers a wide range of certifications on the products they produce. Microsoft Learn, formerly known as Microsoft Virtual Academy (MVA), is the company's online skill-building and certification home.
The Microsoft certification program is constantly evolving, but the basic premise is simple: pass a test, get certified. Browse examples of must-have Microsoft certifications here:
Microsoft Certified: Azure Data Fundamentals
MTA: Software Development Fundamentals
Microsoft Certified: Data Analyst Associate
Power Platform App Maker Associate
Each test covers a different aspect of a Microsoft product, and beginner, intermediate, and advanced level exams are available.
Take the Tech Career Leap with Confidence
Pivoting into a promising career in tech takes time, effort, and, most importantly, the self-confidence to ride out the journey with patience. You won't become a savvy software developer overnight; you likely won't pass every certification on the first try, and there will be several "no, thank yous" before you get that first offer letter. But, trust me, it's worth it. And being equipped with the proper tools, training, and online communities can make all the difference.
If you're not 100% loving your current career path, change course. Even if you opt to stay within the same industry, acquiring technical skills will only make you a more marketable employee and potential hire. Try one or several of the expert-recommended resources in this post, and you'll soon be enjoying all the benefits, financial and otherwise, of a fast-paced, innovative tech career.
Advertiser Disclosure
HostingAdvice.com is a free online resource that offers valuable content and comparison services to users. To keep this resource 100% free, we receive compensation from many of the offers listed on the site. Along with key review factors, this compensation may impact how and where products appear across the site (including, for example, the order in which they appear). HostingAdvice.com does not include the entire universe of available offers. Editorial opinions expressed on the site are strictly our own and are not provided, endorsed, or approved by advertisers.
Our Editorial Review Policy
Our site is committed to publishing independent, accurate content guided by strict editorial guidelines. Before articles and reviews are published on our site, they undergo a thorough review process performed by a team of independent editors and subject-matter experts to ensure the content's accuracy, timeliness, and impartiality. Our editorial team is separate and independent of our site's advertisers, and the opinions they express on our site are their own. To read more about our team members and their editorial backgrounds, please visit our site's About page.