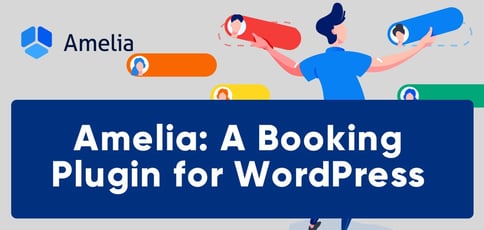 TL; DR: In today's connected world, consumers demand more convenient experiences driven by technology. That means even small businesses running WordPress sites need modern tools to satisfy their customers. Amelia offers a robust online booking plugin for WordPress that can help entrepreneurs quickly add online event and appointment booking capabilities. It also includes features for scheduling, Zoom integration, and payment providers connections so businesses can even accept online payments. The Amelia plugin offers small businesses a comprehensive and affordable alternative to one-size-fits-all booking platforms.
The rise of mobile technology has fundamentally changed how companies and consumers interact. According to a Salesforce report, 75% of consumers expect businesses to leverage technology to make experiences easier.
And that sentiment doesn't just apply to airlines, big-box retailers, and nationwide restaurant chains; it also applies to small businesses running their own WordPress sites. But many SMBs may find it difficult to justify spending the time and money to upgrade their online experience to match customer expectations.
Offering online booking is one of the most effective ways for businesses to enhance customer experience. Allowing potential customers to book an appointment or service without speaking to a representative over the phone can erase barriers and encourage engagement.
Amelia is an online booking plugin for WordPress that brings those capabilities to even the smallest businesses. It offers entrepreneurs an affordable, intuitive way to introduce event and appointment booking to their websites — no matter their technological skill level.
"We make it easy for people who are not tech-savvy designers, developers, or WordPress website makers," said Nevena Ilić, Business Development Manager for TMS, Amelia's parent company. "You can create a booking solution for your website quickly, whether you run a small team or you're a one-person show."
The plugin is customizable and can work for various industries, including salons, gyms, and law offices, among many others. It also adds convenience to a company's backend workflow with WooCommerce, Zoom, and Google and Outlook Calendar integrations to increase productivity among small teams.
Amelia aims to automate much of the event and appointment booking process so business owners can focus on taking care of their customers, rather than working harder to engage with them.
Simplifying the Customer Experience Through an Intuitive Interface
TMS launched Amelia in June 2018 when it saw an opportunity to improve on its wpDataTables offering that helped businesses easily create responsive tables and charts. The company found success in the WordPress plugin niche and saw an opportunity to design a booking product that could benefit the underserved small businesses market.
Amelia helps entrepreneurs provide what connected consumers want most: simplicity and convenience. That's why the plugin's interface is clean, modern, and allows users to quickly select a service and available time. For appointments, it also allows users to choose the person with whom they want to meet — whether it's a preferred stylist at the salon or their primary care physician at a medical practice.
"One of our primary goals, when we started, was to make a booking plugin that is intuitive and offers a delightful interface and user experience, so people keep coming back to book something on a client's website," Nevena said.
In the early days of online booking, not many companies focused on interface and user experience as a starting point, said Nevena. But Amelia wanted to build a fully functional solution on the backend with a beautiful frontend aesthetic.
"We worked on developing both sides of the solution, and a lot of time went into the design," Nevena said.
In addition to booking appointments, Ameilia allows consumers to sign up for events, including live online workshops and tutorials, to enhance their knowledge on a subject. Those events also enable businesses to stay engaged with their customers through channels other than sales.
Amelia adds another layer of convenience by allowing customers to pay online through its native WooCommerce, PayPal, and Stripe integration. Including payment capabilities also helps small businesses that may not have the resources to add an ecommerce platform to its list of time demands.
Businesses Can Brand and Customize their Booking Forms
Amelia not only simplifies the frontend experience, but it also makes the backend controls seamless for entrepreneurs. And it doesn't force its customers to offer a generic solution on their websites.
Its booking plugin software doesn't include any Amelia branding on the frontend. Businesses can customize the tool's colors and fonts to match their branding and site design. Its tools are easy to install in WordPress, and Amelia offers a variety of industry demos that show its versatility.
"It's entirely up to clients how and where they want to embed it," Nevena said. "We plan to add more customization options for the frontend so entrepreneurs can have even more freedom to choose fonts, colors, and reorder some steps in the booking forms."
The Amelia backend also has other integrations that enhance ROI for businesses, including integrations with Zoom and Google Calendar. When a customer books through Amelia, the appointment is automatically added to Google Calendar so employees can stay updated on the business schedule in real time.
When businesses connect their Zoom accounts to Amelia, clients automatically receive a link to the meeting room, which reduces the workload on employees — and can help reduce no-shows.
Amelia offers a free version — Amelia Lite — for the most basic functions, and three affordable service levels for businesses that require more features. Each paid plan includes unlimited appointments and employees, multiple locations, and customizable designs. The primary difference in its three packages is the number of domains covered. The Basic Plan covers one domain, and the Pro Plan includes three domains while the Developer plan has no limit on domains.
"And all the existing features come standard, so you do not have any add-ons or any additional payments," Nevena said.
Amelia: Developing New Features for SMBs and Packages for Enterprises
As consumers grow more reliant on mobile technology, they expect convenient experiences from all businesses. That means even local entrepreneurs need to find ways to meet those digital expectations while staying on budget.
Amelia provides any business running a WordPress site with an easy way to allow customers to book appointments and events online. The plugin offers consumers more control and gives business owners a holistic solution that includes scheduling and various integrations.
And the Amelia team continues to work on new tools that will enhance what small businesses can offer their customers. One of the solutions it is testing is the ability to provide package options. The company is also working on more customization features and productivity tools on the backend.
"We have plenty of features on our road map. As for the bigger features, we plan to have more options for events and new booking forms," Nevena said. "Now, we have a list view of events, but we also plan for a calendar view because a lot of users are asking for that. We constantly monitor user requests and try to squeeze them into our plans."
All of those will add even more value to a plugin that can already offer entrepreneurs a massive ROI. And as connected customers continue to demand more of small businesses, Amelia can help them keep pace by simplifying appointment booking.