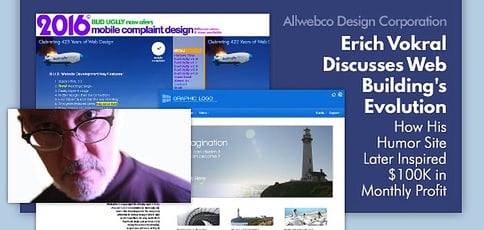 TL; DR: What began with a sense of humor and a side business building premade sites morphed into one of the Web's first website template companies: Allwebco Design. Founder Erich Vokral has been designing and developing since the beginning of the Internet, and we got the story on how he grew his one-man show to selling 50 template sites a day. Hear from a pioneer in template building to get the perks and drawbacks to online builders, mobile web design, and more — starting with Erich's story.
The 90s were barely beginning and like many avid devs out there today, Erich Vokral saw the Web as his play thing. Motivated by curiosity and armed with a dev-savvy sense of humor, Erich set out to build what became known as possibly the best worst site in existence. It was an experiment — a just-for-fun way to explore the bounds of web design — but the site has since been widely recognized for its exploratory entertainment value.
Little did Erich know at the time, but his display of dev tomfoolery would later evolve into building premade site templates for thousands of users, launching Allwebco Design, quitting his day job, and ending up as one of the Web's founding leaders in template making. This is Erich's story.
A CAD Engineer & His "Bud Uglly" Website Spurred an Industry Craze
With a background in CAD engineering, Erich started building templates before template building was a thing. "It was the attention-getting that drew me to web building," Erich told us jokingly during a recent interview. "For whatever reason, my wife and I decided to create a humor website, which later spun off into another humor website called Bud Uglly Design," he said.
If that name doesn't raise at least one of your eyebrows, visiting the site certainly will.
It Started as a Joke — Exploring Really Bad 90s Web Design
When you land on BudUgllyDesign.com, you're hit with a smorgasbord of spelling errors, a spastic banner, a blimp engulfed in flames, and some text that requires a 180-degree head tilt to read. It's a comical experiment in scripting and styling, complete with cringe-worthy neon color choices. Hover over one of the mismatched links and watch the text grow to heinously-colored proportions. Scroll to the right and admire the eye-catching and epically-clashing banner. Oh, if your device's sound wasn't turned on when you first visited, you should reload the page to get the full effect.
Its name speaks for itself — this site is Bud Uglly, but intentional. "The Bud Uglly page had to be ugly and beautiful at the same time," Erich told a reporter in a '96 edition of The Seattle Times. "There are already too many ugly pages, so this had to be so bad that it had a beauty of its own."
Bud Uglly was designed to explore the boundaries of what could be done with website design. Erich created elements for the purposes of R&D and all-around merriment, but the site also had clients requesting eclectic — and some award-winning — web projects (e.g., Craaaazy Joe's Internet Bungee Jump or The Biggest Java Ball On The Web). "By doing all these weird things, I learned a lot about how to make interesting and dynamic web pages," Erich said.
Erich might have created the site in jest, but it made a splash nonetheless. Bud Uglly has been featured in Yahoo! Internet Life, USA Today, and ZDNet for its attention-grabbing showcase of "90s website design ineptness." After gloriously demonstrating how to design websites poorly, Erich recalls stumbling across the idea of template design.
Erich told us he remembers his epiphany: "I can make website templates; I made Bud Uglly!"
It Turned Into a Booming Business — Creating Templates For Beautiful Site Building

Erich started toying with the idea of building premade websites for folks. He was a CAD engineer by day and a template developer by night. "I posted maybe 10 templates and they started selling like crazy," Erich said. "I was able to quit my day job within a year, because the business took off."
Erich launched and ran Allwebco Design as a one-man show, without any outside funding. He got in really early, in an age that predated today's site builder commodities like WordPress.com, Wix, or even TemplateMonster, so Erich was on the cusp of web building. "I had the market pretty much cornered for a while," he told us.
Today, Erich has sold thousands of templates, accruing what he calls some of the most loyal customers around: those who are building for other clients and those who are rebuilding outdated sites of their own. He brings to his business a sound understanding of responsive versus dedicated mobile layouts, CSS styling needs, and what the average user can handle in terms of manipulating template files. By 2006, clients were downloading more than 2,000 DIY website templates monthly — and to this day, he's the sole developer behind the designs.
Erich On Template Evolution: There's No Such Thing as an "Easy" Website
Though the Wixes and the WordPress drag-and-droppers of the world would like you to believe that site building is the simplest thing — there are some caveats to that notion. "If you want to build a website, there's no easy way to do it," Erich said. "If you use a browser interface like Wix, sure you may get a site up in an hour, but it'll never be noticed by search engines and you'll never sell a single thing." We can agree that websites are tremendous work, whether you put in the effort or hire someone else to do the heavy lifting.
Browser-Based Template Builders vs. Downloadable Template Files
The concept of website templates has evolved, according to Erich. On the one hand, you have proprietary interfaces like Wix or Squarespace that use content management systems to allow you to drag and drop elements of your site into place. These are players that allow you to customize your content directly in the browser. "When I started, that's not what templates were," Erich said. "Templates were a very different thing: something that you downloaded to your computer to work on." Though the nature of premade sites and web templates has morphed over the years, Erich still believes that most people prefer the old-fashioned template style, as they're easier to manipulate and control. "Wix is good if you want a smaller website; for a bigger website, you want something like Allwebco," he said. Allwebco templates are ideal for the "in-between" website (i.e., larger than one to two pages but not quite hundreds or thousands).
Responsive Templates vs. Dedicated Mobile Templates
Erich's customer base consists of a lot of folks building sites for other clients, and many of them have been with him from the start. Naturally, those customers have evolved and with them, so have Erich's designs. "The original templates I had were much simpler, but now everyone's into responsive design," Erich said. "We also have web templates that have a secondary dedicated mobile website — and most companies don't offer that."
This brought up a popular debate in today's world of web building: Should I go with responsive design or build a separate mobile version of my site? "The code to make things responsive is so complicated," Erich explained. "If you look at my responsive templates, you'll see they are much simpler websites, because I don't want to overwhelm anybody." Responsive designs can be both limiting and complex, so many web developers today are gravitating more towards the idea of a dedicated mobile site; however, this can be daunting to template end-users. In the case of Allwebco Design, the mobile and desktop versions of site templates are integrated together. Then there is a script that automatically redirects smart phones to their intended mobile destination.
SEO Then vs. SEO Now
The site owner's everlasting mission to optimize his or her site for search engines is a prime example of the constant effort that has to go into building a website effectively. "When I first started, if you had an SEO contractor, they would do search engine optimization on your site and be done," Erich said. "Now, all SEO firms have a monthly fee to maintain your site's SEO — and that's just because it's always changing. You can never do enough SEO, you can just keep at it."
Final Words From a Pioneer in Template Building
Erich's been in the template game so long that he practically wrote the rules. With his humorous entry into the industry and the vast experience he's accumulated over the years, he holds some of the most loyal and well supported customers. This is evidenced by the separate website that he drafted up in response to customer questions — featuring over 400 pages of support.
Our question is: What's next? "I'm always updating, because there are always changes and there's always neater stuff that you can add," Erich said. One of the ideas in the queue involves creating mini mega menu templates — smaller, more easily manipulated versions of the multi-link dropdown menus you see on big sites like Amazon.com. Erich told us he has tons of ideas, and just hopes to get the chance to bring them to fruition. We'll be interested to see what comes next with Allwebco, and those who aren't afraid to learn a little HTML know-how should take Erich's words to heart. "Working with a real web template as opposed to a browser interface is not really that much harder," he said. "In either case, you have to learn stuff — so if you want a professional website, you should strive to learn."