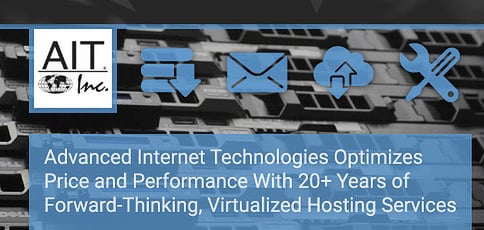 TL; DR: As one of the hosting industry's three original companies, Advanced Internet Technologies has adapted and thrived for more than two decades. After starting in a garage and scaling with shared hosting, the company has evolved and upgraded its infrastructure to focus on powerful virtualized private servers in its own 93,000-square-foot datacenter. Chief Operating Officer Byron Briggs told us how the company's engineering expertise and dedicated support teams keep AIT ahead of industry trends while the company prepares to launch expanded services tailored for small businesses.
When Byron Briggs and Advanced Internet Technologies sign up for new services or subscriptions, he asks to be treated how the longtime hosting provider aims to impress its customers. He always inquires about a free or heavily discounted introductory period — just like the initial $1 AIT charges for the first 30 days on new VPS plans.
"If your platform is really what you say it is, we should be able to see some results or see that it's worth signing up and paying real money for," he said. "That's why we are a no-risk situation. We'll let our platform do the talking."
For more than 20 years, AIT has delivered premium hosting infrastructure to an audience ranging from small businesses to Fortune 500 clients, including Time Warner, Microsoft, Newsweek, The Wall Street Journal, and the federal government. Founder and CEO Clarence Briggs has managed the privately owned company since its humble beginnings at his home in North Carolina.
"From a two-car garage to a 93,000-square-foot datacenter, AIT has always been entrepreneurial and customer-centric," he said in an online note to customers. "Our company culture, core values, and technology were built from the ground up and forged on the basis of putting the customer first."
Delivering Tech-Forward Solutions to Early Hosting Customers
By flipping the power switch on some servers in his garage in 1995, Clarence and AIT became one of the first three hosting companies to enter the fledgling market. The internet was largely restricted to research organizations and bulletin board systems in the early 1990s, with the first graphical web browser not becoming available until late 1993.
A lack of competitors and a growing interest in getting online helped AIT grow quickly on the strengths of its shared hosting services, according to Byron.
"Of course, back then, the users were a lot more technical," he said. "You didn't have WordPress, so a lot of people wanted SSH command line access and those types of things to manage their shared hosting environment."
AIT delivered the functionality by creating what the company called a change route — a first-of-its-kind solution for the new industry. Platforms like cPanel, WHM, and various virtualization portals and dashboards have since replaced the change route tool, but the key differentiator helped AIT capture a greater market share.
In the years following, AIT evolved to offer dedicated servers, domain name registrations, virtualized environments, and software development services for its growing client base.
"I have seen and helped thousands of businesses grow, improve, and profit," Clarence said. "I have seen startups go to million-dollar companies using our web hosting and eCommerce solutions."
AIT's Current Offerings Emphasize Virtualization and Affordability
According to Byron, much of the company's current focus revolves around virtual servers. Given AIT's legacy in the hosting industry, the company was the first to develop VPS architecture where each server had its own, complete file system and virtual root.
Emphasizing top-notch hardware, AIT's VPS offering boasts solid-state drives and Intel Xeon E5 processors with up to 12 cores available. VPS customers can enjoy up to 200GB of disk space and 8TB of bandwidth, along with full root access, managed services, and free weekly backups. Where similar VPS plans can cost upward of $200, AIT's virtual server packages top out at $45 per month.
"In terms of price to performance, we're really good," Byron said. "With our larger VPS packages, especially, I haven't seen anything anywhere else in the market that can match us there."
Crediting AIT's experienced engineers, Byron was also sure to mention the company's scalable hosting services. Ranging from dedicated private clouds to clustered servers and load balancers, AIT doesn't shy away from custom infrastructure configurations to maximize performance and reliability.
"We can deliver complex IT solutions," he said. "On the more technical side, it's all about price versus performance and return on investment, which are areas we really excel in."
Future Growth Aims to Serve Small Business Customers
Although much of AIT's customer base is experienced developers and technical folks representing large organizations, Byron said the company is looking to expand and reach more small businesses and clients who need more help getting established online.
"Fewer and fewer people know what web hosting is, and often it's all bundled together now," he said, mentioning services like Mopro and ReachLocal that focus on online marketing and design and gloss over most of the technology. "They don't even tell you that you have hosting, you just know your website is live on the internet."
So far, AIT's small business efforts have revolved around web design and marketing, with more services to come. Customers will discuss their project and goals with AIT developers, systems administrators, and network engineers to reach a custom solution.
In addition to web development and eCommerce solutions, AIT works with new site owners on search engine optimization, email marketing, and lead generation.
"We are building some more products and have things mapped out to start to get more focused on the marketing services for those people," Byron said. "The automation tools we're creating will remove some of the manual processes from that."
AIT Maximizes Customer ROI With Superior 24/7 Support
Despite the company's different types of customers and their drastically different backgrounds and experience in technology, Byron said AIT's goals when developing and improving services remain the same — giving clients the biggest possible return on investment.
What that means for each audience segment, however, differs. For the more tech-savvy developers and organizations, price versus performance is key. For first-time or novice site owners, however, AIT offers around-the-clock support via phone, live chat, and email tickets.
Support is free for any hardware or software AIT provides, but technicians will give best-effort support for third-party applications for a fee. The company offers a variety of managed services, ranging from a la carte to fully managed.
"Your more technical users don't want to talk to you," Byron said. "They just want access to the best machine possible. For small businesses, we're looking for more turnkey solutions and will be there to help whenever you need us."