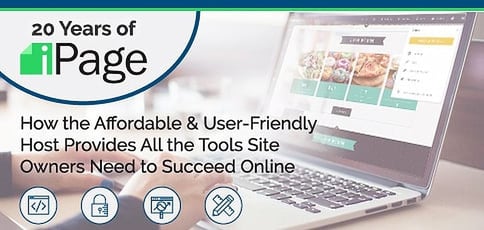 TL; DR: A highly regarded and affordable option in web hosting, iPage represents more than beginner-friendly shared servers. The company excels by giving customers an unlimited platform of tools and services to create and grow an online presence. From website builders and marketing credits to dedicated servers and a revamped control panel, iPage will assist customers at every phase of their hosting journey.
A 20-year-old company that has long enjoyed a reputation for reliability and affordability, iPage has featured a shared hosting service priced as low as the technical expertise required to get online.
"iPage has always tried to make it simple for individuals and small businesses to create a professional online presence," said Head of Marketing Zach Kwarta. "We've focused on making our platform easy to use, so our customers are able to do what they need to do without worrying about the technical side of things."
Founded in 1998, only a year after parent company Endurance International Group, iPage remains a one-stop shop for unlimited hosting. While sister company Bluehost opts to specialize in WordPress hosting, iPage offers the full range of content management systems, along with a website builder and virtual or dedicated servers. The company also supplements hosting with tools for marketing, design, and security.
"No matter what you want, you can probably find a solution that will work for you within the iPage family," Zach said. "Once you come on board, we'll get your business where it needs to go."
Simplifying Customers' Onboarding and Email Experiences
For the past year, iPage has concentrated on repaving the onramp customers use to get their websites online.
"Across the industry, there's a sentiment that trying to get a site up and running is a lot more difficult than it has to be," Zach said. "Once you decide you want a website, iPage wants to give you everything you need to take your business or idea online, quickly and easily."
In addition to an overhauled control panel, the company streamlined the path new customers take to get acquainted with the various iPage services.
"The focus is always going to be on how we can make it as quick and painless as possible for someone to sign up," Zach said. "Once they're signed up, iPage's priority is to enable customers to publish and gain value really quickly."
Some of that approach includes making auxiliary services more accessible to customers. With the wide popularity of iPage's integration with sister company Constant Contact, according to Zach, much of that entails prominently featuring email and marketing tools.
"We're continuing to make it easier for our customers to create a digital presence," he said. "This goes beyond just a website or just email or just having a domain. We want to provide a functional, one-stop marketing solution for our customers."
Revamped iPage Control Panel Provides Easy Access to Account Tools
Toward the end of 2017, iPage launched a new administrative portal to help users find various website and account management tools more quickly. According to Zach, the simplified design and navigation reduces clutter and provides a consistent user experience.
"The new interface is simplified and much cleaner," he said. "There's a lot more indication of where to go and how to get there."
The sleek, modern interface emphasizes quick access to customers' most-used tools and billing information, and Zach said the company relied on both internal and external feedback when designing the layout.
"If you have a simple system to maintain, it not only makes things easy for the customer but also for the support representatives," he said. "It's a win-win. I really like the iPage control panel; it's pretty darn modern and has all the features you need, right there at your fingertips."
Turning Outward to Drive Product Updates and Customer Happiness
With web hosting being what Zach considers "one of the most commoditized industries out there, aside from maybe bottled water," discovering and meeting customers' needs is critical to a company's success.
While iPage answers users' budget restraints with some of the most affordable hosting packages around, Zach said the company continually looks for ways to sweeten the deal.
"iPage has always been a value player in the space, so whatever we can do to make that value higher for our customers is a win for us," he said. "You have to listen to what the customers need and want. You have to create your products around them, period."
In particular, that means iPage regularly develops and expands the company's knowledgebase and self-help tools, Zach said, so site owners can troubleshoot problems on their own instead of going through the support queue.
"We have a great support team, but we're going to continue to invest in those tools so customers don't have to call us if they don't want to," he said.
iPage Favors Long-Term Stability Over Quickly Joining Tech Fads
According to Zach, customers shouldn't expect any major changes to the iPage formula anytime soon. Although he said he expects a few minor tweaks and optimizations, customer experiences will largely remain the same.
"We're really continuing to get better at making sure our customers are happy and want to stay with iPage," he said.
According to Zach, iPage chooses to focus inward on the company's products and user experiences. Instead of hopping on the artificial intelligence-powered website builder craze of late, iPage chooses to make measured improvements and better integrations with its WebsiteBuilder.
"Building websites is still a very personal experience," he said. "In the short term, people still want the ability to make tweaks. They still want to customize things more than what the machine-templated engines can create."
Zach said he expects iPage to slowly and naturally adopt new technologies as customers request a particular feature, rather than rushing into new and untested solutions.
"Businesses and individuals have entrusted their websites to iPage for 20 years," he said. "The iPage brand is tried and true, and that is something we take pride in every day."