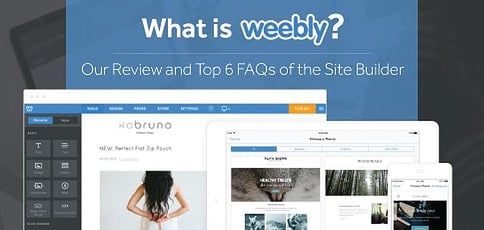 What is Weebly? How does it compare with other website builders? How much does Weebly cost? We've got answers to those questions and more with our comprehensive review and comparisons with other options that can help you easily design, create, and launch a website.
Weebly comes from a familiar tech story that starts with a handful of college buddies messing around with new technology. In this case, a bunch of 20-year-old students at Penn State University set out to create software that made it easy for anyone to build a personal website, regardless of technology comfort level or experience. The end result turned into Weebly, the world's first website builder that has gone on to power more than 40 million websites that see a combined 325 million visitors each month.
More than a decade later, the Weebly website builder helps you create the perfect site to showcase your work, no matter if you're a business owner, artist, developer, or college student.
1. What Is Weebly's Overall Rating? 4.9/5.0
To put it simply, Weebly is a website for building websites. The online platform strips away the need for manual coding and replaces the process with an intuitive drag-and-drop interface. The portal is known as a WYSIWYG editor, for "what you see is what you get".
Online web builder lets you design with ease
Hundreds of FREE professional-grade themes
Sell unlimited products for your online store
FREE tools for SEO, stats, and capturing leads
Support via phone, chat, and email
BEST OVERALL
RATING 4.9 ★★★★★ Our Review
Weebly: Our Expert's Review
Alexandra Anderson (HostingAdvice.com): If you're new to the world of web design and site creation, Weebly is just the thing to ease you into establishing your personal or professional web presence. Best-known for the browser-based, drag-and-drop website editor available for free online, the Weebly software is now available as a value-add on some of the web's leading hosting plans. Go to full review »
| Money Back Guarantee | Disk Space | Domain Name | Setup Time |
| --- | --- | --- | --- |
| 30 days | 500 MB - Unlimited | FREE (w/ paid plans) | 3 minutes |
In fact, Weebly is the first WYSIWYG site builder — the three founders beat overseas competitor Wix to market by roughly six months. Weebly's system lets users add, edit, and arrange content, such as text, photos, maps, and videos, on a website with just a few clicks of the mouse.
We're intimately familiar with site builders, having evaluated them on criteria such as ease of use, features, and price — as well as reviewing the best platforms for online store building. As expected, the mainstay website builder continues to impress. The simplicity and intuitiveness of the user interface just can't be beaten, and Weebly includes responsiveness with all of the program's themes.
Some detractors dislike the structured design limitations Weebly imposes to pull off mobile-friendly designs, but we actually appreciate that Weebly doesn't give web design rookies enough rope with which to hang themselves. We give Weebly the highest marks for a system that enables creativity and functionality.
2. How Does Weebly Compare With Other Site Builders?
Although most website builders offer the same basic drag-and-drop functionality, each platform tends to capitalize on a particular specialty. Squarespace, for example, resonates with artists and photographers with ultra-strong, visually impressive templates. Wix provides ultimate flexibility, while BoldGrid has carved out a niche as being the only WordPress website builder.
We've written tons of handy guides that go into more detail about how each website building platform compares for various metrics and uses. Here is a sampling:
As you can see, Weebly compares favorably to many other platforms. The fully hosted options tend to be a bit more expensive than those of several competitors, but companies have a hard time beating Weebly's ease of use. We have no qualms with recommending a self-hosted version of Weebly, especially if you are entering the website building fray for the first time.
No coding skills needed with drag-and-drop builder
100s of templates with niche-specific designs
Add features via the App Market and Wix Events
Easily create ecommerce functionality easily
Great way to build small sites on a budget
WEBSITE BUILDER
RATING 4.9 ★★★★★ Our Review
Alexandra Anderson (HostingAdvice.com): Website building is where Wix shines. The thousands of templates, the intuitive editor, the industry-leading designs that cater to a variety of specific fields and use cases — all these facets represent a platform that excels at facilitating easy web design for the non-tech-savvy user. Go to full review »
| Money Back Guarantee | Disk Space | Domain Name | Setup Time |
| --- | --- | --- | --- |
| 14-day FREE trial | 2 GB - Unlimited | FREE (1 year) | 4 minutes |
No coding skills necessary with MyWebsite Creator
Free domain name or transfer your existing site
FREE social media and marketing widgets
Pro templates with pre-filled text and images
Multilingual support and tools for SEO
WEBSITE BUILDER
RATING 4.8 ★★★★★ Our Review
1&1 IONOS: Our Expert's Review
Alexandra Anderson (HostingAdvice.com): If you're in need of a one-stop shop for designing and launching a website, you should be pleased to hear that 1&1 IONOS offers its own custom website building tools for both desktop and mobile devices. In addition to a free domain and email address, along with unlimited storage space, the 1&1 IONOS MyWebsite platform includes all the essentials for starting a site from scratch. Go to full review »
| Money Back Guarantee | Disk Space | Domain Name | Setup Time |
| --- | --- | --- | --- |
| 30 days | 10 GB - Unlimited | FREE (1 year) | 5 minutes |
Drag-and-drop design from custom tools
FREE access to hundreds of specialized templates
Built-in ecommerce and payment processing
Easily switch among widescreen, desktop, tablet, and mobile previews
Support for 31 languages and 99.9% uptime
WEBSITE BUILDER
RATING 4.6 ★★★★★ Our Review
Hostinger: Our Expert's Review
Laura Bernheim (HostingAdvice.com): Whether you're taking your first foray into website hosting or are a developer looking to save some time, a strong website builder can dramatically streamline the creation process and enable users to launch a website in five minutes or less. Fortunately for customers, Hostinger has invested heavily in crafting an impressive visual editor sure to appeal to users of all levels of experience. Go to full review »
| Money Back Guarantee | Disk Space | Domain Name | Setup Time |
| --- | --- | --- | --- |
| 30 days | 30 GB SSD - 200 GB SSD | FREE (1 year) | 3 minutes |
See other website builder reviews »
3. Is Weebly Free?
You can get started on Weebly for the low price of entering your name and email address and creating a password. The free account includes the site builder and 500MB of storage, but your website will display Weebly ads and reside on a subdomain (meaning your URL will be along the lines of sitename.weebly.com).
Design your site with the popular drag-and-drop site builder
Fully hosted, drag-and-drop site-building and marketing
Choose from 100s of customizable, professional themes
Add contact forms and take RSVPs via apps
eCommerce-ready and SEO-friendly with built-in tools
WEBSITE BUILDER
RATING 4.8 ★★★★★ Our Review
Weebly: Our Expert's Review
Alexandra Anderson (HostingAdvice.com): Weebly is in the elite clique of drag-and-drop website builders that includes WordPress and Wix. com. Go to full review »
| Money Back Guarantee | Disk Space | Domain Name | Setup Time |
| --- | --- | --- | --- |
| 30 days | 500 MB - Unlimited | FREE (w/ paid plans) | 3 minutes |
Upgrading to the Starter Plan for $6 per month, however, comes with a free custom domain, unlimited storage, website analytics, and no ads. Weebly-hosted packages scale all the way up to $26 each month for powerful eCommerce sites needing email marketing tools.
Self-hosted Weebly is usually quite a bit cheaper than the Starter Plan. Hosting companies regularly include Weebly with shared hosting plans in an effort to ease the site creation process for beginners. Three of our favorite providers, listed below, offer Weebly plus a ton of freebies and top-notch support for less than $5 per month.
Choice of Weebly or WebsiteBuilder by iPage
Mobile-optimized and easy-to-use setup wizards
100s of professionally designed themes
FREE online store, shopping cart, and blogging
Get 38% off your first month
WEBSITE BUILDER
RATING 4.9 ★★★★★ Our Review
iPage: Our Expert's Review
PJ Fancher (HostingAdvice.com): Do you want your website built today. If you answered "yes," you should look no further than iPage. Go to full review »
| Money Back Guarantee | Disk Space | Domain Name | Setup Time |
| --- | --- | --- | --- |
| 30 days | Unlimited | FREE (1 year) | 4 minutes |
FREE website builder (powered by WordPress)
Custom themes and easy integration with ecommerce tools
Expert support 24/7 via live chat, phone, and email
Longest-running WordPress.org recommendation
Pro services to design, build, and market your site
WEBSITE BUILDER
RATING 4.5 ★★★★★ Our Review
Bluehost: Our Expert's Review
Ryan Frankel (HostingAdvice.com): With Bluehost, new site owners have the drag-and-drop simplicity of the WordPress website builder at their fingertips. This makes launching a new online brand, store, or personal site from scratch relatively painless. Go to full review »
| Money Back Guarantee | Disk Space | Domain Name | Setup Time |
| --- | --- | --- | --- |
| 30 days | 10 GB SSD - 100 GB SSD | FREE (1 year) | 5 minutes |
FREE Weebly site builder or WordPress setup
Worry-free, automated webiste migrations
User-friendly cPanel interface and staging area
Custom ticket and chat systems for 24/7 support
SuperCacher with static and dynamic caching
WEBSITE BUILDER
RATING 4.4 ★★★★★ Our Review
SiteGround: Our Expert's Review
Alexandra Anderson (HostingAdvice.com): Do you know you need to build a website but don't know where to begin. Well, SiteGround will give you not one, but two extremely popular and user-friendly options to create the online presence of your dream. Go to full review »
| Money Back Guarantee | Disk Space | Domain Name | Setup Time |
| --- | --- | --- | --- |
| 30 days | 10 GB SSD - 40 GB SSD | New or Transfer | 5 minutes |
4. What's the Difference Between Self- and Fully Hosted Weebly?
Website builders differ in how they deliver services to their customers. Wix and Squarespace only offer fully hosted options, meaning all of your website's files live on their servers — they take care of all the nitty-gritty, technical stuff, but you will have limited control and access to your data.
Weebly follows more of the WordPress model by offering both fully and self-hosted options. Self-hosted means installing the software on your own hosting account, giving you total oversight of your website and files. Unlike self-hosted WordPress, however, you can only host Weebly yourself by signing up with a hosting provider that has partnered with Weebly; the site builder is not available through one-click installations as are other major content management systems.
We generally prefer the extra control that self-hosted options provide; users can change web hosts and migrate their data without losing the site they've worked so hard on. With hosted platforms like Wix and Squarespace, you're either stuck with them for the long haul or have to start from scratch somewhere else.
5. Is Weebly Best for Blogs, Business, or Other Projects?
Weebly excels with impressive, professional themes that are tailored to several different needs: blogging, events, portfolios, and online stores. Blog templates can stand on their own or work as part of a larger website, and the publishing tools give users total control over their content. Entrepreneurs will enjoy having a fully integrated shopping cart and checkout process as part of their eCommerce site, but more experienced site owners might prefer a more specialized eCommerce platform such as Shopify, WooCommerce, or Magento.
No matter the use case, Weebly customers will appreciate the powerful SEO, or search engine optimization, tools that help search engines and audiences find your site. All Weebly sites feature a sitemap, meta descriptions, alt tags, and other features, as well as a helpful guide to researching keywords and growing your traffic.
6. How Do I Get Started?
Since its days as a class project at Penn State, the Weebly platform has grown to become a reported $455 million company that employs some 300 people. In addition to the site builder, Weebly has added eCommerce and email marketing tools to become a full-featured toolset for building your online brand.
Now that you've read about the platform, it's time to dive in and get your website online. Your first decision will be to host your site with Weebly or on your own hosting account. To avoid the headaches of moving your site once you outgrow Weebly's hosted option, we recommend going with a reputable shared host.
In addition to Bluehost, which we've already vouched for, SiteGround is another top-notch option. SiteGround just began offering Weebly services in 2016; while slightly more expensive, SiteGround comes with premium performance, along with a bevy of additional features and support. Happy site building!
See Our Full Review of Weebly
Whatever type of hosting plan you're looking for, Weebly is a solid choice no matter the scale. Our reviewer Alexandra Anderson recently took Weebly for a spin, and rated the popular host a 4.9 in the Best Overall Hosting category out of a perfect score of 5.0. Here's what Alexandra had to say about Weebly:
Weebly is one of my favorite website builders to recommend to newbies, not only because of the welcoming, intuitive interface but also because many of the top hosts have elected to offer Weebly for free with their plans. It's easy to love Weebly's drag-and-drop simplicity and commerce-friendly themes, and the learning curve is virtually non-existent.
Before signing up for Weebly, it's a good idea to read through Alexandra's full review to learn about all the features Weebly offers. You can also compare it to other web hosts to ensure you're getting the best deal possible:
If you decide Weebly is the right choice, keep in mind that it takes just minutes to deploy your Weebly server space. And at $10.00 per month, it's a bargain considering the many great features that come in any Weebly plan.
Advertiser Disclosure
HostingAdvice.com is a free online resource that offers valuable content and comparison services to users. To keep this resource 100% free, we receive compensation from many of the offers listed on the site. Along with key review factors, this compensation may impact how and where products appear across the site (including, for example, the order in which they appear). HostingAdvice.com does not include the entire universe of available offers. Editorial opinions expressed on the site are strictly our own and are not provided, endorsed, or approved by advertisers.
Our Editorial Review Policy
Our site is committed to publishing independent, accurate content guided by strict editorial guidelines. Before articles and reviews are published on our site, they undergo a thorough review process performed by a team of independent editors and subject-matter experts to ensure the content's accuracy, timeliness, and impartiality. Our editorial team is separate and independent of our site's advertisers, and the opinions they express on our site are their own. To read more about our team members and their editorial backgrounds, please visit our site's About page.