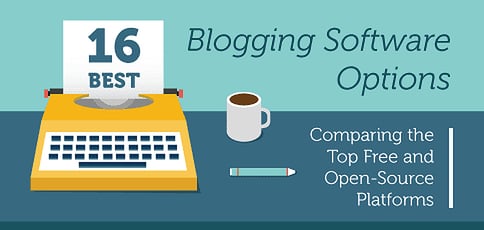 Choosing blog software is not as simple as going with the one that seems most popular or the one your aunt with a knitting blog recommends. The blogging tool you choose should suit your individual needs and goals. Ideally, you'll enjoy using it, because you'll be using it a lot.
While WordPress.com may be perfect for an entry-level blogger, your site may outgrow the platform relatively quickly, especially if you want to expand your content, introduce online shopping, or other growth-minded efforts.
Different blog software suits different blogging purposes. Choosing the right platform involves considering the type of content you want to produce at the outset, but also thinking ahead about where it might take you. There are many options, each with its own set of unique tools, features, and interfaces. These descriptions of the most renowned blog software will give you a head start in making the best choice for your individual blogging goals.
Best Overall Blog Software & Hosting
To publish your blog posts online, you'll need to start with a website hosting plan. But don't worry about the technical details and configuration — our favorite hosts are prepared to help beginners and experienced bloggers get up and running in no time, and without any headaches. The hosts we list below will connect you to hundreds of the most popular blogging platforms, online store builders, photo galleries, and other programs that will make your site stand out. The one-click software installations remove any hassle or chance for human error, giving you a bevy of free tools to try out:
Open-Source Blog Software (Fully or Self-Hosted)
Using a blog software that is open-source allows for more customization and flexibility. Being hosted either fully or independently and using any of these platforms gives full ownership of the blog to the user (i.e., it can't be shut down by the platform).
6. WordPress.org
As with its free sibling, WordPress.com, self-hosted WordPress.org is still relatively easy to use. The difference is you can do much more with the WordPress software itself, and this can lead to a bigger learning curve to master these capabilities. Fortunately, as you might have guessed, self-hosted WordPress requires a hosting provider, and the top WordPress hosts have a reputation for easing that learning curve. The addition of plugins, custom themes, and theme modifications opens users up to broader possibilities with design and functionality.
Those who download the software from WordPress.org must pay for their own web hosting and usually a yearly domain registration fee (Psst — InMotion WP hosting includes a free domain!). It comes with the ability to incorporate ads onto your site, so ad revenue can make up the difference. For bloggers who want to make their site unique and dynamic and have full control, WordPress.org is a cost-effective solution.
Trusted as the #1 platform for bloggers
1-click installs or preinstallations by top hosts
Thousands of blog themes available
Easily publish posts, pages, and galleries
Add plugins to extend your site's functionality
WordPress: Our Expert's Review
Setup time: 5 minutes
Go to full review

»
Trusted by more than 26% of website owners, WordPress bears the #1 blog software status with pride. Easily install the software on your server, hosted by a top-rated WordPress hosting provider, and begin writing…
7. Ghost
For those seeking a challenge, Ghost Pro is a blogging software that requires some technical background. Knowledge of HTML and CSS is a must, as editing takes place in a split-screen interface (a Markdown editor) that provides real-time text-to-HTML conversion.
Load times are considerably high with hosted Ghost. The site is mobile-friendly, and there are many options for customizing your blog with elegant themes. Ghost is primarily for those with considerable design experience, but the right users will find it rewarding.
8. Jekyll
Jekyll is a different flavor of blog software that is also suitable for more technically inclined bloggers. Unlike sites such as WordPress or Ghost, which run on a company server, Jekyll is a static site generator. This means you generate the blog via Jekyll using static files on your computer, including a configuration file, templates, and Markdown or HTML for individual posts.
Created by the GitHub Founder, Tom Preston-Werner, Jekyll was designed as a blogging engine with simple templates that can be enhanced (or created from scratch) with code for those with the required skill. It can also serve as a local web server, housing all the files needed for your blog.
9. b2evolution
Though more of a content management system (CMS), b2evolution is a software centered on blogging. It has many similar features as a CMS, but only those that would be useful in creating a blog – such as a WYSIWYG editor, image resizing, spell check, administration functions, and a style wizard.
Knowing the PHP language is pretty much essential for successfully configuring a b2evolution blog. Extensions for enhancing a blog on b2evolution are limited, and they may require configuration with PHP for the best results. The same goes for applying skins and themes. Advanced bloggers with coding skills will be the most satisfied users of b2evolution.
Free Online Blog Software
It's not necessary to spend a lot of money to start a blog, whether it's for fun or for profit. In fact, you don't have to spend any money at all because there are plenty of blog software options that are completely free. These choices can work for you if you're sticking to simple blogging and aren't ready to invest money in it.
10. WordPress.com
As the world's most popular blogging platform, WordPress is an obvious choice for many first-time bloggers. WordPress actually has two iterations – .org and .com. WordPress.com, which we talk about here, represents the browser-based site-building platform, and it has both free and paid options; meanwhile, WordPress.org (discussed below) represents the always-free, open-source software WordPress.com is based on, but you do have to pay for a hosting service elsewhere. If you're looking for just the basics – a WYSIWYG editor with easy click-and-post publishing – WordPress.com may be for you.
The free version of WordPress.com is a simple platform with limited themes, no customization options, and no plugins. You can't run ads on a free WordPress.com site, either; but on the plus side, you don't have to do any of the maintenance on your site. WordPress.com is a top choice for the no-frills blogger, and there are premium plans available if the basics aren't enough.
11. Blogger
Blogger is a Google-owned platform that doesn't require any technical skill to use. Like WordPress.com, it's as basic as blogging gets. It has many built-in tools, called widgets, and many of these are Google Apps that integrate directly with Blogger.
Blogger has fewer features, templates, and expansions to enhance site design than WordPress. Because of the limitations on-site growth, people using their blog for a business might find WordPress to be a better free or low-cost option. However, Blogger can be an ideal choice for the absolute beginner whose main concern is getting published.
12. Medium
Medium's tagline, "Everyone's stories and ideas," reflects that this blog software was created for the everyman. It was developed by the creators of Twitter and designed to be as low-maintenance as a blog can get.
Posts to Medium are published using your Twitter account on a standardized template with no customizations. This can be a drawback for bloggers who want more control, but for people who just want to put their content out there, it offers an interface that's easy for readers to navigate. Bonuses include built-in analytics, inline commenting, and draft sharing.
Video Blog Software
If you're more of a vlogger than a writer, you'll want to consider these platforms, which are ideal for hosting video content. While it all started with YouTube, blog software has evolved to offer customized sites for posting your audiovisual thought pieces.
13. Viddler
Viddler has historically been known as a do-all tool for hosting and presenting video. However, the company has rebranded the site as an interactive video platform geared toward professional training. It focuses on providing a medium for businesses to train sales employees with instructional videos and for employees to hone their skills.
14. Joomla
As a robust CMS, Joomla has a lot to offer bloggers in general. Video can be embedded in a blog post or added using an extension. Creating a blog in Joomla is as easy as making a section on a Joomla site called "blog" and adding content. To make things even easier, Joomla hosting plans often tout one-click installations for the Joomla platform.
Joomla allows vloggers to showcase their videos and create an environment where users can easily navigate content. Using templates, extensions, and override hacks in Joomla, vloggers can customize the look and feel of their site. Vloggers can choose to add a comment section using a service like Disqus.
15. Drupal
Drupal is another popular CMS and has the flexibility to be used for blogging by enabling the Blog module. The use of content boxes in Drupal makes it ideal for displaying videos and video thumbnail images while also including other types of content.
The Video Embed field can be used to embed video files from hosting sites like YouTube. Alternatively, vloggers can use the Video module to upload and play video in any format. Many people choose Drupal to create their site because of its seemingly endless possibilities for customization with themes using CSS and HTML. To get started with Drupal, check out the hosting plans geared toward Drupal users.
Best Blog Management Software for Mac Users
Desktop tools for managing blogs can help bloggers stay productive without having to be plugged in. Take your blogging work offline and to another level with these blog management software options for Mac.
16. Desk for Platform-Agnostic Desktop Blogging Software
Writers using MacOS for their blog production will find a helpful taskmaster in Desk. The app's easy integrations with the most popular blogging platforms, including WordPress, make it a good choice for many bloggers who want the ability to work on their blog anytime, anywhere.
Users can save a draft to the iCloud and then work on it later from another device. The auto-save, one-click publishing, and real-time updates on word count and reading time take much of the stress out of creating a blog post.
17. Blogo for WordPress Blog Posting Software
The Blogo app for Mac devices looks simple enough but offers a compelling alternative to Desk with its sleek interface that's easy on the eyes. It integrates with WordPress, Blogger, and Medium and aims to help bloggers stay focused and productive with its offline mode, customizable workflow, and ability to manage multiple blogs simultaneously. The WYSIWYG editor with inline HTML, built-in image editor, and live preview give users full reign over their content.
Best Blog Writing Software for Windows Users
Get more work done in less time with these blog writing software offerings for Windows.
18. Windows Live Writer
Windows Live Writer works with WordPress to create a fully integrated blog publishing experience. Its open-source iteration integrates with additional blog platforms, and more adventurous bloggers can modify the code to suit their purposes. Both of these software versions make adding text, images, and video to posts a breeze. The original edition is not currently being developed, so Open Live Writer has more modern features and an active community of developers.
19. Markdown Pad
A Markdown editor for Windows, Markdown Pad lets bloggers create their blog post in the language in which it will be published as a webpage: HTML. Writing posts in Markdown syntax gives users a live preview of the text so they can easily see what it will look like on the web.
Converting your Markdown file to a blog post involves exporting the file to HTML and then pasting the HTML into a new post. Learning the Markdown syntax isn't overly complicated and some bloggers find it faster than using a WYSIWYG editor.
Ready to Craft Your First Post?
If the growing number of blogging platforms is any indication, it's clear that there's more than one way to blog in 2020.
Taking the time to consider and test out different platforms before committing will give you confidence that the blog software you choose is the best one for you. Like my costume-wielding friend, you might go with one only to find the other is a better fit – and that's OK.
If you're serious about starting a blog, just make your most informed decision and then go forth and write. Starting a blog can be intimidating when you're new, but be bold and remember that many have walked this path before. If you need any tips along the way, we've got you covered.