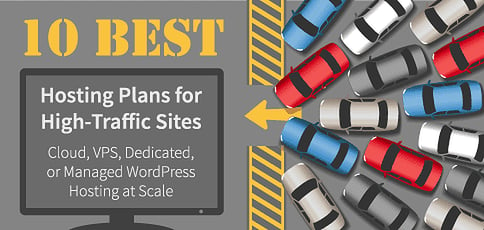 There's no shortage of advice on the web covering how to grow an online business and find the best hosting for high-traffic sites. Let's say you've done your homework and adhered to the experts' guidance on targeting audiences with customized content and employing experts' guidance on targeting audiences and drive more traffic. It worked, and your eCommerce site has rapidly scaled and outgrown its shared hosting environment. Now what?
While this is definitely not a bad problem to have, it does present a crossroads where you'll have to pick the best path to expand your site's capabilities with the best hosting for high-traffic sites. Fortunately, there is an array of options for high-traffic site owners who are lucky enough to have graduated from shared hosting. Here, we'll take a look at the best cloud, VPS, dedicated server, and managed WordPress hosting that can handle the large number of visitors your business depends on.
Cloud Hosting: Best Web Hosting for High-Traffic Sites
Cloud computing has been one of the biggest technology disruptions of the past 10 years, impacting the way we do business and deliver applications to the world. And the web hosting industry has embraced it. Cloud hosting is gaining in popularity with hosts and site owners, mainly due to the high performance and scalability the cloud provides.
A core benefit cloud hosting offers is scaling potential, as your website's hosting needs are distributed across a network of machines. This allows for virtually unlimited instance and hard disk scaling with a flexible pricing model in which you only pay for what you use. Your business site can grow in tandem with your customer base, and you don't even have to buy or maintain the hardware!
Even though there is no hard-and-fast threshold as to how much traffic a shared hosting environment can handle, for instance, that concept is even more irrelevant in cloud hosting, which automatically grows or shrinks to fit your needs. Here, we provide a comprehensive review of our top recommended cloud hosting provider below.
Ranked #1 for cloud VPS hosting
Fault-tolerant SSD storage and up to 8GB of RAM
FREE control panel with choice of Linux OS
Full root access or managed servers available
FREE live-state or scheduled snapshots
InMotion: Our Expert's Review
Setup time: 6 minutes
Go to full review

»
With leading-edge cloud technology, InMotion offers free site transfer, setup, and SSD drives for the ultimate cloud solution offerings. They include free data backups and offer unmanaged or fully managed servers to help you scale your site with...
| Money Back Guarantee | Disk Space | Domain Name | Cloud Hosting Plans |
| --- | --- | --- | --- |
| 90 days | 75 GB SSD - 260 GB SSD | FREE (1 year) | www.inmotion.com/cloud |
See more cloud hosting services »
Best VPS Hosting for High-Traffic Sites
Downtime — it's every online merchant's worst nightmare. In 2008, Debenhams, a major UK retailer, experienced a 24-hour period of downtime due to a traffic increase that led 48% of its visitors to turn to competitors' sites. If the merchant's eCommerce site had had a more reliable host, it could have avoided the lost sales and, more importantly, the damaged customer trust in its brand.
If you're selling products online, it's imperative you have a robust hosting solution, and that's where VPS (virtual private server) hosting delivers. While it's not as cheap as shared hosting, the performance, scalability, and peace of mind a VPS provides are well worth the few additional dollars you'll be spending each month. Below, we've compiled our top recommended VPS hosting providers. Deep dive into the full reviews to see how these hosts can keep you online and converting customers.
Managed or unmanaged virtual servers available in Windows or Linux
Cloud hosting instances with hourly or monthly billing
Instant upgrades without downtime
FREE around-the-clock monitoring
Automatic nightly backups available
Hostwinds: Our Expert's Review
Setup time: 6 minutes
Go to full review

»
Does any hosting provider have more virtual private server packages than Hostwinds? The company offers 10 configurations — and that's just for managed Linux server partitions. Hostwinds provides 10 additional plans each for managed Windows VPS and unmanaged...
| Money Back Guarantee | Disk Space | Domain Name | VPS Hosting Plans |
| --- | --- | --- | --- |
| N/A | 30 GB - 750 GB SSD | New or Transfer | www.hostwinds.com/vps |
$0.01 for the first month using code HOSTINGADV
Then $6 monthly with no contracts, no price changes
Latest versions of PHP, MySQL, Perl, Python, and Ruby
7 operating system options for Linux or Windows users
Full root access and choice of datacenter included
InterServer: Our Expert's Review
Setup time: 6 minutes
Go to full review

»
InterServer's on-site datacenter and hands-on involvement with configuring and provisioning virtual private servers give customers a level of flexibility not seen with many other hosting providers. InterServer rations VPS and cloud resources through slices....
| Money Back Guarantee | Disk Space | Domain Name | VPS Hosting Plans |
| --- | --- | --- | --- |
| N/A | 30 GB SSD - 480 GB SSD | New or Transfer | www.interserver.net/vps |
High-speed hosting that's faster than AWS, Rackspace, and Digital Ocean
FREE backups, CDN, root access, and DDoS protection
Up to 16 processors with all-SSD storage
Choice between cPanel or Plesk Onyx control panel
Real-time monitoring and 100% uptime guarantee
Liquid Web: Our Expert's Review
Setup time: 7 minutes
Go to full review

»
It's no secret by now that Liquid Web is known for best-in-class technology and reliability that exceeds expectations. The company's cloud VPS environments embody that reputation to its fullest — including managed WordPress and WooCommerce products.Liquid...
| Money Back Guarantee | Disk Space | Domain Name | VPS Hosting Plans |
| --- | --- | --- | --- |
| N/A | 30 GB SSD - 150 GB SSD | New or Transfer | www.liquidweb.com/vps |
Best Dedicated Servers for High-Traffic Sites
Just a one-second delay in load time on an eCommerce site can negatively impact conversion rates by up to 7%, industry reports show. If your site earns, say, $10,000 each day, a one-second break in load time can end up costing you more than $250,000 per year — a figure that can run into millions of dollars for higher-earning sites.
It's imperative that large-scale eCommerce sites with high traffic volumes invest in an ultra-reliable, performant hosting service — assurances for which dedicated servers are known. While the prices increase dramatically from those of shared, cloud, and VPS hosting, the benefits of having a server dedicated to hosting only your site are unmatched. Most of the top hosts offering the service provide around-the-clock support and monitoring and guarantee very high uptime rates. Our top three dedicated server hosts are below. Click on the reviews to read our comprehensive take on all the features and perks associated with going dedicated.
100% network and power uptime guarantees
Custom configurations, SSDs, and instant provisioning
Auto-migrations, backups, and real-time monitoring
Block/object storage and load balancer add-ons
Windows or Linux servers with 100% uptime guarantee
Liquid Web: Our Expert's Review
Setup time: 8 minutes
Go to full review

»
Liquid Web's strong suit is managed dedicated server hosting. The company owns and operates five state-of-the-art datacenters in the US and Europe works tirelessly to build and maintain custom solutions for added performance and security.Liquid Web offers...
24/7 uptime monitoring and privately owned datacenter
Up to 24 cores, 256GB RAM, and 100TB bandwidth
Choose from 12 operating systems and 3 control panels
Custom configurations built and maintained in-house
Price-lock guarantee without contracts
InterServer: Our Expert's Review
Setup time: 8 minutes
Go to full review

»
You know a hosting company means business when it owns and operates its own datacenters. Because InterServer employees build and manage servers in the same building as company headquarters, dedicated hosting customers get the utmost in flexibility, support,...
Root access available with 3 levels of server management
Expertly-tuned managed servers deployed instantly
Choose from 4 datacenters spread across 3 continents
FREE redundant SSD storage in RAID-1 arrays
Choice of 13 Linux operating systems
A2 Hosting: Our Expert's Review
Setup time: 7 minutes
Go to full review

»
Whether you're looking for managed or self-managed hosting, A2 Hosting offers three extremely reliable dedicated server plans to meet your needs, depending on your levels of comfort and experience.With A2 Hosting's Unmanaged Flex Dedicated Server plan, users...
| Money Back Guarantee | Disk Space | Domain Name | Dedicated Hosting Plans |
| --- | --- | --- | --- |
| 30 days | 256 GB SSD - 14 TB HDD | New or Transfer | www.a2hosting.com/dedicated |
See more dedicated server hosts »
Best WordPress Hosting for High-Traffic Sites
The numbers have been in for a while now: WordPress is the world's most popular CMS and powers more than 27% of sites on the web. In fact, version 4.6 has been downloaded 21.7 million times. The platform is very popular with online merchants because of the versatility provided by the more than 51,000 plugins available to customize their sites.
For businesses seeking heightened performance and security for their WordPress sites, making the move to managed WordPress hosting might be the way to go. With this type of service, your host's team of experts manage the technical aspects of your site, such as software updates and security fixes, so you are able to zero in on your business mission. This is especially useful for high-traffic sites where site owners need to focus on their products and customers without having to worry about availability, platform maintenance, and load times. If you're using the WordPress software and this sounds like a fit for you, take a look at 2020's best managed WordPress hosting providers below.
WordPress pre-installed with NGINX and PHP 7
FREE SSL certificate and unlimited bandwidth
Optional automatic plugin, theme, and core updates
Features a FREE drag-and-drop WP page editor
Premium themes and plugin subscriptions
InMotion: Our Expert's Review
Setup time: 5 minutes
Go to full review

»
InMotion Hosting, long known for affordable and high-performance shared hosting options, entered the WordPress space with a solid option built upon the company's reputation for great support and reliability. Costing a small premium over other budget-minded...
Recommended by WordPress Core since 2005
FREE SSD storage and SSL certificate
FREE domain registration and email
Automatic installation and updates
63% discount exclusively for HostingAdvice shoppers
Bluehost: Our Expert's Review
Setup time: 5 minutes
Go to full review

»
Aimed at personal bloggers and first-time users, Bluehost's WordPress hosting packages are a great alternative to simple shared hosting. These service come at a premium, compared to Bluehost's standard shared plans, but the WordPress optimization and...
| Money Back Guarantee | Disk Space | Domain Name | WordPress Hosting Plans |
| --- | --- | --- | --- |
| 30 days | 50 GB SSD - Unlimited | FREE (1 year) | www.bluehost.com/wordpress |
FREE Cloudflare CDN and 1-click installs for WordPress
Turbo Server, SSD speed boost, and optimized caching
A2-optimized WP plugins for performance and security
SSL certificates, PayPal integration, and 24/7 support
FREE HackScan and KernelCare
A2 Hosting: Our Expert's Review
Setup time: 4 minutes
Go to full review

»
As experts in performance optimization, A2 Hosting is a top choice for powering resource-heavy WordPress websites. The company offers shared or managed plans for the ultra-popular content management system, with the benefits extending to Joomla, Drupal, and...
See more managed WordPress hosts »
Handle Traffic Spikes & Future Growth with a Scalable Hosting Service
Congratulations! You've successfully navigated the rocky roads of starting an online business. You now have a large customer base, so it's time to expand and upgrade your site so they can see what's next.
If you're at this crossroads and trying to decide which type of hosting will best meet your scaling business's needs, or if you simply want to be prepared before you reach that fork in the hosting road, the hosts mentioned here are a great place to start your research. Cloud, VPS, dedicated servers, and managed WordPress hosting solutions will help pave the wider paths your site needs to handle the increased flow of traffic as your business grows.