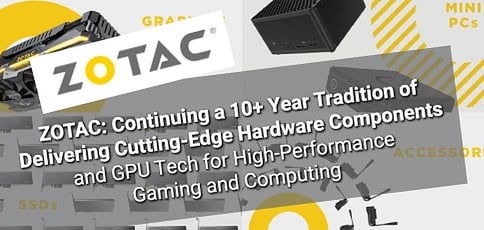 TL; DR: Hong Kong-based computer hardware manufacturer ZOTAC has been specializing in video cards, SSDs, boards, and other computing components for more than a decade. Since its inception in 2006, ZOTAC has delivered a number of top-selling NVIDIA GeForce graphics cards, including the GTX 10 Series, as well as the ZBOX line of mini PCs. As a trendsetter in high-end graphics, ZOTAC was the first hardware company to offer mini-workstations, factory-overclocked GPUs, and the Steam Machine — a gaming computer specifically designed for Valve's SteamOS. As a result, ZOTAC earns our Developers' Choice™ recognition for excellence in the high-performance gaming and computing space.
While consumer-facing PCs are typically sold in laptop and desktop formats, specialized computers, such as ultracompact mini PCs, are becoming more popular among users looking for performance and portability. And heading the charge in the new mini PC space is ZOTAC and its ZBOX series.
Headquartered in Hong Kong, ZOTAC is a leading manufacturer of hardware components and PCs specialized for gaming and other GPU-intensive tasks. Responsible for the NVIDIA GeForce series of graphics cards, ZOTAC's products power many of today's most powerful PCs.
ZOTAC's ZBOX has gained traction among graphical professions such as animation, game design, and data visualization. In early 2018, the ZBOX Q series was introduced as a stylish and powerful alternative to the typically bulky workstation design. As the world's first mini workstation, ZBOX Q features NVIDIA Quadro graphics and Pascal architecture.
Pascal hit the scene in 2016 as a revolutionary GPU microarchitecture that was developed in-house by NVIDIA, replacing its popular Maxwell architecture. Meanwhile, Quadro had set the gold standard for enterprise-level graphics capabilities the same way GeForce GTX has done for gaming, with Quadro now used by many developers.
At less than three inches high, the ZBOX Q series packs a powerful punch in a tiny box, delivering high performance without the clutter of traditional workstation towers. Designed to handle the most intensive applications and games, ZBOX Q comes equipped with energy-efficient cooling hardware, heat outflow, cooling inflow, and abundant ventilation. These systems can also be upgraded with additional storage and up to 32GB of DDR4 RAM, unlike numerous other small form factors.
Because PCs — especially those built for high GPU performance — are ever-evolving, the ability to upgrade to the latest graphics cards and RAM requirements can make all the difference in one's ability to develop, beta test, and play the next big PC game.
ZBOX Q was highly anticipated and is the latest in a long line of ZOTAC's impressive technological feats. In the stand-alone graphics card space, the NVIDIA GeForce GTX 10 Series is turning heads in the gaming community for its outstanding benchmarks.The GTX 10 series was built to address today's hottest topics in entertainment, including 4K, HDR, and VR.
"ZOTAC has always been a pioneering hardware technology company, and we aim to continue this tradition," a ZOTAC spokesperson told us.
High-End Graphics Cards Courtesy of NVIDIA GeForce
ZOTAC was launched in 2006 as a subsidiary to PC Partner, a manufacturer of products ranging from motherboards to wearable fitness tech. The following year, ZOTAC released the GeForce 7300 GT, one of the last GPU series to support accelerated graphics ports (AGP).
Partnering with NVIDIA, ZOTAC would produce several new lines of graphics cards, some of which were designed specifically with gaming, animation, and overclocking in mind.
"It was when the PC gaming space had just started to kick off," ZOTAC's spokesperson said. "The Intel Core 2 Duo was released by Intel and the Athlon X2 from AMD."
Today, NVIDIA's GeForce GTX 10 series offers some of the highest benchmarks in gaming tech, allowing high resolution and frame rates for every major title. As a step above previous cards, the GTX 10 series features game-ready drivers that reduce launch errors and compatibility issues.
In addition, NVIDIA Shadowplay allows users to easily capture screenshots and video footage from their gaming sessions and subsequently edit and share them. GTX 10 is also built with streaming in mind, with the practice becoming widely popular in the gaming community despite its heavy requirements for GPU power and bandwidth.
A Constant Effort to Refine GPU Technology
GPUs are some of the biggest bottlenecks for PC performance — especially with laptops and other upgrade-limited form factors. As a result, choosing a powerful card ensures longer-term compatibility with future games. With this in mind, ZOTAC's Gaming Movement is dedicated to delivering cutting-edge gaming tech that evolves with the times.
For example, ZOTAC's Mek 1 gaming PCs ship with GTX 10 cards, 7th generation Intel Core-i7 and Core-i5 processors, and are VR ready. VR, one of the biggest trends in modern gaming, is considered by many to be the future of the industry.
As a result of ZOTAC's innovative efforts, NVIDIA's GeForce GTX line has become synonymous with high-quality graphics cards. ZOTAC's GPU technology has undergone constant revision since 2006 to stay on the edge of graphical innovation.
"Some of the trends and challenges we've had to keep up with included RGB lighting, the decline of SLI usage since single cards can now be just as powerful — if not more so — than SLI setups of previous generation cards, and external GPUs," ZOTAC's spokesperson said.
SLI (Scalable Link Interface), another of NVIDIA's proprietary technologies, allows for parallel processing with multiple GPUs. While this experimental technology boasts impressive results, many games were initially incompatible with it, challenging ZOTAC to rework its algorithm.
At the same time, however, NVIDIA's singular cards remained massively popular by shipping with RGB lighting, advanced cooling capabilities, and overclocking. The rise of external GPUs also made it possible for ZOTAC/NVIDIA to expand its product line.
A Wide Variety of Hardware for Every Use Case
NVIDIA GeForce cards power the vast majority of high-end PCs, making them suitable for a variety of user types, including animators, graphic designers, and game developers — as well as players. GPUs in the GTX 10 Series range from standard formats to newer, mini cards.
No matter the size, the entire series is prebuilt for optimal cooling alongside overclocking.
"The ZOTAC ArcticStorm series is still unique, as it not only comes with a factory waterblock, but it also supports SPECTRA lighting — the marketing name for ZOTAC's lighting feature that includes different modes and settings for colors and brightness," ZOTAC's spokesperson said.
ArcticStorm cards feature a greater concentration of micro channels than standard waterblock cards, allowing for quicker heat dispersal. Waterblocks have replaced heatsinks as the latest trend in GPU cooling.
As one of the most highly praised GPU series, GTX 10 is programmed for the fastest factory overclock speeds straight out of the box. These speeds are made possible via metal alloys on the backplate, as well as the front fascia. While ZOTAC also specializes in other hardware components and PCs, the primary selling point remains the same — state-of-the-art graphical capabilities are at the user's fingertips, whether they install their own GPU or buy a prebuilt unit from ZOTAC. Thus, GTX 10 is ZOTAC's latest gift to gaming, pushing the capability limits of PCs.
Up Next: NVIDIA's Latest Generation of Graphics Cards
ZOTAC has been paving the way for GPU innovation for more than a decade, releasing Steam machines, mini PCs, gaming desktops, and individual cards.
"We've always been an innovator in the space — from the design and original creation of the mini PC in 2008 to today's powerful MAGNUS Gaming line of mini PCs," ZOTAC's spokesperson told us. "We've released the world's smallest PC, Pico, and the wearable backpack PC, VR GO, to help boost the VR experience to be even more immersive."
More than a simple manufacturer of graphics cards, ZOTAC is as enthusiastic about gaming as its customers.
As consumers eagerly await the latest gaming has to offer — whether the next big thing is VR, motion controls, or something else — ZOTAC is hard at work developing the technology behind it.
While ZOTAC's award-winning NVIDIA GeForce GTX 10 Series dominates the current market, the next generation in GPU innovation is ever-present in the minds of gamers, developers, and ZOTAC's engineers alike.
"We're always working behind the scenes to come up with new and better features for each new generation of graphics cards," ZOTAC's spokesperson said. "Stay tuned."