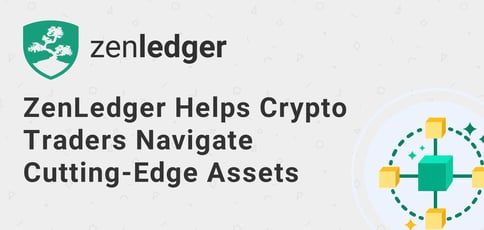 TL; DR: ZenLedger's fast and free web-based tool has helped users take the stress out of cryptocurrency taxes since 2017. The company's highly accurate software provides a simple way for cryptocurrency investors and accountants to stay in compliance with the IRS while enjoying top-notch customer service. Moving forward, ZenLedger's talented and growing team will continue to anticipate the future of the cryptocurrency space on behalf of its customers.
Tax Day in the U.S. has traditionally fallen on or near April 15, but if 2020 has anything to prove, it's that nothing is certain.
Faced with the global coronavirus pandemic, the Treasury Department and Internal Revenue Service (IRS) this year extended the deadline to file and pay 2019 Federal income taxes to July 15.
But it's not just the date that has shifted — asset classes are changing, too, particularly when it comes to the emerging crypto market. IRS tax law currently considers Bitcoin and other decentralized digital currencies as assets, like property, rather than fiat currencies (like the U.S. dollar or Euro).
This means that those who sell or trade Bitcoin have to recognize capital gains or losses. And, according to the folks behind the crypto tax tool ZenLedger, it's a complicated process that requires meticulous record keeping.
That's why the company designed its web-based software to help cryptocurrency traders — who hold billions of dollars in transactions across exchanges, wallets, and coins — keep the IRS at bay.
"The typical cryptocurrency trader is trading on accounts all across the world," said Pat Larsen, Founder and CEO of ZenLedger. "The problem is, the U.S. and other countries, for various political and economic reasons, are not regulating, monitoring, or taxing cryptocurrency very well. This makes it hard to invest while staying on the right side of the law."
ZenLedger's highly accurate software provides a simple way for cryptocurrency investors and accountants to stay in compliance with the IRS. The company also stands apart from competitors due to its top-notch customer service, a rarity in the industry. Moving forward, ZenLedger's talented and growing team will anticipate the future of the cryptocurrency tax space in a way that best serves its customers.
Taking the Stress out of Crypto Taxes Since 2017
Pat's professional background is packed with a wide range of achievements. He received a bachelor's degree in materials science chemistry from the United States Air Force Academy and an MBA from the University of Chicago Booth School of Business.
He's a former Navy helicopter mission commander, Amazon business manager, and investment banker. And by 2017, he decided to try the role of tech startup CEO on for size, using his extensive background and experience to guide him.
"The cryptocurrency market was booming and attracting new retail investors, but there were a lot of infrastructure problems," he said. "I dove in and tried to identify areas of improvement, and the one that stood out was the need to help cryptocurrency investors with their taxes, with their capital gains, with bringing all their transactions together and seeing what's in their portfolio."
With the help of seed investors who had recently acquired wealth in the crypto space, Pat built up the ZenLedger team. The goal was to offer a speedy, highly accurate software solution backed by helpful and caring customer support.
"I founded the company at age 37, which seems late in the tech industry, but early or right in line for entrepreneurs in other sectors," he said. "From raising capital and hiring a great team to building easy-to-use and effective software, it's been an interesting ride."
In the relatively new crypto industry, a 2017 founding date positions a company as somewhat of a thought leader. Pat told us the company has certainly done its research in that regard, working closely with lawyers and accountants to understand the ins and outs of tax compliance — and tailor solutions to each customer.
Speed and Accuracy Meet Friendly Customer Support
ZenLedger users have a range of options in terms of both platform type and tax treatment. The company's powerful algorithms and intuitive user interface make for a seamless self-service experience that's free of charge for users with 25 transactions or fewer.
From there, plans increase in price based on the number of transactions. All tier include audit reports, CPA access, multiple methods to calculate cryptocurrency gains and losses, unlimited exchanges, tax-loss harvesting, and TurboTax integration, among other features.
In addition to self-service plans, ZenLedger offers three tiers of fully prepared plans that aggregate ledgers, mark the transactions to market, and allow users to categorize each instance by use. This makes it much easier for the customer or a CPA to file taxes. Plan pricing is based on the number of transactions, total asset value, and hours of return preparation time, and other factors.
"Our service is very white-glove," Pat said. "Humans matter in this space, and the customers we're interacting with really appreciate our high level of service. It's all about just taking a very stressful, complicated process and making it as simple and easy as possible."
ZenLedger's experts can also help users customize their level of tax treatment according to their needs. Some clients want to go with the most conservative treatment possible, so they don't have to worry about an audit.
"Others are super aggressive in terms of accounting because they are concerned about the net present value of cash and would rather have as much as possible than ask for a refund later."
Helping Compliance-Minded Individuals Simplify the Complex
ZenLedger offers customers a good list of features — from FinCen reporting and EOS ICO support to integrations with TurboTax and a CPA Suite. But the underlying tenet connecting all of these services is peace of mind.
"Between tax-loss harvesting, offsetting capital gains, and insurance against audits, we offer some very real financial returns," Pat said. "We also offer tools for forward-thinking tax and investment management. But it comes down to reducing stress and worry."
ZenLedger works hard internally to add new features and adapt the product according to customer feedback as well as rapidly changing trends. The company already supports nearly all major exchanges (including Coinbase, Binance, Bittrex, FTX, and CEX, among others) and crypto and fiat currencies. But Pat said the team is always adding integrations to better serve customers.
"If we get enough requests, then the priority rises on that request," he said. "For example, we quickly coded up a very smooth integration to handle the switchover of tokens from ERC 20 to EOS and provide a straightforward reporting pathway. We were the first people to integrate the Bitcoin Cash blockchain as well."
A Growing Team of Talent Anticipating the Future
It's not always easy to plan for the future in the quickly evolving world of cryptocurrencies, but Pat said these emerging technologies actually thrive in environments of uncertainty.
"Crypto is built for a world where you can't necessarily trust an individual bank or financial entity, so you put your trust and financial security in yourself and in systems that can't be messed with — versus putting your trust in others or in larger forces that can be easily and often manipulated," he said.
Moving forward, Pat said he plans to continue growing his talented team and providing the excellent customer service for which his company is known.
"We've never dealt with a July 15 tax deadline; we've never dealt with a pandemic in the face of mass unemployment," he said. "But we're still growing, and that's due to our fantastic and talented team."