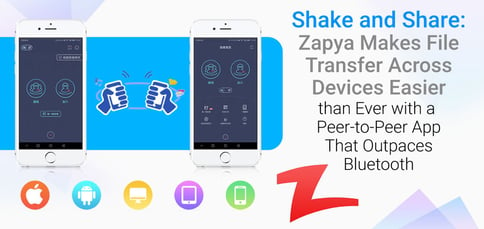 TL; DR: Zapya is a cross-platform file sharing app that enables rapid file transfer without cables, wifi, or mobile data. The lightning-fast peer-to-peer solution outpaces Bluetooth, allowing users to rapidly transfer apps, music, videos, photos, and other content from one device to another. With a customer-centric focus on making connections as smooth as possible, Zapya is committed to continuous improvement.
Considering the high-tech conveniences of our modern world — virtual assistants, robotic vacuum cleaners, smart thermostats — it's boggling how difficult it can be to transfer files from one device to another.
My daughter asked me to buy her an album the other day, and it happened to be one I already own. But the prospect of somehow transferring the songs from my phone to her tablet seemed so exhausting after a long day that I considered repurchasing the album directly from her device.
Zapya, a peer-to-peer file sharing app, is the solution to problems like mine. The technology uses your device's wifi tethering or hotspot features to transfer files at no cost without wifi or mobile data. And it supports multiple platforms, including Android, iOS, PC, and Mac.
"The process is as simple as two people in close proximity shaking their devices, and in a few seconds, they are connected and can transfer files," said Steve Gu, Co-Founder of Zapya. "That's the goal we have wanted to achieve since day one: to make the process as simple and smooth as possible."
Today, more than 400 million users worldwide leverage the app for both work and play. Its blazing-fast connections, with speeds up to 10 megabytes per second, transfer files 128 times more quickly than with Bluetooth. Zapya can be used to transfer almost anything — apps, music, videos, photos, and even a complete replication of all of the files on one device to another. Zapya continues to focus on making it easier than ever to share data through ongoing improvements, underscoring the company's devotion to its users.
A Lightning-Fast Data Sharing Method for Users Worldwide
Zapya was founded in early 2011 by Steve, Wang Xiao Dong, and Shangpin Chang, all of whom had worked out of Silicon Valley for numerous years. Its headquarters are located in the U.S. with a development team in China. The app was initially introduced to the Chinese market, as it enables users in countries with limited internet access to share files wirelessly at no cost without wifi or mobile data.
"In 2011, China had about 100 million smartphone users, and we knew it was not a short-term technology — eventually, everyone would have a smartphone," Steve said. "In four or five years, we knew the market would grow rapidly, and we would just ride along with the tide."
That assumption was correct. Today, just eight years later, China has nearly 750 million smartphone users and is projected to reach more than 850 million by 2023. Worldwide, the number of smartphone users is predicted to reach 3.8 billion by 2021, with China, India, and the U.S. leading the pack.
Zapya now serves users worldwide by supporting 20 languages, including English, Chinese, Hindi, Spanish, Arabic, Thai, Burmese, Indonesian, Italian, Vietnamese, Russian, Persian, Tamil, Malayalam, Telegu, Malay, Turkish, Korean, and Portuguese.
Steve said that many competitors entered the market after Zapya. A few survived; many others didn't. Zapya's strong engineering focus has helped the company stay afloat. "Among all of the other competitors, we are the ones with the greatest support for multiple platforms," he said. "We even support the Windows Phone and Samsun Tizen."
Transfer Apps, Music, Videos, Photos, and Other Content
Two decades ago, no one would have imagined that the human race would become so obsessed with handheld computers that we'd develop wrist problems, become distracted while driving, and lead more socially isolated lives. But that's exactly what has happened.
The recently introduced word "phubbing" — a combination of "phone" and "snubbing" that describes the practice of focusing on your phone rather than the world around you — says it all.
Steve believes tools like Zapya can bring smartphones closer to the role of their rotary predecessors — one centered on personal communication.
"These days, people meet up and still look at their phones — they have become barriers," he said. "Our original idea was to help people connect via their devices when they are in close proximity. They can share files. They can play games. In that way, we wanted to break through the barriers."
To that end, Zapya's group sharing feature allows communities to create local networks and subsequently transfer data — such as music, videos, apps — between devices. Zapya provides three options for transfers: Users can create a group and invite others to join, generate a personalized QR code, or shake to connect and send files directly.
In addition to sharing files with multiple people, the instant messenger feature allows users to chat with one another offline. The remote camera feature takes things one step further, allowing you to mirror the view of a friend's camera on your device.
Quickly Replicate Data From One Phone to Another
I'll never forget my experience at an AT&T store years ago — and not because I was excited to upgrade to the newest iPhone after years of dealing with a cracked screen. No, I'll remember that day because while I was waiting for the technician to slowly transfer the data from my old phone to the new one, I popped a piece of hard candy in my mouth and felt an electric-shock type pain. I had cracked a tooth. Still, I waited patiently until my phone was ready to go.
Needless to say, I would have appreciated a more concise transfer process — such as Zapya's "Phone Replicate" feature. The technology allows users to easily backup and transfer files from an older mobile device to a new one in a matter of minutes.
In addition, Zapya supports bulk file transfers of other types. Unlike many online file transfer services, the application places absolutely no limits on the file size. Of course, transmission speed will be negatively affected by large files — but the transfer process will still be much faster than with Bluetooth.
The Zapya app comes in a few different flavors designed for specific use cases. Zapya IOS, Zapya PC, and Zapya MAC each enable users to share files from their respective device with users on any platform. Zapya Go, a lightweight file transfer app for Android Go, includes offline chat and online H5 games.
The company also offers additional apps, such as WebShare, an intuitive solution for accessing your phone's contents using any web browser.
Ongoing Development Based on Customer Feedback
Steve said Zapya is committed to maintaining a continuous cycle of product improvements informed mainly by customer feedback. For example, the company recently found that some phone manufacturers were adding specific wifi management tools to their phones, causing obstacles for users trying to connect through Zapya. But the company's engineers quickly found a way to resolve the problem.
Zapya is also focused on increasing the functionality of its batch processing feature. Some users are interested in not only backing up their data to a PC but also to the cloud, so the company is busy developing a solution for them.
Steve told us he's also working on solutions for data synching aimed at business users. "Basically, we are a digital moving company, and we want to help you move your data around however you need," he said.