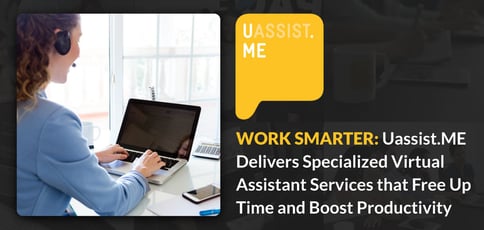 TL; DR: Uassist.ME is an El Salvador-based provider of bilingual virtual assistance solutions with more than a decade of experience serving entrepreneurs and businesses worldwide. The company's dedicated professionals are available to take on a wide range of services, from administrative work to design and development, on a full or part-time basis. As trends in remote work continue to shape the way we do business, Uassist.ME is making it easier than ever for customers to gain a competitive edge.
Just a decade ago, remote job opportunities were few and far between, as many businesses struggled to embrace the idea that employees can be trusted to work from home.
But today's communication technologies have turned the tide, giving employees a chance to prove themselves and providing businesses newfound advantages — such as higher retention rates and the need for less office space. According to Gallup, companies are beginning to recognize these benefits, with 43% of Americans surveyed in 2017 saying their employers allow them to work remotely at least some of the time.
Many companies are even tapping into the remote trend by hiring virtual assistants to help with administrative tasks and reduce daily business complexities. Uassist.ME, for example, has a staff of bilingual virtual professionals ready to take on a range of tasks, including admin work, marketing, customer service, design, and development.
"We provide everything from part-time support from one assistant to entire teams of full-time assistants with different skill sets who report to a central leader," said Hector Linares, Marketing Manager at Uassist.ME. "We help a lot of companies in the United States save time and money while reaching new levels of productivity through outsourcing."
In addition to boosting output, the El Salvador-based company enables businesses to cut costs on typical employee-related business expenses, such as benefits, taxes, supplies, and office rent. As the trend toward remote work continues into the future, Uassist.ME is poised to help even more customers make their professional lives easier and more efficient.
10+ Years of Experience Helping Businesses Worldwide Succeed
Uassist.ME was founded in 2009 by Alfredo Atanacio and Rodolfo Schildknecht, who also lead Fundación Colabora, a nonprofit organization that strives to support and promote entrepreneurship in El Salvador. Over the years, the company has received a number of awards and recognitions, including Inc.com's 30 Under 30 award in 2016 and a congratulatory letter from President Barack Obama.
Today, Uassist.ME leverages more than a decade of experience to provide high-quality business services and outsourcing solutions to entrepreneurs and businesses in the U.S. and beyond.
"We started with just four employees, and now we've grown to a staff of 250," Hector said. "Most of our virtual assistants are bilingual in English and Spanish, and we're positioned well in San Salvador, El Salvador, with time zones that are similar to the U.S. It's a good cultural fit."
Uassist.ME serves more than 200 clients primarily located in the U.S. Because of El Salvador's proximity to many states (a two-hour flight in some cases), the company often refers to its services as near-sourcing, rather than outsourcing.
Hector said the company's bilingual services come in handy when clients are looking to grow their businesses internationally or better serve Hispanic populations within the U.S. Translation and transcription services are also especially popular in this regard.
Uassist.ME also offers administrative and specialty services in more than 20 areas of expertise, including inbound and outbound call services, digital marketing, data entry, research, graphic design, and website development. Personal assistance services, such as calendar management, appointment scheduling, and travel arrangements, are also on the menu.
A Range of Ecommerce, Admin, Design, and Development Solutions
Hector told us that the onboarding process at Uassist.ME is quick and simple. After requesting a consultation with one of the company's sales representatives, the team will create a specialized plan tailored to the customer's needs and industry.
The company is always finding new ways to help clients get the most out of their virtual assistant services. Through its blog, Uassist.ME offers tips on which tasks to delegate, how to communicate with assistants effectively, and how virtual assistants can help with email/inbox management, among other topics.
"Remaining competitive is a matter of providing the best solutions for our clients," he said. "We are always evolving and training our virtual assistants so that they can offer the best customer experience possible."
For example, Uassist.ME trained its staff in multiple listing service (MLS) management to better help serve its clients as part of the company's monthly real estate solutions package. The solution also includes calendar management, inbound and outbound phone support, lead management, agent support, file organization, and the coordination of general contracts.
The company also features a full ecommerce solutions package, including everything from building an online shop and positioning products on sellers' channels to creating a sales strategy and organizing the site. Other specialized services include project management, scheduling, customer care, billing, and payment inquiries.
"We want our clients to be successful with us so they can get things done without going through a recruiting process or wasting money on employee costs, such as vacations or insurance," Hector said. "Our customers enjoy a significant return on investment."
While working with a virtual assistant, Uassist.ME estimates that companies can save up to 77% per year by outsourcing and double their productivity by delegating work.
Tap Into the Remote Workforce Trend with Plans Tailored to Your Needs
Customers can choose from four plans that are billed monthly with no cancellation fees or penalties. The customizable 20-hour monthly plan, for example, includes a fully equipped workstation with a U.S. phone number, a direct supervisor, and unlimited U.S. calls.
The part-time plan includes a dedicated U.S. phone number and access to an assistant for two to four hours a day, while the full-time assistant option provides a dedicated U.S. phone number and eight hours of assistance per day.
Finally, the company's full-time support team package includes a virtual staff of three virtual assistants led by one captain with no downtime for vacation, sickness, or unforeseen circumstances.
"We assign our customers a virtual assistant or an entire team of virtual assistants, depending on what they need," Hector said. "For example, if you have an ecommerce store and you need three virtual assistants for digital marketing, sales, and customer service and a team leader to coordinate everything, we can provide that."
The company's ultimate goal is to provide clients with the best possible solution, whether that's a single assistant or the ability to outsource entire areas of their business.
"Remote workforces are trending because you no longer have to have someone physically there to do a good job," he said. "You can have perfect communication and a perfect team experience with a remote workforce."
Moving forward, Uassist.ME plans to continue honing its skills to provide businesses and entrepreneurs the human resources they need to find success despite whatever market competition they may face.
"Having a remote staff actually works, and we're here to prove it," Hector said.