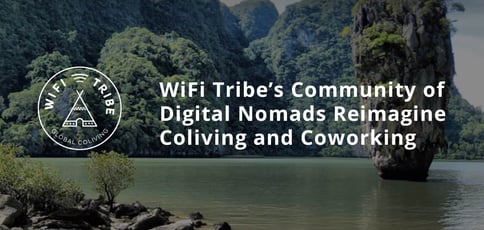 TL; DR: WiFi Tribe's community of like-minded professionals is blurring the lines between work and vacation via a unique coworking and coliving expedition across the globe. Every month, the tight-knit group heads to a new city where they live, work, and explore. Now, with the SHIFT Accelerator, WiFi Tribe is also taking interested community members on an entrepreneurial journey where they can launch a new project in just four weeks.
As many remote workers know, a home office can put you on the fast track toward a hermit-like lifestyle plagued with distractions, loneliness, and the inability to unplug.
But it doesn't have to be that way — just ask the community of digital nomads at WiFi Tribe. The community of entrepreneurs, bloggers, writers, developers, and other remote professionals have traded in their sofas and sweatpants for a coworking voyage across the globe.
Each month represents an additional chapter in the WiFi Tribe journey, packed with opportunities to collaborate, learn from one another, and grow together in a new country.
"There's a strong sense of loyalty within our community because of our intentional approach to bringing people together," said Diego Bejarano Gerke, Co-Founder and CEO of WiFi Tribe. "We see this as an alternative way of living. Some people stay for several months or a year, and then some live this way almost permanently."
Potential tribe members are carefully vetted to ensure shared values such as respect, humility, camaraderie, curiosity, passion, and inclusion. Members frequently move in and out of locations, but often maintain connections online.
For now, scheduled expeditions to Spain, Brazil, Estonia, Croatia, and other exciting countries have been put on hold due to the COVID-19 outbreak.
Until it becomes safe to meet in person again, WifiTribe is hosting online chapters designed to reconnect old members, kindle new friendships, and offer a place for support. The organization is also starting an all-new SHIFT Accelerator program designed to help entrepreneurs in the community launch a new project in just four weeks.
Building a Community of Like-Minded Remote Workers
Diego told us he didn't intentionally set out to found WiFi Tribe — it was more like fate. Post-college graduation, Diego put all of his efforts into various startup projects with little success. After about three years, he found himself at a crossroads.
"My career progress had slowed, nothing was kicking off, and I thought, 'This is it — there has got to be a better version of life out there,'" he said. "I decided to work on my lifestyle, and then I could come back and keep trying to build a company, which has always been a passion of mine."
He emailed a group of friends to determine their interest in visiting Bolivia, where his family owns property. One of the first to respond was his friend Julia Kallweit, who had been pursuing remote work in South Africa. The pair got together and sent out about 100 emails to friends who might be interested in the trip, and asked them to bring along any work they wanted to do.
"I told them I was going to do the same thing; I was just going to switch over to being a freelance marketer," Diego said. "At that point, Julia was curious if we could make this a longer-term thing, so we set up a little site on Squarespace and posted it in a few digital nomad groups on Facebook three weeks before we were set to go to Bolivia."
The first event — which Diego hosted for free — attracted about eight people. The expedition snowballed from there with a stop in Nicaragua, and WiFi Tribe was born, however unintentionally.
"It was this rolling, month by month thing until the point where it was just so much work that I couldn't do any more freelance work," Diego said. "I shifted all my focus to the company at that point, and before I knew it, I had a startup that worked out."
An Emerging Market for Travel at a Leisurely Pace
Today, WiFi Tribe has expanded into a tight-knit community of adventure seekers from across the globe on a mission to live their best lives. Diego said he believes the timing was right for the startup due to emerging trends in coworking, coliving, and slow travel — but without Facebook Ads, WiFi Tribe wouldn't have made it far.
"The entire startup was built on Facebook Ads, which allowed us to reach people who never would have thought about doing something like this," he said. "The market was very much in its infancy, and people just weren't searching for communities like ours. We had to literally put our advertising right in front of their faces."
It wasn't until a few years later, when coworking and coliving space began to thrive, that WiFi Tribe found success with search-based ads on Google.
"Suddenly, people were searching for something that you could put a keyword to," Diego said. "So, really, the first two years of our time was spent mostly educating whoever would listen about the fact these types of coworking and coliving communities were trending. Then more than 100 companies just flooded in and we were doing the same kind of thing — that was fascinating to see."
At the same time, vacationers began to adopt the concept of slow travel, which encourages individuals to soak up authentic cultures and experience at a leisurely pace; the antithesis of tourism. WiFi Tribe's ability to blur the lines between work and travel put this immersive type of experience within reach for remote workers worldwide.
A Values-Based, Community-First Vetting Approach
Diego told us WiFi Tribe wouldn't have the family-like environment it has today if he had listened to some of the advice he received along the way.
"There were a lot of people who in the early stages told me, 'You're making a mistake because there are so many people that want to do this. You're literally leaving money on the table,'" he said. "I think I was a bit stubborn at that point about it, but ultimately what it led to was a very careful selection process."
Since the beginning, Diego has vetted potential tribers with a multi-stage interview process, including a 45-minute phone call. The result is a diverse group of people who share the same values and passion for an adventure-based lifestyle.
"The Tribe has an unbelievable knack for finding awesome people," said member Heather Kugel. "The people are what make the experience so great. Even with all of the different backgrounds and personalities, everybody meshed together really well and brought something unique to the table."
People of all ages, backgrounds, and professions are welcome to apply — the only requirement is that they hold a job that can be done remotely. WiFi Tribe members are as serious about work as they are about play, typically putting in 40 hours per week on the job.
Just Launched: The SHIFT Accelerator for Entrepreneurs
WiFi Tribe is continuing to bring more experiences online to help members old and new cope with travel restrictions prompted by the coronavirus pandemic while pursuing their careers.
"We recently introduced the SHIFT Accelerator, a program for people with ideas for side hustles that they want to get out into the world," he said.
The four-week digital experience helps attendees form a foundation, create a product, market it, and launch it into the wild.
"We're bringing together a bunch of people who are doing the same thing with experts from the tribe who have done these kinds of things in the past," Diego said. "Apart from that, we just can't wait for things to open up again and get to meet each other in person."