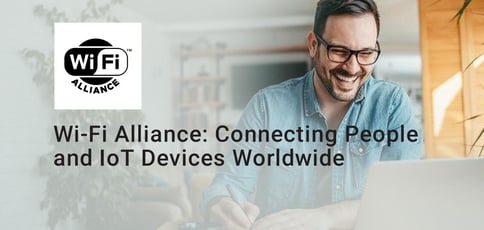 TL; DR: Wi-Fi Alliance brings together wireless networking companies to encourage industry-wide collaboration, spectrum advocacy, and thought leadership. The organization, founded in 1999, is working to drive the adoption and evolution of Wi-Fi while ensuring a top-notch experience for end-users. Wi-Fi Alliance recently raised industry standards with Wi-Fi CERTIFIED 6™, which provides higher performance and network efficiency for advanced Wi-Fi connectivity.
It's hard to imagine Wi-Fi wasn't around 25 years ago — especially considering how dependent we are on the technology today.
Wireless connections to the internet support our mobile phones, tablets, laptops, and various IoT devices, from smart thermostats and lighting to security systems.
Most recently, Wi-Fi has empowered employees to work from home and students to access online lessons and coursework while social distancing. To help bridge gaps in internet access among students, some cities are even placing school buses equipped with free Wi-Fi hotspots in designated locations.
Wi-Fi technology is also making an impact on a range of industries, including healthcare, where it provides practitioners access to electronic medical records and powers oxygen monitors, smart beds, and other critical devices.
According to Wi-Fi Alliance, the global economic value of Wi-Fi across all industries is expected to reach nearly $3.5 trillion by 2023.
"Wi-Fi continues to shape the world that we live in," said Tina Hanzlik, Director of Marketing at Wi-Fi Alliance. "The fun part is, it's not just here in our world. In fact, we've had Wi-Fi for four years on the International Space Station, and space suits now have Wi-Fi built into them."
Founded more than two decades ago, Wi-Fi Alliance's global network has worked to spur the adoption and evolution of Wi-Fi through industry-wide collaboration, thought leadership, and spectrum advocacy.
The nonprofit works to ensure Wi-Fi technology is secure, reliable, and interoperable via innovations, test programs, and industry standards. Ultimately, the goal is to expand Wi-Fi availability and use cases to deliver top-notch experiences for end-users.
Connecting Everyone and Everything, Everywhere
Wi-Fi Alliance of today is a nonprofit organization trade association made up of more than 800 companies around the globe.
Members include world-renowned companies, such as Google, Microsoft, Intel, and Samsung, as well as semiconductor startups, internet service providers, and mobile internet access providers like Boingo Wireless.
Tina told us that, 20 years ago, conversations in the Wi-Fi space were centered on ensuring connectivity.
"The focus then moved to making those connections faster," Tina said. "Today, that isn't good enough. It's about connecting everyone and everything, everywhere — that's the overarching vision of our organization."
The average American has access to more than 10 connected devices in their household, including an average of more than two computers and two mobile phones, according to Statista. When viewed from a global perspective, the average devices per person decreases but still illustrates the staggering impact of Wi-Fi worldwide.
"Analysts estimate that there are anywhere from 13 to 15 billion Wi-Fi-connected devices in use across the world today, which indicates an average of about two devices per person," Tina said. "For you and I, that doesn't sound like a lot. But when you think about it from a global perspective, we really are connecting everyone and everything, everywhere."
And, by 2025, the installed base of IoT connected devices worldwide is projected to reach 75.44 billion.
"We've gone from connecting PCs and smartphones to having Wi-Fi sensors in our irrigation systems, light bulbs, thermostats, and garage doors," Tina said. "We're now served by Wi-Fi in more ways than we ever imagined, and that continues to change every day and as we look into the future."
Promoting Global Collaboration, Leadership, and Advocacy
Membership in Wi-Fi Alliance gives businesses access to network with experts from around the globe in a collaborative environment.
"Every year, our members tell us that one of the things they find most valuable is being able to interact with their peers in a non-competitive setting that can't be found anywhere else," Tina said. "They come together to bounce ideas off of one another and take those ideas back to their companies to further their own product development and advance the industry altogether."
Companies can demonstrate that they are engaged in the latest Wi-Fi technology developments by joining one of Wi-Fi Alliance's three tiers. At the highest level, Contributors create, test, and certify products, participate and vote in task groups, and develop many Wi-Fi CERTIFIED™ offerings.
As an Implementer, a company gains access to Wi-Fi CERTIFIED™ brand, indicating that products meet standards for interoperability, security, and reliability. These members may implement unmodified Wi-Fi modules that are certified by other members, use Wi-Fi CERTIFIED™ logo and brands, and access the organization's final documents.
Finally, those looking to experience the benefits of membership with lower initial membership dues may join via a Small Business Introductory Membership as a Participant or Implementer. A small business must earn annual revenues of less than $10 million to qualify.
Tina said Wi-Fi Alliance members are the force behind much of the association's work.
"We're seeing competitors come together to make sure that the end-user is going to have the best experience possible," Tina said. "Whether that comes in the form of working together to make sure that their devices will interoperate, or looking at new areas of innovation and growth, we're trying to figure out what is the best for the user."
In addition to collaboration and leadership opportunities, Wi-Fi Alliance members benefit from the association's work advocating for fair worldwide spectrum rules. For example, the group enthusiastically supported the FCCs April 2020 decision to transform wireless connectivity by making 1200 megahertz of spectrum in 6 GHz available for unlicensed innovation.
"By making 6 GHz available for unlicensed use, the FCC has secured the future of Wi-Fi," said Edgar Figueroa, President and CEO, Wi-Fi Alliance, in a press release. "6 GHz access is a seminal development for connectivity and provides Wi-Fi more capacity to deliver groundbreaking use cases and to unlock novel new Wi-Fi applications."
Raising the Bar with Wi-Fi CERTIFIED 6™
To that end, Tina told us the association is excited about the opportunities afforded by Wi-Fi CERTIFIED 6™, an industry certification program based on the IEEE 802.11ax standard that provides wider channels, additional capacity, and better performance.
Wi-Fi in 6 GHz has been approved in the U.S., and the alliance expects regulatory agencies in other countries to permit similar access shortly. Wi-Fi Alliance Certification for Wi-Fi 6E, the brand name for Wi-Fi CERTIFIED 6™ devices that operate in 6 GHz, will be available by 2021. Wi-Fi 6E will improve Wi-Fi experiences indoors and outdoors, everywhere from large public venues and densely populated areas to home networks.
"Wi-Fi CERTIFIED 6™ technology is very user-friendly — easy for customers to understand — and devices are just hitting the market," Tina said. "Fortunately, I upgraded to a Wi-Fi 6 router at home just prior to the COVID-19 outbreak."
Before the pandemic, Tina's Wi-Fi use was that of a two-adult household with one person working from home and the occasional Netflix binge. During the shutdown, her home network had to support two adults working from home, two full-time college students using Zoom for online learning, and more infotainment consumption than ever before.
"Wi-Fi 6 has made all the difference in the world for us," she said.
Many Wi-Fi Alliance members, including Broadcom, are looking to move into the band before the end of 2020. Forecasters anticipate a massive market opportunity, with a potential 316 million Wi-Fi 6E devices to be released in 2021.