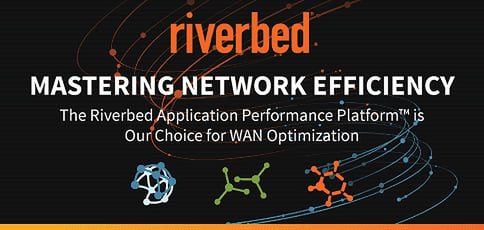 TL; DR: Businesses operating with remote locations face numerous networking challenges, including infrastructure constraints, software delivery issues, and security problems. However, to stay competitive, businesses must offer cloud-based services to both employees and customers. It takes a strong network to deliver in those areas, and Riverbed offers a robust WAN optimization solution that enables companies to sidestep the technical constraints often experienced with hybrid networks. Enterprise-level businesses are turning to Riverbed's Application Performance Platform to boost network efficiencies, increase productivity, and keep applications running. The company allows remote teams to stay reliably and securely connected through hybrid networks, which is why Riverbed is our choice for WAN optimization.
As manager of the wide area network (WAN) for Redmond, Inc., a large supplier of industrial products, Aaron Gabriel was responsible for ensuring each of his 10 branch sites across the Midwest had a reliable connection back to company headquarters in Heber City, Utah. That posed a challenge because some of those sites were in rural locations where the only option for connectivity was an unreliable internet connection.
Many network managers today can relate to Aaron's plight. Businesses that operate with numerous satellite offices, warehouse locations, retail sites, or franchises often face difficulties finding the right WAN solution.
Some companies are hampered by infrastructure requirements. Others face application access and slow delivery problems. Still, other businesses want to host smartphone apps but don't want to act as glorified datacenters by providing each of their retail sites with a unique app.
Enterprise-level businesses that need a solution for those types of WAN challenges are turning to Riverbed to optimize their hybrid on-prem and cloud-based networks. The company's Application Performance Platform provides a centralized location to design, deploy, and manage distributed networks. Riverbed boosts efficiencies and allows geographically separated teams to leverage resources and access applications from anywhere, which is why the company is our choice for WAN optimization.
A Full Range of Hybrid Solutions to Optimize WAN and SD-WAN
Many geographically dispersed companies aren't just looking for just a WAN but a hybrid solution that enables them to use both private (MPLS) and internet-based circuits at remote business locations.
Beyond that, companies want to deploy applications remotely, quickly provision new sites, optimize applications for maximum throughput, and enjoy bandwidth savings for cloud apps. For that, they need WAN optimization.
The company's SteelConnect solution is a software-defined WAN (SD-WAN) suitable for supporting distributed networks. As with, other SD-WANs, SteelConnect offers customers the ability to control the network via the cloud as opposed to controlling it with proprietary hardware.
In other words, an SD-WAN can save a company a lot of money in infrastructure costs.
Specifically, Riverbed's SteelConnect offers features, like single-click creation of SD-WAN solutions, in the cloud. SteelConnect gives businesses automated, secure connectivity between branch locations, and provides a single management console for the cloud, WAN, and WLAN that allows for management agility.
SteelHead is a WAN optimization solution that can be coupled with SteelConnect for a robust, single-appliance delivery. SteelHead features include automated VPN management, firewall and threat protection capabilities, enterprise app acceleration, and enforcement of corporate security policies across on-prem and cloud-based apps, among others.
Consolidating Data From Multiple Locations Is Now the Rule, Not the Exception
Digital networks are often no longer just on-premise or in the cloud. To remain competitive, modern businesses require an approach that combines solutions delivered from local infrastructures, third-party hosting providers, branch office software, mobile technology, infrastructure-as-a-service (IaaS) clouds, and software-as-a-service (SaaS) clouds.
As a result, businesses often require a hybrid solution that involves a combination of MPLS links and public internet connections. Fortunately, Riverbed's Application Performance Platform was designed to address exactly those kinds of challenges.
That platform consists of four components that work in harmony with one another. SteelCentral monitors application and network performance. SteelConnect provides a simplified approach to designing, deploying, and managing distributed networks and quickly and securely delivers applications across the hybrid enterprise. SteelFusion secures branch apps and data in the datacenter. And SteelHead optimizes WAN appliances, offering performance gains 100 times more effective than "old school" WANs.
Application Performance is Critical to Overall Business Efficiency
It's safe to say application performance equates to business performance for today's enterprise-level companies. If mission-critical enterprise apps fail, so will the businesses that use them.
That's why it's important for companies to adopt a networking solution that enables principals and employees to focus on business goals and not worry about technical constraints. Riverbed offers customers architectural flexibility to host applications and data in a way that best serves the interests of their organization.
Specifically, Riverbed optimization solves problems concerning productivity, shipping, outdated technology, and customer service. A reliable network works to boost employee productivity and sometimes morale, as there's nothing more frustrating than not being able to perform tasks when apps don't work.
Since shipping is increasingly driven by IT, it is imperative networks function at optimal levels to ensure products arrive on time and customers are satisfied. Improving WAN enables businesses to stay competitive and effectively deploy modern applications.
SteelCentral™ Constantly Audits Applications and Fixes Problems
In business, it's best to be proactive, and that's especially true when it comes to network management.
IT managers should know in advance about any warning signs indicating infrastructure is on the brink of failure. Further, they should also have the ability to gain a holistic view of their entire network so they can retrieve key information at a glance.
Riverbed's SteelCentral acts as an end-to-end solution that combines network monitoring with infrastructure, application, and user experience management.
SteelCentral brings everything together — IT ops, DevOps, network ops, app ops, and LOBs — to provide a comprehensive performance management solution. It streamlines network management with a single user interface that offers a bird's-eye view of the entire system.
Custom Migration Solutions for Enterprise Cloud, AWS, and Microsoft
Adopting SD-WAN technology can be complicated, which is why Riverbed offers migration assistance to companies moving to an optimized solution for the first time.
Riverbed's SD-WAN Migration Assessment Service will quickly assess the current state of a branch network configuration.
The service, offered by Riverbed Professional Services (RPS), gathers information from network devices, performs a deployment assessment, reviews network documentation, and audits the network for compliance issues. Following that, RPS will recommend the proper steps for adopting SD-WAN technology.
The RPS assessment will include the following insight:
Enhanced visibility into the existing network and network operations
Identified areas that would benefit from SD-WAN technology
Migration scenarios for moving to SD-WAN technology
A migration plan to move quickly to SD-WAN technology
RPS also offers detailed information about how an optimized networking solution will enable the business to use public/private cloud technology, Amazon Web Services, and/or Microsoft Azure.
In most instances, the assessment will show businesses how a move to an SD-WAN solution can improve network integrity and save money. Aaron Gabriel certainly found that to be the case.
Aaron now buys internet connections for his rural branch sites, then uses SD-WAN technology to aggregate links together, which, when combined, are stronger than they would be individually.
Thanks to SD-WAN technology, Redmond's rural sites can use voice over IP (VOIP) and process credit card transactions. Aaron also manages the WAN through a single user interface and gets notified upfront if there are any problems.
"I can control and shape the bandwidth at each location centrally through a GUI," Aaron said. "Plus, we get to buy cheap bandwidth while having quality uptime."
The company offers customers the best of both worlds — improved network performance and cost savings — which is why Riverbed earns the HostingAdvice Developers' Choice™ award for WAN optimization.