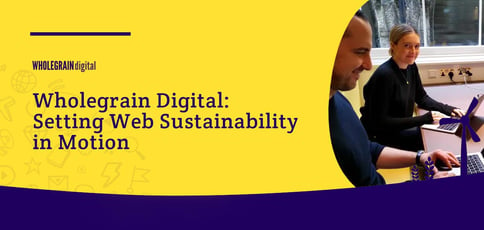 TL; DR: Wholegrain Digital, based in London, is a design-focused WordPress agency committed to delivering genuinely sustainable web services. The company helps businesses and charities, including Ecover, Oxfam, and Unicef, achieve their goals while minimizing environmental impact. Through his new book, "Sustainable Web Design," Wholegrain Digital Founder Tom Greenwood aims to help web professionals, tech companies, and consumers of digital services embrace sustainable design practices.
Because of its intangible nature, the average consumer doesn't worry about the environmental impact of digital technology while binge-watching Netflix or browsing the web.
But that doesn't mean our actions don't have consequences. The energy required to power the servers hosting our streaming services, search engines, and websites is directly responsible for carbon dioxide emissions.
According to the nonprofit RESET, digital technologies accounted for 3.7% of global carbon dioxide emissions in 2018 — outranking the aviation industry's estimated 2.5%. With travel at record lows due to the pandemic and workers across the globe adopting digital workplaces, the present disparity between the two is likely much greater.
"The internet is the biggest machine humans have ever created, and it uses a lot of electricity," said Tom Greenwood, Managing Director at Wholegrain Digital. "It's important to get the industry moving in the right direction — with strong environmental policies in terms of energy efficiency and renewable energy supplies. The internet should be the solution that we all think is — not the problem."
Wholegrain Digital, a London-based WordPress agency, is committed to fostering a truly sustainable business environment through efficient design. The agency's sustainability policy encompasses various environmental, social, and financial strategies intended to minimize carbon footprint, develop a healthy society, and create sustainable business models.
The company takes its leadership role as an environmentally sustainable web agency seriously, both within the company and outside of it. Case in point: His new book, "Sustainable Web Design," provides guidelines for web companies looking to drive environmental change through design and development.
Working Toward a Zero-Carbon Future Since 2007
Tom and his wife, Vineeta, founded Wholegrain Digital in 2007.
"We both were in the product design and engineering space, and we decided that we were going to start our own design agency with a focus on sustainability," Tom said. "In the process of doing that, we decided that we didn't want to design physical products that could end up in landfill sites."
Instead, the pair chose to build a web design agency centered on WordPress, which now powers a whopping 40% of the web. Wholegrain Digital was born with the goal to create a truly sustainable business focused on leveraging technology and design for the good of the planet.
"Our goal was to use the principles of good design and engineering in the digital sector," Tom told us. "This move was both driven by excitement for new technology and a passion for how it can help on an environmental level."
The company immediately began using its position as the first WordPress agency in London to help charities, the public sector, and socially responsible businesses thrive online.
"I wanted to see whether my work could actually make a positive contribution to the environment," Tom said. "From a young age, I've had a personal interest in sustainability — both in the benefits we can bring forth if we pursue it, but also the fear of what happens if we don't. When we set up our own business, it just made sense that we would place sustainability at its core."
Powering Worthy Missions Through Genuine Client Relationships
Today, 14 years since the agency's inception, Wholegrain Digital has fine-tuned its design and development process to reflect its passion for sustainability and performance. The agency now plays a role in shifting the industry toward a zero-carbon future.
Wholegrain Digital's measurable goals include ensuring that the carbon dioxide generated with each page view on all new websites is less than the industry average of 1.76 grams per page view. The agency also plans to host 100% of client sites through sustainable infrastructure providers with renewable energy sources by 2026.
By the end of fiscal year 2021, the ultimate goal is to become carbon positive, moving beyond net zero-carbon emissions to create an environmental benefit by removing additional carbon dioxide from the atmosphere.
Wholegrain Digital, which donates 1% of all revenue to nonprofits dedicated to protecting our planet, is also mindful of the clients it supports. The agency specializes in charities in the environmental and human rights spaces with a focus on advocacy, policy, and research. Notable clients include Ecover, One Water, Oxfam, and Unicef.
"We're very selective about the clients that we work with, and that's not just us being fussy," Tom said. "We believe that if we're excited and supportive of what the client's doing, then we'll go to the ends of the earth to deliver solutions that meet their organization's needs. We're not just selling them a product or an off-the-shelf service. We genuinely care about feeding their operational mission through online services."
Flexible, Enterprise-Grade WordPress Services
Wholegrain Digital now boasts more than a decade of experience developing and deploying WordPress sites for organizations of all sizes.
"A big part of our value proposition is that we use web technology as a lens to help you focus on how to achieve your mission as an organization," Tom said. "It's not just about pure web metrics, like traffic — it's about designing web projects that are instrumental in organizational change."
Wholegrain Digital team members work closely with organizations at the start of any WordPress project to ensure the site design aligns with the group's digital strategy. API integrations allow the agency to unite an organization's WordPress sites with digital assets such as email marketing systems, CRMs, job boards, news aggregators, and social media platforms.
Tom said the Wholegrain Digital team has observed a definite shift in the WordPress space over the years.
"When we started over a decade ago, the big challenge for WordPress was that not that many people took it seriously as a business-focused CMS," Tom said. "It very much had this reputation as a blogging platform, popular for informal hobby applications. That's something that we tried to help change by proving its capabilities."
"Sustainable Web Design" — A Path for Carbon-Efficient Websites
As for what the future holds, Tom said he and the Wholegrain Digital team are looking forward to positively influencing the digital sector via design, development, and advice.
"As an agency, we've been looking to continually improve our design and development processes to make everything super efficient," he said. "We're also trying to share the knowledge we've gained, get people interested in the topic, and encourage them to pursue efficiency on the hosting side."
Tom's new book, "Sustainable Web Design," takes readers through best practices designed to reduce the web's carbon footprint. The book explores how to measure a design's environmental impact, design low-carbon sites through UX, imagery, and color, and manage a sustainability budget. Other areas of focus include creating an energy-efficient development process and forming a sales dialogue around the business value of sustainable design.
"The book encapsulates a lot of what we've learned as a team for the last four or so years," Tom said. "As I said, in the beginning, my wife and I went into digital partly due to its potential to solve global problems without the environmental impact of physical goods. And while that's true, we also learned along the way that digital technology itself has a huge environmental impact. This book serves as a guide for reducing that impact."