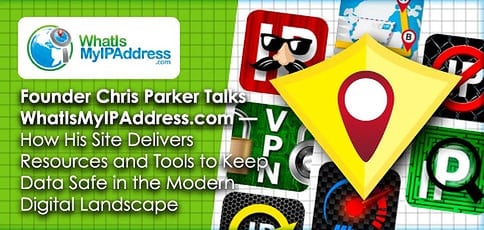 TL; DR: Nefarious data-scraping Facebook apps aren't the only way your data is being mined. Your browser may be handing over information about your IP address during your online journeys. Chris Parker founded WhatIsMyIPAddress.com roughly 18 years ago as a hobby — dishing out information on IP addresses and the privacy issues at stake when surfing the web. Today, his site is a trusted authority on all things IP. We recently sat down with Chris, who told us how his educational resources, privacy tools, and speed tests are helping users worldwide safeguard their data and optimize the ways they navigate the web.
News of data-scraping schemes seems to hit the headlines much too often these days. But the latest data-mining scandal involving Facebook sent shockwaves throughout the social media world, outraging millions of users who thought their profiles were secure.
Facebook's Open Graph platform, launched in the Spring of 2010, had done what it was designed to do — give app developers access to Facebook users' data and, more invasively, their friends' personal information, as well. Companies took advantage of the increased access to find profitable uses for the data of Facebook users who took quizzes and various other seemingly innocuous online activities.
One of those companies was Cambridge Analytica, which harvested information from 87 million Facebook profiles. The company allegedly turned that data into psychological profiles and a means of subtly influencing people to vote, one way or another, with regard to political candidates and issues.
But nefarious Facebook apps aren't the only ways your data can be compromised. Almost everywhere you go online, your browser is handing over information about you. You don't need to sign up for an online quiz or install an app — it's all possible through your IP Address.
We recently caught up with WhatIsMyIPAddress.com Founder Chris Parker, who told us his site acts as a resource where web surfers can learn what their IP addresses divulge about them and find the tools to safeguard their privacy.
From Hobby Site to Worldwide Authority on All Things IP Addresses
Back in 2000, Chris was working for an online retailer and was tasked with trying to resolve an internet connectivity issue at the office. He needed the company's IP address — the unique identifier of his company's connection to the internet — but couldn't find a site or tool that would tell him what it was.
"I thought, 'Hey, I could build a website that does that.'" he said. "So that day I went home and spun up a Windows NT server box at my home on a 1.5 megabit DSL connection and started WhatIsMyIPAddress.com."
Now, 18 years later, Chris's hobby website is respected worldwide as a source of accessible information about IP addresses. Since its inception, WhatIsMyIPAddress has consulted and been covered by a number of global news agencies, including CNN, Fox News, USA Today, The Washington Post, BuzzFeed, and Gizmodo.
When you land on WhatIsMyIPAddress.com, you're immediately greeted with your IP address — the site's primary utility is still to tell you your IP address. The homepage also identifies your internet service provider and presents your geographic location. There's even a little map with an indicator showing your city or town.
Why It's Important to Understand What Your IP Address Can Reveal
Your IP address is the unique location of your internet connection. Like a physical mailing address, an IP — or Internet Protocol — address helps websites you visit send the right data to the right place. So, why would someone want to know their own IP address?
"There are two categories of users," Chris said. "You have the end users and regular business people. Often, if you're having problems accessing some website, someone is going to ask you your IP address so they can try to diagnose the problem. That's a very common thing and it leads a lot of people to come to the site."
Chris told us this also leads many people to the realization that their IP addresses reveal a lot more about them than they expected.
"It's just a number, but it can carry along with it a certain amount of demographic information," he said. "It can give you an indication of how fast the person's internet connection is and if they're accessing the web from their phone or from their home or office. On a scarier note, it can reveal almost exactly where they live or where they're accessing the internet from."
Can your IP address lead someone to your front door? Chris says, no, but it's not too far off.
"In most cases, it's not quite that accurate," he said. "But, for a lot of people, it's more accurate than they would like it to be."
Chris noted this is concerning for many, especially in the age of online voter profiling and efforts to influence voter opinion.
"For example, if people are posting on a forum about a topic that's maybe politically oriented or there's some trolling going on, they may not want people to know what city they're in," Chris said. "If an entity can tie the site visit to a name, it might be able to figure out where that person lives and their address based off that information."
Showcasing Essential Web Connection and Privacy Tools
WhatIsMyIPAddress doesn't only educate readers on the privacy issues surrounding IP addresses. The site is also dedicated to delivering solutions.
Once visitors see what their IP addresses can reveal, Chris said their next question is usually focused on how to protect themselves.
"It gets a bit scary and a little real for them, which is why we started talking about VPN services," he said. "VPNs, or Virtual Private Networks, can afford you additional network security, but can also make it appear that you're from a different part of the world than you really are. They can provide a certain amount of anonymity versus advertisers, governments, or just the websites that you deal with, and can afford you some level of protection against people being able to figure out exactly where you live."
As a result, Chris's site tests and compares VPN service providers, offering advice on the best and most cost-effective solutions, and other tools.
"We try to build resources that add value to our existing visitors and that are related to other content on the site," he said.
Those resources include IP Lookup, which allows anyone to look up location and other information about IP addresses other than their own; an internet connection speed test; a blacklist check to see if your IP address has been included within an anti-spam database; and numerous articles explaining IP addresses and VPNs in everyday language.
The Aim: Education and Protection From Scams and Data Mining
Chris told us he wants WhatIsMyIPAddress to be an arsenal of information for internet users of all skill levels, as well as a resource for self-protection tools. In addition to its tools and information, the site includes the Trace Email utility that, in a few simple steps, helps you find the true source of an email. It's a tool to combat one of the most prevalent means of stealing information.
Trace Email is already running on WhatIsMyIPAddress and is available for use right now, but Chris said he has other protection tools in the works.
"We get a lot of people who are, unfortunately, the victims of a variety of different types of online scams," he said. "We're spending time building what we hope will be the largest and most useful scam center, where we talk about as many types of online scams that we can find. We're 40 or 50 scams into writing content at this point."
Rather than just chronicling the types of fraudulent schemes, Chris said he wants the site's new Scam Center to help people identify common scam elements so they are prepared when they're confronted with something new.
"We want to say: 'Here's what the scam is. Here's how to identify the key factors that indicate someone's trying to pull a scam on you. And here's how you can extricate yourself from it without drawing too much attention to yourself,'" he said. "We're trying to provide a resource to keep people safe online."