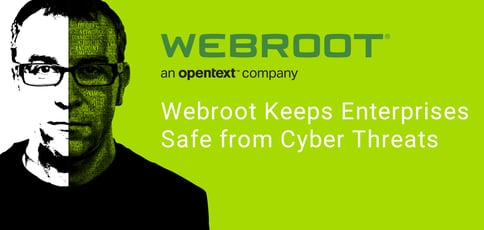 TL; DR: Digital security presents challenges for large and small businesses, but it is a vital component of earning consumer trust. Webroot provides forward-thinking cybersecurity services that have helped businesses eliminate those threats since the late 1990s. The company's endpoint and cloud security options are so trusted in the industry that thousands of managed services providers (MSPs) use Webroot to save resources and add value to their offerings. And since its acquisition by global enterprise information management (EIM) company OpenText, Webroot continues to expand its reach and innovate ways to eliminate threats.
When you sign in to your personal email account, you may find hundreds, if not thousands, of messages in the spam folder. And amid the deals and advertisements are plenty of attempts to steal your private information or malware meant to infect your computer.
And those filtered threats lurk in nearly every private email account, so imagine the number of potential entry points to a business's network that may attract cybercriminals.
In addition to individual email accounts, companies typically conduct point-of-sale transactions and process credit card data online. Securing all of those vectors is a challenge for any size organization, from SMBs to enterprises.
That's why the team at Webroot takes a targeted and cost-effective approach to cybersecurity for businesses at every level. Webroot provides endpoint protection, cloud security solutions, managed options, and even training resources that can start small and scale as needed.
"Affordability is a big factor, and SMBs can't do everything, so they need to focus on services that are going to move the needle a lot," said George Anderson, Director of Product Marketing for Webroot. "From a website security point of view, they need to ensure that nothing can take them down. But that has changed as the threat landscape has evolved, and I don't think a lot of customers realize how much work they're constantly doing."
Webroot has aimed to stay ahead of the cyber threat curve since its founding in 1997. The company initially focused on antivirus and anti-spyware solutions for consumers before moving into business solutions.
But along the way, Webroot has remained focused on the future, from developing innovative malware detection tools to protecting mobile devices for on-the-go workforces.
Developing a Malware Detection Tool Well Ahead of its Time
As cyber threats become more sophisticated, protection products can quickly become outdated. When that happens, security companies often find themselves scrambling to fix holes in their solutions and help customers that have become attack victims.
In 2007, Webroot began to see that antivirus software, which typically detects and eliminates or quarantines established threats, would soon find more challenges. That's when the company turned its attention to an emerging form of cyber attacks: malware.
"We realized that the antivirus market was pretty broken, and the volume of attacks was just too much for people who were only using antivirus solutions," George said. "So we went to a new approach in architecture for dealing with malware. Then we started to use the cloud to contain and protect machines even as they are being infected."
Malware comes in a variety of forms, including viruses, trojans, and worms. But what makes them so dangerous is that they can evolve and adapt to avoid detection by antivirus software.
Developers refer to the new versions as zero-day threats, and they infect systems and devices before anyone identifies them. But from early on, Webroot's malware solutions showed promise in recognizing and blocking those threats.
"It was stopping those file-based malware attacks coming in, and it was even preventing early forms of ransomware," George said, "It was way ahead of its time, and the software was, basically, a new mousetrap."
Another advantage was that Webroot cut the installation time down to just a fraction of what it takes to install other solutions.
"With typical antivirus software, users were looking at half an hour to install and update it," George said. "Ours was a 30-second install, and everything was done in the cloud. So users were ready to go in less than a minute."
That solution proved popular for businesses and consumers alike, but Webroot further differentiated itself through its robust endpoint protection services.
Reliable Endpoint Protection Products Run in the Background
Mobile devices and laptops connected to a business network represent some of the most vulnerable threat vectors. A breach of any individual device could mean access to the entire company's data.
But protecting those devices can be tricky for businesses, especially if they rely on manual app updates. Putting the security burden on individual employees can be a risky proposition because one device with outdated protection is all it takes.
That's why Webroot developed endpoint protection that secures devices from the cloud.
"We have a process of protecting devices one by one, and it's a unique architecture in that way," George said. "And anything happening on that device is shared in the cloud where companies can monitor all devices. From a modeling point of view, we didn't try to put all of the technology on the device itself because we realized that things were happening so fast that there's no way we could update something that way."
Webroot also found that its endpoint protection solutions — designed for SMBs — could reach many more users through managed services providers (MSPs).
"An MSP called Anitell, based in Australia, came to us and said, 'We've been using your product, and it saves us 70% to 80% of our costs in running endpoint antivirus, if not more.' And we started thinking about doing more integration work at that stage," George said.
So Webroot began partnering with MSPs and found that its highly automated services saved them time and money. Today, Webroot serves around 16,000 MSPs globally and is always looking for more.
Security Awareness Training Ensures Employees Understand Threats
Even with advanced endpoint protection and anti-malware tools, the human element is still vital to keeping a business safe. Webroot technology can stop phishing attacks with its domain name system (DNS) protection products.
Webroot also strives to ensure that workers learn best practices to mitigate threats on their own.
"We've stopped a lot of phishing attacks from a technical point of view, but there's still a gap. We realized we could close that from a training point of view," George said.
Webroot offers Security Awareness Training, a suite of courses for employees that highlight common scams and ways to fight fraud from an individual standpoint. Businesses can subscribe to the content and make it available to their workers as an added security layer.
Many successful breaches start with a targeted attack on the end-user. According to a 2018 report by Verizon, 93% of successful attacks began with a phishing email.
That is why businesses must bring employees up to speed on the latest threats, so they don't put the organization at risk by clicking on a link. Webroot refers to that education as "cyber awareness," and its courses can help clients maintain a higher level of security — and remain compliant with government regulations.
"We've got plenty of courses, and we are building a bigger library," George said. "We believe that part is essential because unless people are cyber aware, companies will always suffer breaches. It doesn't matter how good the technology is."
Webroot: Expanding its Mission After Acquisition by OpenText
Individuals may be subject to hundreds of attempts per day to steal their information through email. But businesses have many more access points and must secure their operations well beyond a spam folder.
Webroot provides them with the tools to protect all of their endpoints and also makes its services accessible to MSPs to expand its reach. In late 2019, Webroot and its sister company Carbonite, which specializes in data backup, were acquired by OpenText, an enterprise information management (EIM) solutions provider.
That acquisition will enhance Webroot's products for enterprises and offer the world's largest companies a holistic management solution that includes robust cyber resilience.
"OpenText realized what our strengths are, and they saw the successful technology. Obviously, the cloud and the threat intelligence are very appropriate to enterprises," George said. "And in the future, there will be big advantages for everyone involved."
And while the future will likely bring more change and innovation, Webroot's focus continues to be on how to be a better partner to its customers.
"We've got a razor focus on trying to be as effective as possible, with our individual customers, MSP partners, and enterprises," George said.